But before the plane takes off: Thank you so very much for all your kind get well wishes and prayers. They're "working".
Now: Off we go!
Trip to Greece: September 2014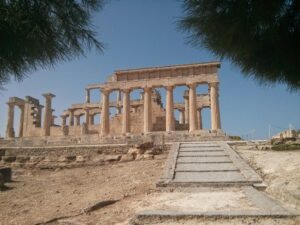 The Temple of Aphaia, on Aegina
Except as noted, all photos are my own. You get to see my vacation pictures! Uh oh…
Looking back, I think one of the results of my being Orthodox all these years is that I've become not less interested in the Church, but also more interested in the world. Someone said that our chief work as Orthodox is not to think about Orthodoxy, but to think about the world in light of Orthodoxy. Yes. So this report will be a travelog with occasional Orthodox commentary on many things, "churchly" and otherwise.
I've told you before that on vacation I wear "civvies", not clerical garb. If people know you're a priest, some go "O, father!" and mush all over you. Other people go rigid: "A priest!" and clam up. In either case you don't learn much. I want to talk and listen and learn. Besides, I love not being the center of attention, to just be an ordinary human being, and lurk in the back of the church and worship and observe the holy people of God.
On this trip I left a week or so ahead of Khouria Dianna. I am a Type B personality. I loved to do nothing: eat, sleep, hit the beach, lie in the sun, swim, read, just crash. Khouria Dianna who is Type A can only handle so much of that, so she let me go off by myself for a while, then she would come over. Then she got me moving.
So on September 2 it was Chicago O'Hare to Crete in about 24 hours by Swiss Air which is excellent, and Aegean Air, a classy Greek airline voted the best in Europe. It's similar to Milwaukee's wonderful old Midwest Express, now long bought out. (They promised to continue Midwest as it was. Instead they killed it. Surprised?)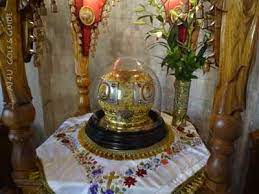 from AJ-4U
The first night I stayed in Iraklion on the north coast. One block from the hotel was Starbucks! Two blocks from the hotel was Saint Titus Church, and at 8 a.m first morning I venerated the 2000 year old skull of the Apostle Titus, first Bishop of Crete, disciple of Saint Paul.
When the Turks drove the Venetians out in 1669 the church was turned into a mosque, and his relics were taken to Venice, ostensibly for safekeeping. The mosque became a church again in 1926 and, after considering the request for forty years, in 1966 Venice deigned to return his head, but they kept the rest of him. (Well, it's better than the Brits who entirely refuse to give back the Elgin Marbles.) There was an island-wide celebration with bishops, civic dignitaries, marching bands and huge crowds.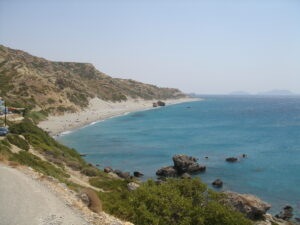 For two weeks I "vegged out", as they say, in southern Crete, an area I just love. The beaches and sea and landscape are gorgeous. I read my two favorite authors, C.S. Lewis for religion, Patrick Leigh Fermor for Greece, and slept and ate and swam.
I attended Divine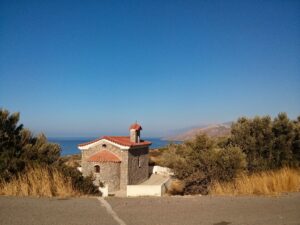 Liturgies where I had visited before: 
1  In a village of about 100 people near the coast, a tiny church with about 40 people attending, mostly older, a well done Liturgy celebrated by a kindly middle aged priest who preached  – which sadly is not common in Greece. As usual the ancient retired priest chanted vigorously and off key. It was a happy experience. 
2 The second Sunday: back to Spili, the pretty village up in the mountains. The church is beautiful. The Liturgy and chanting were lovely. But each time I've gone back there have been fewer people in church – this time only about 50, not one young family. There was no sermon. At the entrances one old man without vestments carried a candle. Fifteen years ago the church was full and lively; now… What happened? I don't know. Beware: churches once warm can go cold. It was so depressing I went over to the Diocesan center with its gorgeous little chapel  which was full with young families, and a beautiful Liturgy and boys assisting wearing vestments.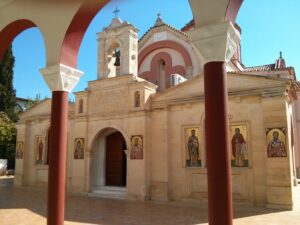 On the way back to Athens I stopped as always at my old favorite, the women's monastery Panaghia  Kalyviani. right The calm and sweetness of the place, even in the dark inside the church, filled me with peace. I prayed for all of us and went away feeling just good, happy, at rest. 
But later that day near Iraklion I did not feel at all well and thought that at my age maybe I should no longer be traveling alone. It didn't last long and came to nothing, but it frightened me.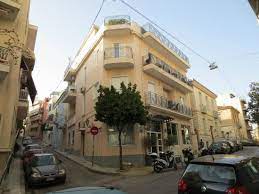 Next day both of our planes arrived on time at Athens airport, and there was Khouria Dianna! I was so glad to see her! We spent four days in Athens staying at Hotel Tony (!), a really nice place with excellent rooms in a very ordinary non-touristy area just south of the Acropolis. Tony was a character, right out of a Greek novel.  The image above is from TripAdvisor. 
 If you go to Athens, you must see the Acropolis Museum. Tap the Greek words 'way below, and you'll get a guided tour.
In 2014 Greece was still in recession, almost depression. Crime was increasing, though negligible compared to most American cities. We walked after dark without fear. In our area most shops were closed. However about 75% of Greeks were not affected much by the recession. For them life was still good. Near the hotel was a three block outdoor pedestrian mall with nice restaurants and tavernas. I had been there some years back, and nothing had changed. In the evening locals sat around eating and drinking. (I never ate indoors for almost four weeks.) Greeks socialize a lot. The mall began to fill up by 6 or 7, and by 9 each night (time for the evening meal in Greece) it was overflowing with people of all sorts, young and old, families, teens, kids running around, street musicians going from table to table. It felt so very different from home. Maybe it's because of Wisconsin's cold climate. Maybe it's the Greek temperament. And maybe that's because of Orthodoxy which is less individualistic, more communal. Greek families are strong and seem to spend much time together, the way it used to be here. 
Speaking of families, we found an online app called Viber which, if we were in a wifi hot spot (they're everywhere in Greece), let us send texts and pictures easily for free. So we spent our meals in Greece going back and forth with son David and daughter Jennifer. It was like they were right there with us. From Jen: "What are you having for supper?" so we'd send her a picture of the grilled octopus or whatever. I sent our kids a picture of their mother the night she mistakenly ordered too much wine and felt it was her moral duty to drink it all. I told them I was going to have to roll her uphill to the hotel. But I didn't; she handled it. 
Most Greeks drink, but a drunken Greek is almost unheard of, as opposed to our notorious ugly Wisconsin binge drinking. I think it's because, as in much of Europe, kids are allowed a little wine with meals from early on, and so they don't go crazy when they turn 21.     
Greeks eat healthier than we do. The Cretan diet is world famous. A seriously overweight Greek is a rarity. The first thing I noticed when I came back to an American airport was how many, uh…bulgy, ok… fat people we have. In the city most Greeks dress fashionably; many women look classy. (Ooh…! 'nuff said.) That's the second thing I noticed when I came home: people in the airport dressed down, sloppy, dumpy, baggy. It wasn't always like that here.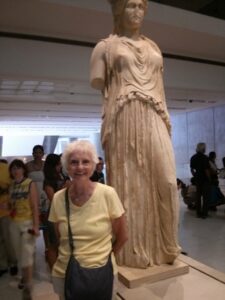 We went to the Archaeological Museum. How long high civilization has endured over there! I was struck this time at how even in the earliest cultures there was art; people have always needed beauty.
Two beauties
We were especially moved by the pre-Christian funerary sculptures: a child clinging to his mother who had died (always shown seated), with no hope of eternal life or meeting again. So terribly sad. The Gospel brought "good news" indeed.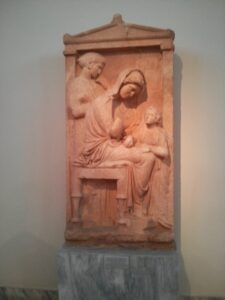 For Sunday Divine Liturgy we attended the big Saint John Church down the street towards the Acropolis – well-done Liturgy, full church, many men. I sat on the right with the men, Khouria Dianna on the left with the women. On Sunday night Greek TV gave extensive coverage to the yearly celebration of the patronal icon on the island of Kythera with a parade, marching band and multitudinous bishops. They broadcast a bishop's sermon from beginning to end. We have some religion on American television, but much of it seems so odd.
In Greece, we found at least three Sunday Liturgies at once on various TV channels. There were icons behind every hotel checkin desk, in taxis and banks and restaurants. One of my hotel rooms had an icon of Saint George over the bed. But I've done my "Orthodoxy integrated with culture" spiel more than enough times. I won't repeat it again.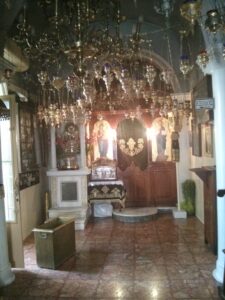 We took the ferry to the island of Aegina and Saint Nektarios. The widow who guards the chapel and his relics (Greek widows dress in black) began her traditional scowl till I held up the money people had donated. Then it was all smiles! and in Greek: "Amerikanos! I remember!" She even let me take pictures in the chapel, which is forbidden. 
That's not all that's forbidden. A sign as you enter says "It is strictly forbidden to enter the monastery men in the shorts or women with the trousers or half naked". Some people ignored the sign, though there weren't any half naked women. Greeks are not as strict about dressing up for church as they were not many years ago: women often wear slacks now, and not many men wear suits. Khouria Dianna and I quietly prayed the Paraklisis to Saint Nektarios and offered up the more than 1200 names Saint Nicholas' people had given us, which I passed on to the widow who promised that a priest would remember them at the Proskimidi.
I've told you that on my first few visits to Saint Nektarios something striking always happened. Then several times he did "tricks" while I was elsewhere in Greece. He gives me no special surprises any more. He doesn't have to. He's got my attention now, and I'm devoted to him. I pray to him often as we travel, and every day at home. For many people he cures cancer, and he helped Khouria Dianna and me through her scary aggressive malignancy in 2013. His special gift to me in 2014 was that she was still with me, visiting him. Thank you, thank you, thank you, Saint Nektarios! 
Next day we got a car at Athens airport, the most efficient big airport I know: no long distances to walk, easy luggage pickup, simple security, and only steps away and easy to find are trains and Metro rail (mostly subway) and buses, and easy connections to the light rail. This is so amazing in Greece, not known for efficiency. A Greek friend explained it to me: "Before the Olympics, the Greeks were so slow they knew they would never get it finished in time, so they had the Germans design it"!
At the airport there is a museum! of artifacts dug up during construction. Construction takes forever in Greece, because below everywhere are ancient artifacts that must be preserved. There are museums also in some Metro stations. The Metro, by the way, is immaculately clean, often with recorded classical music playing. (Chicago and New York, take note.) The airport McDonald's McCafe (situated between the airport museum and the airport chapel dedicated to Saint Nektarios!) is not entirely like at home: they do have their burgers, but also real brewed cappucino and McCroissants. Some years back they featured Chicken Mythos.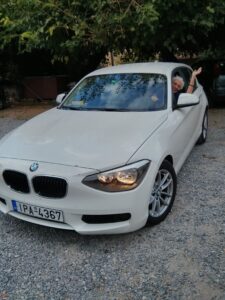 We had reserved a compact car, a Civic or Focus or something like that. What they gave us was a BMW 6 speed! Zoom zoom we went down the tollway, and up and over and through the mountains. I hated to leave that car behind. Greece had changed since I first visited 35 years ago: One rest stop on the new tollway advertised not souvlaki but "Country Burgers" in English. This is not progress. The tollway was beautifully kept and silky smooth. The speed limit is 130 kilometers/hour, about 80 mph. Ha! As we drove 130 (or so… …), cars passed us like we were standing still. 
Let me tell you about driving in Greece. Greeks drivers are stark raving mad, nobody follows speed limits, and the "National Road" on Crete you don't want to hear about. But stay off it on Saturday nights and after weddings. Greek back roads are scarily tricky. You come to a corner, the road narrows, and there's this huge bus coming right at you or maybe a flock of sheep or goats milling around as if they owned the place. You must be on guard every moment. Greek driving, like Greek society, like Orthodoxy, is pretty disorganized, but nevertheless communal, creative, interactive, conciliar, if you will. People react to each other. Usually (unfortunately not always) they move over for you or you for them. I saw not a single left lane hog, and nobody tailgated me unless I deserved it. Greek driving is more challenging and scary than American driving, but more fun. If you survive. 
Back to the story: We headed west past Corinth, yes, that Corinth (we didn't stop to see if the Corinthians have shaped up since Saint Paul's time), then to the far south of the Peloponnese, the southwest "mainland peninsula" of Greece, which good friends had recommended to us. It was gorgeous.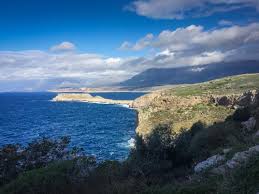 This picture is borrowed from Life Travel 4Two. I still have dreams about views like this: peninsula after peninsula after peninsula fading into the distance, against the deep blue sea.
We stayed in a pretty seaside town of about 200 people which not long ago was a sleepy fishing village and now has hotels
and restaurants, but it's still very much a rural community. We wondered if there would be a priest on Sunday in such a small place. In fact the big new church, still under construction, was filled with people of all ages and had two priests and five excellent chanters – in that little village! I'm sorry to keep repeating my terminology, but I don't know how better to express it: the place felt very much "alive". 
We did some touring: The 3500 year old hilltop ruins of Mycenae, once the regional center of power. Then the ruins of Orthodox Mystra, once a city of 20,000 people built on a steepmountainside, maybe 1000 feet vertically, the last vestige of the Byzantine empire after the fall of Constantinople. Mystra – once a city of great learning, art and culture, now in ruins, beautiful churches filled with fading iconography. All that's left functioning is a little women's monastery.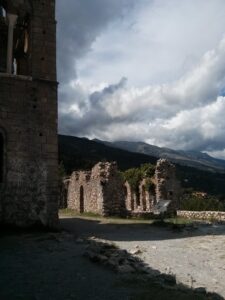 I think this picture of mine expresses it perfectly, if you don't mind my saying so.
Dianna kept saying (it's from an Anglican hymn) "O where are kings and empires now?" We who live in the New World sometimes forget that nothing here on earth will endure. All that surrounds us will someday be gone. So will we. Only One Thing lasts forever. 
And so back to Athens and home. Saint Nektarios must have guided us again: Athens air traffic controllers went on strike two days after we left. Lufthansa pilots went on strike the day we traveled, and they canceled international flights in Frankfurt – but we went through Munich and made our one hour connection. Early that week O'Hare Airport was shut down after a man had set fire to and destroyed their entire air traffic control system, but somehow we had no delay. The day after, O'Hare had thunderstorms and canceled 900 flights. And we just sailed right through it all.
But good luck to you at O'Hare: The customs control system was chaotic. If you didn't already know where the bus terminal was, you'd never find it. The first nasty person I ran into in four weeks was an American who was being ugly to a foreign traveler who barely spoke English. The worst public bathrooms we found were not in Greece but on returning to America.
Greece had its negatives. They still littered and smoked too much. Their parliament was (and I suspect still is) almost as dysfunctional as our Congress. Their government was corrupt: many wealthy folks bribed their way out of paying fair taxes, although wealthy people here also find a (more legal) way to pay no taxes, do they not? Many things are better here, especially pizza and Mexican food! But there is much we Americans could learn from the Greeks and other peoples, if we were humble enough to do so. If. 
I pretended that each of my trips was a "farewell tour" and justified about ten trips that way! The next one in 2015 would indeed be my last.
My overseas traveling days are over now, but I'm so grateful to God that I was able to do so much and see so many places – and that I came to know Greece well, where my third patron Saint Nektarios took hold of my life – and that now I can write about it and live it all over again.
God is good.
Next Week: Novak Djokovich, and more