1. Giannis Antetokounmpo
I am a "fair weather" sports fan. I get excited only when the Milwaukee Brewers are winning (as they are), and especially when the Milwaukee Bucks are American NBA (National Basketball Association) champions! Who would ever have guessed that it would take a Nigerian/Greek Orthodox man to finally lead a middle-American Milwaukee, Wisconsin, team to a national championship!
In case you want to try to say it, it's pronounced "Antetokounmpo".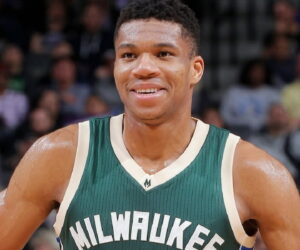 from "Famous People" site
Fox Sports says that Giannis was baptized Orthodox, "became a Christian and devout member of the Greek Orthodox Church as a young person and continues to acknowledge his Christian faith."
Giannis is only 26 years old – a faithful family man. After the Bucks won the championship, did he run around the floor basking in the glory? No. He immediately went over to his family, hugged his wife *, and picked up his little son.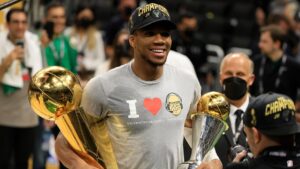 from Fox News Milwaukee
Correction, August 3:  um…his "girlfriend".
An example of Giannis' thoughtfulness: Longtime Milwaukee Bucks announcer Jim Paschke, to his dismay, missed the championship game due to illness. Here is Giannis speaking after the parade through downtown Milwaukee, holding the championship trophy and his MVP trophy, wearing an "I love Jim Paschke" t-shirt. Paschke said, "I will never forget it."
Let me add that, except when he was speaking, Giannis wore a mask, setting the example. Good man!
On March 13, 2020, Antetokounmpo and his family pledged to give $100,000 to the staff of the Fiserv Forum (where the Bucks play) who were unable to work during the suspension of the 2019-2020 season, because of the COVID-19 Pandemic. Antetokounmpo and his family also donated 20,000 masks to people in Athens, Greece and Zografou, Greece.
I have only recently learned about Giannis' Orthodox history:
How a Greek Orthodox Priest Made Giannis Antetokounmpo a Devout Christian
However, little is known about his faith and his devotion to the Greek Orthodox Church. Antetokounmpo developed a special relationship many years ago with Father Evangelos Ghanas, a beloved priest at Agios Meletios Church in Sepolia, who baptized Giannis together with his brother Alexandros on October 28, 2012.
Even the date of the basketball star's baptism was deliberate, as he chose to be baptized Greek Orthodox on "OXI Day," Greece's second most important national holiday. Antetokounmpo's patriotism and respect for the Greek flag have often been remarked upon; for example, when his Greek fans in the US ask him to sign the blue-and-white flag for them, Giannis refuses.


Antetokounmpo actually served as the link between his family and the parish. The years that he spent at Agios Meletios Church and their Sunday School in the poor Sepolia neighborhood were crucial for the young man in his journey to adulthood, and undoubtedly contributed to the shaping of his character.
Father Evangelos spoke to Ethnos newspaper about the character of the young basketball phenomenon, describing him as a young man with ethics who, unlike most of his peers, never held a grudge against society for his poverty.
"I don't remember him ever complaining or having a sense of being wronged by life and being aggressive towards society," Father Evangelos recalled. "He may be flying on the court, but in real life I think he stands firmly on his feet." "What I cannot forget was Giannis' gaze. I find it difficult to describe. There was an innocence (in his eyes) but also a hope. No fear and no resentment," Father Evangelos added.
The priest said that Giannis liked Sunday School, and that helped him develop a strong character, as a giving human being who also had optimism for the future.
Describing Antetokounmpo's upbringing and schooling, the Greek priest stated: "Giannis went to school in Greece, became a Christian in the same country, and now he can live on the other side of the Atlantic, carrying his memories as a precious guide to his later life."
According to Father Evangelos, the whole Antetokounmpo family had a good relationship with the church, mostly because of Giannis, who loved to go to Sunday School.
Father Evangelos is beloved by all the parishioners of Agios Meletios Church, in part because he has embraced the children of migrants, who are numerous in that area. He has taken a firm stand against any actions or words which imply any possible racism, and has helped children and teenagers as much as he possibly could throughout the years of his ministry.
And Antetokounmpo has not forgotten Father Evangelos. As the new NBA MVP said in a previous interview, "When I was a kid, I went to Sunday School and there was a man there who was helping us a lot. You cannot imagine how much he helped."
2.  Novak Djokovich
As of yesterday, Djokovic was chasing a rare 'Golden Slam' – all four majors and Olympic gold in the same year. As of this morning, and to everybody's surprise, he failed to win an Olympic gold.
Too bad, but no matter. There are more important things in this man's life.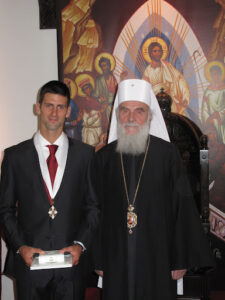 "This is the most important title of my life, because before being an athlete, I am an Orthodox Christian," he said in April 2011, when he received the order of St. Sava in the first degree from the hands of Irenaeus, the Patriarch of the Serbian Orthodox Church. The order of St. Sava is the highest distinction in the Serbian Orthodox Church, and it was given to him especially for having contributed financially to the renovation of religious buildings in his native land, Serbia.
A multi-millionaire thanks to his tournament winnings and numerous advertising contracts, Novak Djokovic willingly puts his fortune at the service of the underprivileged and helps causes that are dear to him. Judge for yourself. Last December, the Novak Djokovic Foundation, of which he is one of the main benefactors, contributed 94,000 euros for the renovation of a school in Pozega (Serbia).
In October of 2017, the tennis player announced the opening of a restaurant in Serbia offering free food to the homeless and the poor. "Money is not a problem for me. I have earned enough to feed all of Serbia. I think they deserve it after the support I received from them," he said in a statement released at the time.
The fate of the children of his country (where the minimum wage is set at less than 200 euros per month) particularly captures Novak Djokovic's charitable attention. That is why, in 2015, his foundation joined forces with the World Bank to provide young Serbs with access to schooling and care. Welcoming his generosity, UNICEF rightly appointed him Goodwill Ambassador to Serbia in August 2015.
"Novak Djokovic is a true champion for children around the world. He shows that powerful voices and actions can make a difference for children, especially for the youngest," said Yoka Brandt, deputy director of UNICEF.
[He is] an example for children around the world … and his family. As a faithful Christian who lived out his childhood in a country rife with violent conflict — the war between Bosnia and Herzegovina lasted from 1992 to 1995 — Novak Djokovic has never lost sight of his roots. And this is surely welcomed by his wife Jelena, whom he began dating in 2005, when they attended the same high school in Belgrade. They made their marriage vows before God in July 2014, and their two children are named Stefan (3 years old) and Tara (4 months old). We can imagine their home life will be an excellent school to learn not only tennis, but also generosity.
This article was first published in the French edition of Aleleia, 01/20/18 updated 07/11/21\
The following article is from the Eastern Diocese of the Serbian Orthodox Church in America:
Novak Djokovic is a well-known Orthodox Christian, who regularly wears a wooden cross around his neck.
(I add: even on the beach at San Tropez!)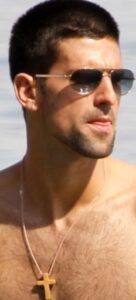 He's known for praying through his matches as does his wife – a practice sports commenters observe with interest.
"He's praying… his partner's been praying throughout the night," said Channel Nine commenter Tony Jones as Djokovic crossed openly, prayed and looked heavenward leading up to playing his 2019's championship point.
A proud Serb, Djokovic is a member of the Serbian Orthodox Church. However, after his Round 4 match of the Australian Open in 2009, Djokovic discovered the support of the wider Orthodox family, when supporters of Greek Cypriot player Marcos Baghdatis – a Greek Orthodox Christian – chanted his name.
"I have never experienced anything like this before in my life, where my opponent's team is chanting my name… we are Orthodox brothers," an emotional Djokovic told Jim Courier in his post-match interview.
A recent Australian Open match also saw the tournament exit of Romania's Simone Halep – from her country's Orthodox Church, who reportedly always carries an Orthodox icon when she travels.
Recently she took out the Women's Championship and Djokovic took out the Men's, causing some media commenters to dub it an "Orthodox Wimbledon" and discuss the impact Eastern European Christians have had on the tennis world.
While Djokovic occasionally jokes about his devotional practices with comments like how he prays for "plus fours" when he plays the card game Uno, there's no doubt the player takes his faith very seriously.
In 2011, he received the Order of Saint Sava – the highest honour bestowed by the Serbian Orthodox Church – for his generosity and dedication to the religion.
"This award is certainly the most important I've ever got," said Djokovic. "As an athlete and a religious person, it is hard for me to find appropriate words to describe my feelings of gratitude for the confidence I gain from the Holy Synod. I can only say that it can be earned only with hard work and self-belief, belief in your loved ones and in God."
The Russian Orthodox Church also honoured Djokovic with a 2012 award for "Outstanding Activity in Strengthening Unity of Orthodox Christian Nations and for Consolidation and Promotion of Christian Values in the Life of Society."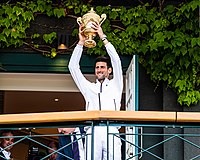 Wimbledon, 2019, photo by Peter Menzel
But for Djokovic and his wife Jelena, what matters most is using Djokovic's influence and wealth to benefit those who need it the most – whether that means rebuilding schools destroyed by natural disaster; donating to save a chapel in France; opening a restaurant with free food for the homeless and those in need; or working through the foundation his family established in 2007, which focuses on early childhood development by providing preschool education for underprivileged Serbian children.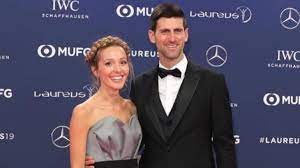 "Right now, Novak has the power and the voice to raise the awareness and raise the funds for investment in preschool education programs, and in the future we might not have this power," Jelena told CNN.
from IndiaToday
And though Djokovic's fame comes with the cost of being "on the radar" all the time with social media, Djokovic says this is an opportunity and a privilege, not a burden.
"Everything that you say, that you do is monitored… big brother," he said. "Some people may look at that as a burden, but I look at it as a great privilege and actually a great opportunity to use your platform to do something. To create a change that will be positive."
"I think that athletes have huge power to change the world, as Nelson Mandela said, and I think that power can be used in a very positive way." *
* Note added, April 22, 2022: Or in a negative way. In light of some later developments, I'm afraid Djokovic is no longer one of my heroes. Sad.
+      +     +     +     +     +     +
Next Week: Many Things
Week after Next: for the Dormition of the Theotokos