Before we begin: If any of you ever look back through earlier Posts (accessible on the right of this screen), you'll note that many of the images have been removed. It would take too long to explain why. I'm replacing them as I can get to it, Post by Post.
_____________________________________________
After writing and rewriting and re-rewriting the last two Posts, I am truly "all written out". Therefore you, yes you, dear reader, get to write today's Post. Why should you not? You are obviously a person who thinks – intelligent, with a perceptive and creative mind. *
Why else would you be reading this Blog? said the Blogger, with humble pride
Do you have any ideas as to what is behind this troubling decline of American Christianity? including our Eastern Orthodoxy? What are your thoughts? your theories?
There are no right or wrong answers here. I think all of us are searching. Let's learn from each other.
First I'll provide some facts and figures, charts and comments.
Afterwards I'll ask some pertinent questions, and then you can comment at the end of this Post.
P.S. on Saturday July 9: If you wish to agree or disagree with some of the comments, please add your own comment about that. (Gently, though… gently. The world has enough dissension already.)
P.P.S. on Monday July 11: So… to date we have had many viewers (obviously hoping to be informed by the comments) but only a few comments! Come on, folks. I know many of you have thought about this. However if we don't get more, then before this Friday's Post goes out, I'll attach my opinions at the end of the Comments.
Christianity in America: some startling facts, as of 2021
The latest research from Pew Research: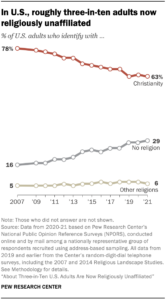 A few notes:
At the present rate, if I calculate correctly, in twenty or thirty years the unaffiliated ("nones") will outnumber the Christians in America.
As of 2021, for the first time in a century *, less than 50% of Americans now belong to a church: https://www.washingtonpost.com/religion/2021/03/29/church-membership-fallen-below-majority/
Before the 19th Century Protestant revival, Christians made up a smaller proportion of the American population.
Pew Statistics from 2015 indicate that the growth in "Unaffiliated" is chiefly among the young. Among those born 1928 to 1945 (that's me!) only 11% are unafilliated with any religion. Among Younger Millenials (born 1990-1996), 36% are unaffiliated. See: https://www.pewresearch.org/religion/2015/05/12/americas-changing-religious-landscape/#factors-behind-the-changes-in-americans-religious-identification
If you want more circumstantial evidence of this, peruse your local newspaper's marriage and obituary announcements, and see how many weddings and funerals mention no religious affiliation or ceremony.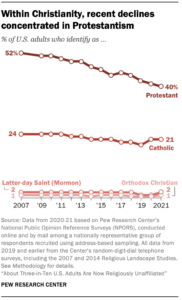 The decline among Protestants is almost entirely in the former "mainline denominations" – Methodist, Presbyterian, Episcopalian, Lutheran and the like. Evangelicals are largely holding their own.
Currntly 60% of Protestants consider themselves "born again" or evangelical Christians. However, even they are not keeping up with US population growth. In 2007 31% of Americans identified as evangelicals; in 2014 they were down to 24%.
Look at the very bottom of the above chart, and you'll find Mormons and Orthodox. Orthodox seem to be holding onto our traditional 1% of the American population. However that is not good news to us Eastern Orthodox, as follows:
Orthodox Christianity in America: more startling facts
I've share this information with you before. It's taken from the US Religion Census 2020: Dramatic Changes in American Orthodox Churches by Alexei Krindatch (akrindatch@aol.com), National Coordinator, Census of Orthodox Christian Churches.
Quotes below are from my own Post #283.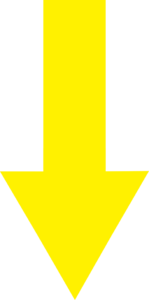 "In 2010, the estimated membership in all Eastern Orthodox churches  was 816, 653 *.  In 2020 estimated membership was 675,785 *. This represents a 17% decline, more or less the same as Christianity in America overall."
These are the number of active members. The number of those baptized in the Church but now inactive is likely considerably higher.
What is keeping us Orthodox at our traditional 1% of the population? Oriental Orthodoxy, which is growing rapidly. This includes Coptic (Egyptian) Orthodox, Ethiopian Orthodox, Armenian Orthodox, Malankara Syrian Orthodox, and a few smaller churches.  "Oriental Orthodox church membership in America increased from 294,762 in 2010 to 491,413 in 2020."
All told, if you are a practicing Christian, and in particular an Eastern Orthodox Christian, these are unsettling statistics.
Therefore:
Some questions for you to consider:
You may answer all of these questions, or some of them, or make up your own questions relevant to the subject. There are no right or wrong answers. If you are tough on the clergy, I promise not to take offense.
1  Why is Christianity in America declining so rapidly?
2  Why is mainline Christianity in particular losing members?
3  Why is Eastern Orthodoxy also now declining in numbers? How could we turn this around?
4 Why is Christianity losing ground very rapidly among young people?
5  Is your own parish growing, shrinking or holding even? Why do you think this is so?
That's it. You take if from here in the Comments section immediately below.
Or if you don't, this will be a very short Blog.
Next Week – The prophet who sounded like he was "on something": Holy Ezekiel
Week after next – Saint Macrina: Women in the Orthodox Church