Saint Nicholas Day, December 6, is upon us!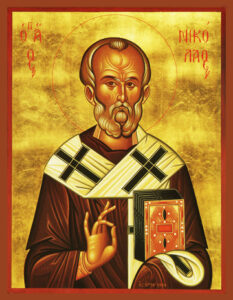 from Stavronikita Monastery, Mount Athos
First two icons by permission of Saint Isaac's Skete at skete. com
In the title above we're using "wonderful" in the original sense: "full of wonders". For the past seventeen centuries Saint Nicholas, a very obscure Bishop from Asia Minor, has filled the world with wonders.
There's a reason why he has been probably the most popular saint in Christian history – other than the dear Mother of Our Lord, of course. There's a reason why thousands upon thousands of churches have been named after him. There's a reason why it seems like every other Greek guy is called Niko. There's a reason why Saint Nicholas Church, Cedarburg, Wisconsin, is named after him.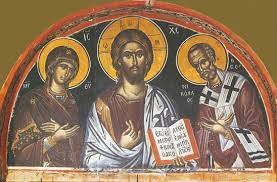 Or to come at it in a different way, the Orthodox Church dedicates each day of the week to a certain commemoration: Sunday to the Resurrection, Monday to the holy angels, Tuesday to John the Baptist who is "greatest born of women", Wednesday to the Betrayal and the Theotokos, Friday to the Crucifixion, Saturday to the Departed – and Thursday to the Holy Apostles and to Saint Nicholas.
Q. How to explain this phenomenon? How did this one "post-Scriptural" man rise so high in the Church's esteem? A. Because, ever since he died, Saint Nicholas has been very busy. So much so that he is officially titled Saint Nicholas the Wonderworker.
But first, a brief and unnecessary but interesting Prologue regarding Saint Nicholas and astronomy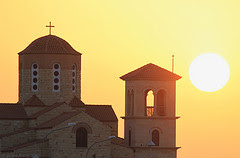 Did you know: The earliest evenings here in the northern hemisphere are in the week of December 6. With Saint Nicholas Day, light begins to return!
Old Preveli Moni, Crete
The latest mornings come on approximately the Epiphany, January 6. This "averages out" so that the shortest day, the winter solstice, falls on December 21 or December 22, just in time for Christmas, the coming of the Light of Christ into the world's darkness. Perfect!
Why this odd lack of synchronization in the dates? It's because the earth is not perfectly round, slightly imbalanced – just like most of her human inhabitants.
And a perhaps necessary Prologue about Saints
This is for the information of any here present who don't understand about saints and how they "work". Is that to put it crudely? No. Saints "work" for Jesus Christ. Saints ("holy" people) are men and women who have allowed God to raise them up to do great things for Him, in one way or another. And, as God allows, they continue to do great things for Him and for us from "the other side", from Heaven.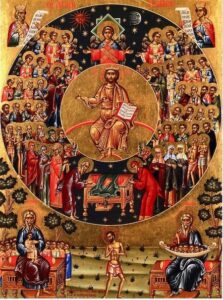 Is this possible? I ask that because some say No. The Orthodox answer is: Yes, of course. By His Death and Resurrection and Ascension, our Lord Jesus Christ has united Heaven and earth. The boundaries between them are no longer closely guarded, and there is a fair amount of "traffic" back and forth. After all, the Church is a fellowship which encompasses both Heaven and earth.
Another issue: Does our relationship with saints draw us away from God? The Orthodox answer: No, of course not. Does your relationship with good holy Christian people here on earth draw you away from God? Saints always lead us closer to God. That's because they work for Him.
Now, having answered those questions to the satisfaction of all… on to today's topic.
The Life and Work of Saint Nicholas
I know some of you have heard these stories before. I'm telling them again partly for the sake of newer readers, and partly because I just love to talk about Saint Nicholas. (I'm probably turning into my grandfather who told the same old stories again and again.) I'll try to be brief. Most likely I won't be…
There's a lot I'm leaving out, so in case you'll want even more: 1  Search the internet, where you'll find gazillions of articles about Saint Nicholas.  2  At the end of this Post you'll find access to five more articles about him which I've written in this Blog over the years.
+  +  +  +  +  +  +
So far as we know, there were no accounts of Saint Nicholas' life written during or even soon after his lifetime – nothing like the Gospels or the stories of many other early saints. The first we even hear of him was over a hundred years later in 440, when Patriarch Proclus of Constantinople praised him in a speech. And the first existent "hagiography" about Saint Nicholas appears not till about the year 700, almost 3 1/2 centuries after his death. That's all the written material we have to go on.
So can we know anything for sure about Saint Nicholas? Yes.
1  This is because in the early church saints were honored on the date of their death – and the people of Nicholas' home town remembered and venerated him on December 6. This is evidence th, Myra *, at he lived and was a holy man.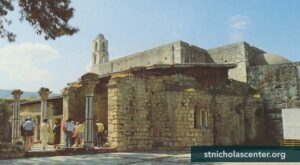 Saint Nicholas Church, Myra (now Demre in Turkey)
2  Other circumstantial evidence: In the year 520 a new Saint Nicholas Church was built in Myra on the foundations of the much older church where Saint Nicholas had served. This was to accommodate the many pilgrims who had already long been flocking to Myra. By then churches dedicated to Saint Nicholas Churches were popping up in many places. I once visited the great cathedral church on the Greek island of Paros, which was built in the late Fourth Century. Off to the side is the older original Saint Nicholas chapel.
3  In Myra, many stories were passed down orally about their saint  To sum up: He was born c 280, became Bishop of Myra on the south coast of what is now Turkey, and died December 6, 343. (That was a Greek-speaking region: I love to point out that "Santa Claus" was Greek!) The stories spoke of a bishop who loved his people in a multitude of ways. They often asked for his prayers and thereby some inexplicable wonders (miracles) too place. After he died they continued to ask for his prayers – and the wonders continued.
4  However, the clearest evidence of Nicholas' wonderworking ability was this: After his death his body began to exude a fragrant substance with miraculous healing properties, which was called "myrrh" – perhaps because it originally came from Myra? (The similar substance that flows from weeping icons today is still called myrrh.) This is primarily why Saint Nicholas' fame spread far and wide, and why people began to flock to Myra from all over.
Why is this solid evidence? Because his body still exudes myrrh today. * His relics now lie in honor in San Nikola Basilica in Bari, Italy. There on his feast day priests open his bier and remove some of the ever-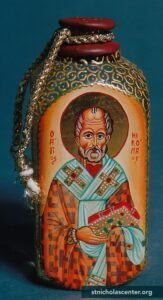 accumulating myrrh. I was there and (with many other people) prayed before the relics of Saint Nicholas. It is a holy place. It has a "feel" that I've known in only one other place – before the relics of Saint Nektarios in Greece. Though San Nikola is a Roman Catholic church, an Orthodox chapel is just to the left of Saint Nicholas' crypt.(God bless the Roman Catholic Archbishop of Bari!) I brought some of the "myrrh" home, and it is used for anointing on Saint Nicholas Day at Saint Nicholas Church, Cedarburg, Wisconsin.
Some sources claim that this has been proved to be not "oil" but only water. All I can say is that the substance I have seen flowing down very slowly from the eyes of weeping icons was "oily", definitely not water.
There are many stories about the miracles of Saint Nicholas over the centuries, coming from all over the world – ranging from healings to occasional myrrh-streaming icons. As I say, there has been a reason why, after his death, this obscure bishop has played an enduring, significant role in history.
My Saint Nicholas Story
In the year 1985 I was a demoralized Episcopal (Anglican) priest who knew I didn't fit in there any more, but didn't know where I belonged. That summer, at a conference on Crete, we visited a kindly Orthodox bishop whose face radiated peace, goodness, joy. I wrote in my journal "Remember that face". In a church shop in Athens a few weeks later I saw "that face" on an icon of Saint Nicholas. I bought it, brought it home.
After I returned from Greece, I knew Orthodoxy was my answer. I needed to become Orthodox – which at that point in midlife, with a congregation I felt responsible for and kids to get through college, was easier wished for than accomplished.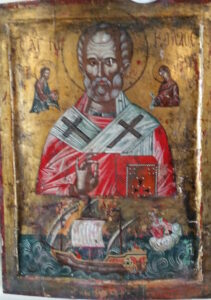 I hung the icon of Saint Nicholas on a wall in my Episcopal church. I was about to discover how saints and icons can "work".
Before we continue, I want to make it clear that I do not easily fall for every mystical feeling that comes along. I was trained in science and tend more towards skepticism. But this was something else…
It was a woman in the parish who first told me how Nicholas' expression kept changing. "Really…?!", I thought. But I started going over to watch. Sure enough. It was not that the paint moved, but "something" would change. Sometimes he'd be pleased, sometimes upset, sometimes almost angry – and often this didn't reflect my mood at the time.
One afternoon I returned from an Episcopalian conference feeling I just had to get out of there. I felt like a Ford salesman who now believed in Hondas. I needed to be Orthodox and had no idea how to do it. And there hung Saint Nicholas looking so pleased with himself. I'm afraid I lit into him: How can you look so happy while I'm so miserable. And then… Saint Nicholas spoke to me from his icon. I didn't hear words. It wasn't like that. It was more like they were "planted" in me. But they were clear as a bell: "Saint Nicholas Orthodox Church is coming. Just don't get in my way." I didn't tell anybody about this for quite a while. I was afraid I was "losing it".
There's a lot more to the story. However, in many ways the path ahead almost immediately began to open, sometimes in startling ways. One example:
I faced the problem which many converts face: which jurisdiction should I join? * I didn't know, but I had to decide.
 We shouldn't have to make that choice. Some Orthodox friends are usually hurt in the process. There should be one Orthodox jurisdiction.
I had read about a Missions and Evangelism Conference sponsored by the Antiochian Archdiocese – to be held in Santa Barbara, California, 2000 miles away. Though I knew nothing about Antiochians I really wanted to go, but hadn't the money for it. After an early morning Mass at my Episcopal church, someone (who did not know about the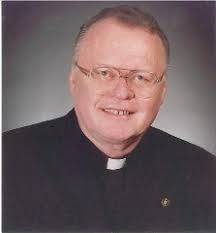 Conference) came up to me, handed me an envelope and said, "I don't know why I'm doing this, but I've been praying, and I've got to". Inside the envelope was exactly the amount of money I needed for the Conference, including the airfare! There I discovered the Antiochian Archdiocese and met Father Peter Gillquist who guided our way into Holy Orthodoxy.
Now, if that wasn't miraculous… The envelope did not have an address at the upper left saying "return to Saint Nicholas", but it may as well have. Looking back, I'm sure he was behind all the little "wonders" that took place during those years.
Saint Nicholas Church, Cedarburg, Wisconsin, was founded in 1989 and has existed, and on the whole has flourished, for 32 years. I've never doubted that it will endure – because it's not our church, it's Saint Nicholas' Church. He's in charge here.
After Saint Nicholas Church was founded
Four stories:
1 Soon after our church was founded, before the Metropolitan had given us our name, a package arrived from a good friend who did not know our Saint Nicholas connection. In it was an icon with a relic of Saint Nicholas.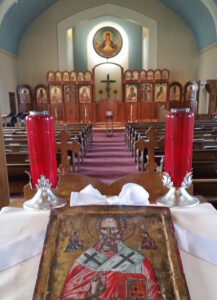 2 When we began, even though our place of worship was "the pits", almost immediately we gathered a considerable group of middle aged to older people who had time and resources and gave of them sacrificially, which provided "solidity". Where did they all come from? and why? That in itself seemed like a wonder. But one day I looked out at the congregation and realized we needed more young people, more children. Without planning it I blurted out "Saint Nicholas, please, we need some kids around here." It took about two weeks, and a bunch of new young families began arriving.
3 Some years after that, there was a situation which seriously threatened the wellbeing of Saint Nicholas Church. I had no idea what to do. So after sitting there in a panic for a while, suddenly I knew: I bought a candle and lit it before our Saint Nicholas icon – actually I "bribed" him, paid $100 for it – and within about three hours the situation cleared up. No, I would like to say, "the situation miraculously cleared up". I had no other explanation for it.
4 I haven't kept up with parish finances in the years since I retired, but I can attest that while I was pastor (even though every month we gave 20% "off the top" to church and charities outside our walls, as we still do) we never had an unpaid bill. The money we needed always showed up, often in the most unexpected ways. Maybe I"ll tell you about those someday. One of our treasurers was so startled by it all that he titled it "The Saint Nicholas Factor".
I believe Saint Nicholas founded and has provided for our Saint Nicholas Church in a wonder-full way. There have been no outward "supernatural" manifestations – no weeping icon, no inexplicable healings. But I know what happened to me – "his face" that moved even though it didn't move, "his voice" that spoke even though there was no voice. And I know how Saint Nicholas Church, Cedarburg, with all our "wonderful" people emerged so suddenly out of nowhere.
That's my story, our story, only one of a multitude of "Saint Nicholas wonders" that have occurred over the past seventeen centuries.
+   +   +   +  +  +  +
OK, I've gone on longer than I intended, just as I warned you. But I love the stories about Saint Nicholas, because I have lived a story about Saint Nicholas.
There have been other saints who have "captured" me over the years – Saint Basil, my patron who has pushed me hard, God bless him, and Saint Nektarios who has done great things for me and my wife, and also some other saints. But Saint Nicholas came first, and in my prayers every day he comes first, before them all: "Pray to God for me, holy Nicholas, who are well pleasing to Him, for I turn to you who are the swift helper and intercessor for my soul."
Thank you, dear Saint Nicholas, so "full of wonders". Believe me. I know.
from Orthodox Christian Chants site
Next Week: We jump back to December 4 and Saint John of Damascus, "Chief Councilor" to the Muslim Caliph of Damascus, and one of the Church's greatest theologians
Week after next: Saint John of Kronstadt, Russia's favorite 20th century saint
For those who haven't had their fill:
1  The best source of information that I know: Google (or whatever) "Saint Nicholas Center" –  located at the "liberal" Virginia Episcopal Theological Seminary. (God bless them, and I take back most of the nasty things I used to say about them.)
2  Here are (count them) five more Posts which I've written about Saint Nicholas over the years: I'm sorry many of the images have been removed. (That's a long story which I won't tell you.)
44. The Real Santa Claus: Part Two – How Saint Nicholas was stolen, twice
64. The Wonderful Works of Saint Nicholas, Part Two – Fake News?
65. The Wonderful Works of Saint Nicholas, Part Three – Two more Stories from Midwest America
124. How Saint Nicholas Founded Saint Nicholas Church, Cedarburg