James died, a martyr, on October 23, AD 62.
His titles puzzle some people. Those who believe Mary is "ever virgin" wonder: How could Jesus have a brother? Those who think bishops were a later corruption of the Gospel, ask: Why do we call James "Bishop of Jerusalem""? Well… the Orthodox Church was there at the time and preserves the earliest traditions and knows the answers to both questions. (Are we surprised…?!)
James *, Brother of the Lord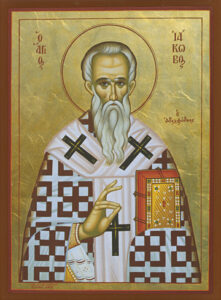 "James" is a rather odd Anglicanization of the Greek Iakavos / Ιάκοβος. A closer translation is "Jacob".
by permission of Saint Isaac's Skete at skete.com
When Jesus went back to Nazareth and proclaimed Himself as Messiah,  peoples' response was: "Isn't this the carpenter's son? * Isn't his mother's name Mary, and aren't his brothers James, Joseph, Simon and Judas? Aren't all his sisters with us?" Matthew 13:55-56. (Similar text in Mark 6:3). Most Protestants take this to mean that Mary and Joseph had other children. Some Roman Catholics explain that, since Mary remained a virgin, "brothers and sisters" here must mean close relatives – an idea which seems to go back at least to Saint Jerome in the Fifth Century.
Of course they didn't know about His Virgin Birth.
However, the earliest tradition about this comes from The Protoevangelium (attributed to James himself), a book which, at least in written form, appears in the early Second Century. It's not canonical Scripture, but the Church makes use of certain parts of it. So do Protestants: When they sing "'Twas Mary Virgin pure of Holy Anne", how do they know the name of her mother? From The Protoevangelium.
The Protoevangelium tells how Mary was raised in the Temple, and that when she came to marrying age, she refused. What to do? Eventually she was given into the care of Joseph, an old widower with sons and daughters. That makes James Jesus' half brother. Joseph and Mary were formally married, for propriety's sake but not in actuality for, after all, as the old English carol goes:
And then suddenly Mary is pregnant!
Can you imagine Joseph's family's reaction to all this? Put yourself in their place. "Dad in his old age gets engaged to this young thing, who now gets herself pregnant by some guy she refuses to identify, claims it was an angel! Even worse Dad falls for it! This girl has him wrapped around her little finger."
Matthew's Gospel tells us Joseph reacted the same way: Pregnant by the Holy Spirit? You expect me to believe that? And I trusted you! Until the angel of the Lord intervened and set him straight. So they went to Bethlehem, Jesus was born, and then they fled from King Herod down into Egypt.
The story from The Protoevangelium says James went  with them into Egypt. Skeptical though he was, he was a good man (as we will hear later) and couldn't let his old father do this alone, and while they were there James came to believe.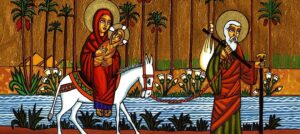 Coptic icon. Note the pyramids.
What convinced him? We don't know. Coptic Christians in Egypt have many stories about miracles during the Holy Family's time there. Did Jesus perhaps show some of His powers very early? He must have done so at some point: Remember His first public "sign" in Cana when they ran out of wine? Mary turned to the servants and said "Do whatever He tells you".  She already knew what He could do.
Later during His ministry Mary was concerned that Her Son wasn't taking care of Himself. Mothers are like that. So she went out to see, and it says Jesus' brothers went along. They had accepted Mary and Jesus as family, and probably they also were worried about their little Brother." Matthew 12:46-50 
James, First Bishop of Jerusalem
Let's begin here:
Are there bishops in the New Testament?
Yes. In some modern Bibles, the Greek word episcopos / ἐπίσκοπος is  translated as "overseer", the man assigned to look after the church in a particular place. That's correct. But, as you can see, the word "episcopos" is "bishop". Not that bishops then paraded around in gold regalia and funny hats as they do today! but other than that, they were bishops just as we still have them in the Church..
A little evidence: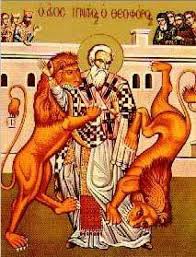 Saint Ignatius became Bishop of Antioch in AD 66, and in his letters to various churches (written on his way to Rome for martyrdom) he described himself as the second Bishop there, after Euodios. You can see how far back that takes us. As if it was not controversial at the time, he spoke of the hierarchy of bishops, presbyters (priests) and deacons. He reminded them to "all follow the bishop, even as Jesus Christ does the Father… Let no man do anything connected with the Church without the bishop. […] Wherever the bishop shall appear, there let the multitude [of the people] also be; even as, wherever Jesus Christ is, there is the Catholic Church. … Whatever [the bishop] shall approve of, that is also pleasing to God, so that everything that is done may be secure and valid". Letter to the Smyrnaeans; Chapter 8. Apparently there had been some rebellion in the ranks, as there still can be, but he doesn't suggest there was doubt about the place of bishops. In letters to the other churches Ignatius wrote the same.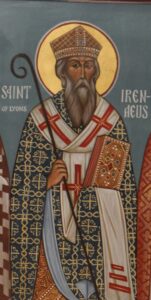 Also in the Second Century, Saint Irenaeus was Bishop of Lyons in Gaul, sent there by Saint Polycarp of Smyrna who had been a personal disciple of Saint John the Theologian, Apostle, and Evangelist. Irenaeus described "Apostolic Succession" – bishops in succession from those appointed by Apostles themselves. He said this continuity, and also continuity in Apostolic Faith, were the marks of the true Church.
by Ted Wolfymoza, 2012 (Wikimedia Commons)
So unless we assume that they were just making this up… there were bishops in the modern sense from the time of the Apostles. That's one of the things which shocked Father Peter Gillquist and his Evangelical friends as they studied the early Church: "I've got bad news: There were bishops in the First Century!"
Was James the First Bishop of Jerusalem?
The New Testament stresses James' special place:
1  On Pascha, the risen Lord, after He appeared to the women, * next appeared to Cephas [Peter, chief of the apostles], then to James, then to all the apostles". I Corinthians 15.
The women first, then the men. Women, take note!
2   Some years later, when persecution had begun in Jerusalem and many Christians had fled the city, James remained there.
3  Before Saint Paul began his public ministry, he went up to Jerusalem to be sure his teaching and theirs agreed, and he says he visited "Cephas [Peter] and stayed with him fifteen days. But I saw none of the other apostles except James the Lord's brother". Galatians 1:18
4 The story of the Apostolic Council in Jerusalem makes it clear. Peter was there, so wouldn't we have thought he, as chief of the Apostles, would have presided and announced the decision? No. James did it: "Men and brethren, hear me. I judge that we should not trouble those among the Gentiles who are turning to God…" Acts 15  Jerusalem was his "turf". He functioned exactly as diocesan bishops do today: James First Bishop of Jerusalem.
The Written Works of James
1  The Epistle of James.
Here is some of what he wrote:
"Every good gift and every perfect gift is from above and comes down from the Father of lights, with whom there is no variation or shadow of turning."  (We hear this near the end of our Divine Liturgy.)
"Is anyone among you sick? Let him call for the presbyters of the Church and let them pray over him anointing him with oil in the name of the Lord and the prayer of faith will save the sick." (a reference to the Sacramental Mystery of Holy Unction)
"My beloved brethren let every man be swift to hear, slow to speak, slow to anger, for the anger of man does not produce the righteousness of God. if anyone thinks he is religious and does not bridle his tongue but deceives his own heart, his religion is useless."
"Pure and undefiled religion before God and the Father is this: to visit orphans and widows in their trouble and to keep oneself unspotted from the world."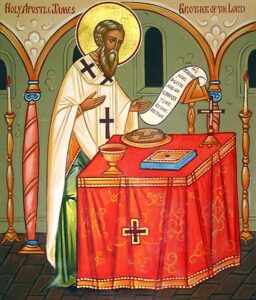 "If a man should come into your assembly with gold rings and fine apparel, and there should also come in a poor man in filthy clothes, and you pay attention to the one wearing the fine clothes and say to him 'You sit here in a good place', and say to the poor man 'You stand there' or 'Sit here at my feet', have you not shown partiality… and become judges with evil thoughts? Listen, my brethren, has God not chosen the poor of the world to be rich in faith and heirs of the kingdom of heaven."
courtesy of OCA
"Come now, you who are rich, weep and howl, for your miseries that are coming upon you. Your riches are corrupted and your garments are moth-eaten. Your gold and silver are corroded… the wages of the laborers who mowed your fields, which you kept back by fraud, cry out against you. You have lived on the earth in pleasure and luxury, you have fattened your hearts for a day of slaughter."
At that time some were misinterpreting Paul (well, he can be confusing) to have said that all we need to be saved is faith, correct belief, and that works (good actions and behavior) are not necessary. James countered "What does it profit, my brethren, if someone says he has faith but does not have works? can faith save him? if a brother or sister is naked and destitute of daily food and you say to them: Go in peace be warm and full, but you do not give them the things needed for the body, what does it profit you? So also faith by itself, if it does not have works, is dead. But someone will say You have faith and I have works. Show me your faith without your works, and I will show you my faith by my works." (Fifteen centuries later Martin Luther also misinterpreted Paul and claimed we are saved by "faith alone". This passage so distressed him that he called James an "epistle of straw", said he wished he could throw it out of the Bible!)
"Where do wars and fighting come from among you? Do they not come from your desires for pleasure that are at war within you? You lust and do not have. You murder and covet and cannot obtain. You fight and make war. You do not have, because you do not ask. You ask and do not receive, because you ask [so] you may spend it on your pleasures… Do you not know that friendship with the world is enmity with God?" (This ought to be required reading for everybody everywhere today.)
And much more. This is a powerful little epistle. Read it.
2  The Divine Liturgy of Saint James
To James of Jerusalem is attributed the Divine Liturgy of Saint James. In our Eastern Orthodox tradition it can be celebrated on October 23. In Oriental Orthodoxy it is used much more frequently. If you think our Liturgy of Saint Basil is long… think again!
Here's an article about it from Orthodox Wiki: https://orthodoxwiki.org/Liturgy_of_St._James eo & syriaceo lit st
Here it is celebrated at Protection of the Holy Mother of God Romanian Orthodox Church (OCA), Falls Church, Virginia.         https://www.youtube.com/watch?
Did James write it in its current form? No. All Liturgies grew and developed during the early centuries. James died in AD 62, and the Romans leveled Jerusalem in AD 70, so the development of Liturgy in Jerusalem was interrupted for over 250 years. Therefore liturgical scholars are sure that James had nothing to do with this Liturgy.
But I wonder: There must be some reason why the Liturgy of Saint James was attributed to him, just as Saint Basil's and Saint John Chrysostom's Liturgies were (for good reason) attributed to them. We know the Christians of Jerusalem had grown up with sophisticated liturgical worship. We know James was a gifted writer, so surely he applied that gift also to worship. Wasn't it likely that, out of reverence for him and for the Mother Church, his texts were preserved by refugees from Jerusalem? We know Chrysostom brought the core of his Divine Liturgy with him from Antioch, and Antioch is just up the road from Jerusalem. So could we not imagine that other parts, maybe much of the core, of our standard Orthodoxy Liturgies came from James, through John Chrysostom?
That's pure speculation. What do I know? It's just that I've learned over the years to trust ancient traditions and stories more than I trust the "assured results" of much modern liturgical and Biblical scholarship, which also contains a whole lot of speculation.
The Martyrdom of Saint James of Jerusalem
This is an account passed down through the early Church. Eusebius in his Eccelesiastical History said it came from the chronicler Hegesippus the Nazarene (Second Century).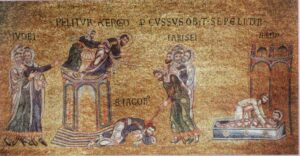 Thirteenth Century mosaic
The early Christians in Jerusalem became "outsiders", often persecuted, but James was respected by all, called James the Just. So one day the Jewish chief priests took him to a tower of the temple and advised him that, as a just honest man, he should now please tell the crowd below that his step brother was not really the Messiah. Instead James proclaimed the Gospel: that his brother Jesus is the Christ, the Son of God. So they pushed him off the edge. (Well, accidents will happen.) He survived the fall but someone in the crowd took a club to his head, and he died.
But the Gospel of his Brother Jesus Christ did not die, and James rejoices now with his Family, our Family, in Heaven.
Troparion/Apolytikion of James
As the Lord's disciple you received the Gospel, O righteous James; as a martyr you have unfailing courage. As God's brother, * you have boldness; as a hierarch, you have the power to intercede. Pray to Christ God that our souls may be saved.
Because Christ is God Incarnate, we also sing that God has a Mother and Grandparents and an Ancestor David! The Church has used these titles to make the theological point. Sometimes I wonder if the Fathers weren't also having a bit of fun – trying to startle unbelievers. Even some Christians find them shocking.
Next Week: Exorcisms I have performed. If you're imagining the movie "The Exorcist", forget it.
Week after Next:  We may begin a series on the "Our Father".