The Nativity of the Holy Prophet and Forerunner John the Baptist – June 24
Gospel: Luke 1:1-25, 57-68, 76-80
It must have scared the old priest Zachariah nearly out of his wits. He was certain he had gone alone into The Holy Place to offer the evening sacrifice of incense *, when suddenly he realized he was not alone. Someone was there with him.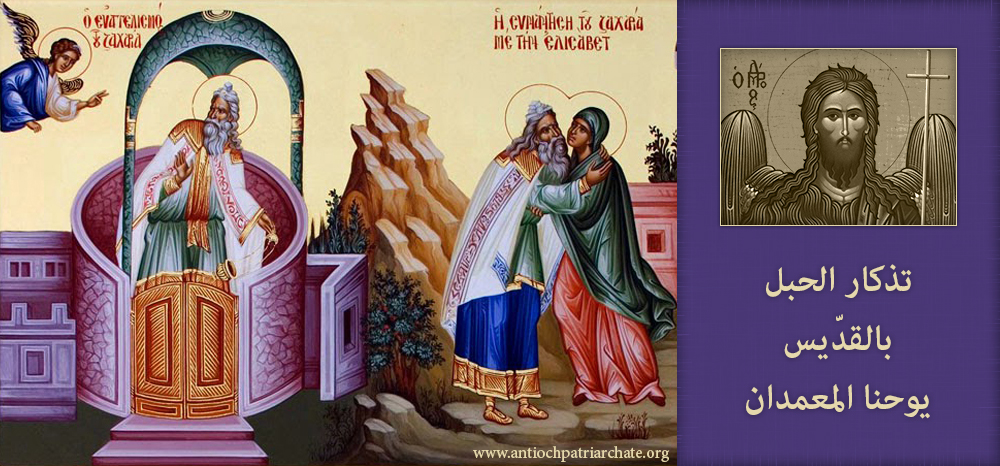 And a voice: "Do not be afraid, Zachariah, for your prayer is heard, and your wife Elizabeth will bear you a son, and you shall call his name John. You will have joy and gladness, and many will rejoice at his birth; for he will be great before the Lord, and he shall drink no wine nor strong drink, and he will be filled with the Holy Spirit, even from his mother's womb. And he will turn many of the sons of Israel to the Lord their God, and he will go before him in the spirit and power of Elijah."
We Orthodox still sing Psalm 140/141 at Vespers as we cense the Altar: "Let my prayer arise as incense, the lifting up of my hands as the evening sacrifice…"
Zachariah bravely asked the angel, "How shall I know this? * For I am an old man, and my wife is advanced in years." The voice came again, "I am Gabriel ["God is my strength"], who stand in the presence of God. I was sent to speak to you, and to bring you this good news. And behold, you will be silent and unable to speak until the day that these things come to pass, because you did not believe my words, which will be fulfilled in their time." Then just as suddenly Zachariah was alone again.
Mary asked Gabriel "How can this be?", and he gave her the answer.  Zachariah asked essentially the same question, and he was struck dumb. Why?
Priesthood in Judaism was inherited and by now there many priests, so each served only occasionally, chosen by lot. Deep into the temple (just outside the Holy of Holies where one priest went alone once a year) was an altar where one priest went each morning and another each evening to offer incense. That evening it had been Zachariah's turn.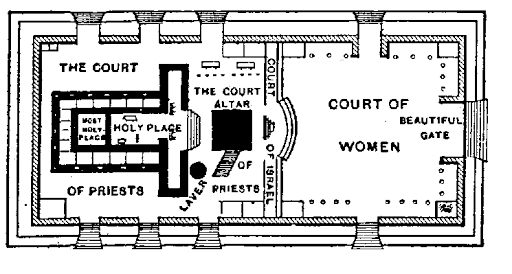 "The people were waiting for Zachariah, and they wondered at his delay in the temple. And when he came out, he could not speak to them, and they perceived that he had seen a vision in the temple; and he made signs to them and remained dumb. And when his time of service was ended, he went to his home."
Before John's Birth
Zachariah and his wife Elizabeth were both old and childless. So far as I have found we Orthodox have no tradition about their age. (Muslims say he was 92.) Like Abraham and Sarah, like Joachim and Anna, they would now become symbols of how God can bring life out of our spiritual barrenness. (Even when we think it's too late for us or for the world… it isn't.) Elizabeth was cousin to the Virgin Mary – though the word "cousin" in the Middle East can have a wide variety of applications. In any event, that made Jesus and John "cousins" as well.
No doubt the Virgin Mary was eager to get out of Nazareth before she became too visibly pregnant. (I grew up in a small village, and I know how anybody's business there is everybody's business.) So she "hurried", it says, to visit her cousin Elizabeth who lived in the hill country of Judaea, probably in Ein Karem. Quite a journey – about a forty hour walk, if that's how she did it.
I can imagine her entering the door and crying "Elizabeth!", so glad to see her older cousin who could guide her through this difficult time. Immediately Elizabeth's baby gave a good hard kick in her womb!, and "Elizabeth was filled with the Holy Spirit.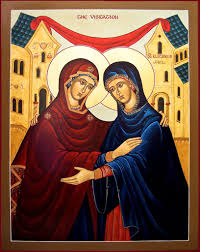 In a loud voice she exclaimed: Blessed are you among women, and blessed is the fruit of your womb! And why am I so favored, that the mother of my Lord should come to me?  As soon as the sound of your greeting reached my ears, the baby in my womb leaped for joy." Luke 1:39-45 Elizabeth knew! And so did John! It's worth noting that in Elizabeth's womb was a person who recognized his Lord.
If I calculate right, Mary returned to Nazareth not long before John was born.
John's Birth
As in any small town, as soon as Elizabeth had recovered a bit, "her neighbors and kinsfolk heard that the Lord had shown great mercy to her". For this was an amazing birth. Imagine – at her age! at their age! a true gift of God. And "they rejoiced with her".
"And on the eighth day they came to circumcise the child; and they would have named him Zachariah after his father, but his mother said, "Not so; he shall be called John." And they said to her, "None of your relations are called by this name." And they made signs to his father, inquiring what he would have him called. And he asked for a writing tablet, and wrote, "His name is John." And they all marveled.
"And immediately his mouth was opened and his tongue loosed, and he spoke, blessing God. And fear came on all their neighbors.  And his father Zachariah was filled with the Holy Spirit, and prophesied, saying, 'Blessed be the Lord God of Israel, for he has visited and redeemed his people… And you, child, will be called the prophet of the Most High; for you will go before the Lord to prepare his ways.' And all these things were talked about through all the hill country of Judea; and all who heard them laid them up in their hearts, saying, 'What then will this child be?' For the hand of the Lord was with him."
Here was the one predicted in the last chapter of the last prophet in the Old Testament: "Behold, I will send you Elijah the prophet Before the coming of the great and dreadful day of the Lord." Malachi 4:5 And after that there had been no prophets – for four hundred long years.
If you want to know how Luke knew this story, he tells us at the beginning of his Gospel account. "Forasmuch as many have taken in hand to set forth in order a declaration of those things which are most surely believed among us, even as they delivered them to us, which from the beginning were eyewitnesses, and ministers of the word." Luke 1 1-2  Luke wrote about the year 80 (educated guess), but before then he had gone back and interviewed the old people in the hill country of Judaea who had remembered these things, "laid them up in their hearts". andalso  the younger ones who had heard these remarkable stories from their parents and grandparents. Saint Luke: "the world's first newsman".
John's Hidden Life
Luke continues: "And the child grew and became strong in spirit, and he was in the wilderness till the day of his manifestation to Israel." Orthodox tradition fills in the story. When Herod's soldiers
slaughtered the boy babies of Bethlehem, they also went after John. When Zachariah refused to talk, they murdered him in the temple, "killed between the altar and the sanctuary". Luke 11:51
Tradition says Elizabeth took John and fled to the wilderness down by the Jordan. Did she perhaps take refuge with family till her death? We don't know. Nor do we know anything about John. Those who like exotic speculations wonder if maybe he was part of the semi-monastic Qumran Community nearby. I've even read that he went to India and learned Buddhist lore. (I don't think so.) What we do know is what happened when John was about thirty years old.
John appears by the Jordan 

"In those days John the Baptist came preaching in the wilderness of Judea, and saying, 'Repent, for the kingdom of heaven is at hand!" For this is he who was spoken of by the prophet Isaiah, saying: The voice of one crying in the wilderness: 'Prepare the way of the Lord; Make His paths straight!'' Matthew 3:1
John came preaching like aprophet, looking like a prophet, "clothed in camel's hair, with a leather belt around his waist". He even came eating like a prophet: "his food was locusts and wild honey." Locusts? Ugh. (Some say the text really means carobs, "locust beans". I would prefer that personally, but then I'm not a prophet.) "Then Jerusalem, all Judea, and all the region around the Jordan went out to him and were baptized by him in the Jordan, confessing their sins." Matthew 3:1-6
Why did they flock to him? Because people were looking for the Prophet, for Elijah, the one who would precede the Messiah. Judaea was an occupied country. People wanted a "true King" who would come and set them free. And indeed they got One – but not the one they wanted.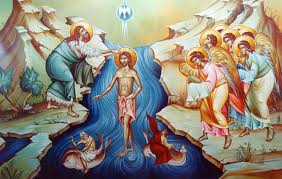 Now Jesus came to the Jordan. John cried "Behold the Lamb of God. Behold Him who takes away the sin of the world." Then, of all things, Jesus asked John to baptize Him. John was shocked. No! "It is you who should baptize me". Jesus said "Let it be so for now. It is the right thing to do".
And so Jesus took John's Baptism and remade it into our Baptism, our new birth into the Kingdom of God, our entrance into eternal life. 
John now withdrew into the background. He said he was only the bridegroom's friend, the "best man" as we would say, the koumbaro/ κουμπάρo in Greek terms. John said "The bride belongs to the bridegroom. The friend who attends the bridegroom waits and listens for Him, and is full of joy when he hears the bridegroom's voice. That joy is mine, and it is now complete."John 3:29
John's death
However, some while later John's prophetic voice kicked in again. King Herod had stolen his brother's wife. John publicly chastized him. Herod threw him into prison, and there he languished – and began to have doubts about Jesus. (Confinement can have strange effects on people.) I have read that John could not possibly have doubted his Cousin. I would like to ask Why not? Was John human or not? All human beings have doubts.
John had expected the Messiah to lay "the axe" to the root of the trees: therefore every tree which brings not forth good fruit is hewn down, and cast into the fire." Matthew 3:10 Jesus was not doing it. So he sent disciples to ask Him, 'Are you the One who is to come, or shall we look for another?' Jesus replied, 'Go and tell John the things which you hear and see: The blind see and the lame walk; the lepers are cleansed and the deaf hear; the dead are raised up and the poor have the gospel preached to them. And blessed is he who is not offended because of Me.'" Matthew 11:5 Christ was fulfilled the prophecies. But the prophecies John hoped for would have to wait till His Second Coming.
After they departed Jesus said to the multitudes, "This is he of whom it is written: 'Behold, I send My messenger before Your face, Who will prepare Your way before You.' Truly, I say to you, among those born of women there has not risen one greater than John the Baptist; but he who is least in the kingdom of heaven is greater than he.'"  Matthew 11 
And so on every Orthodox iconostasis there are our Lord Jesus Christ, his Blessed Mother the Theotokos, and John the Baptist and Forerunner, inclining or pointing towards Jesus, preparing His way.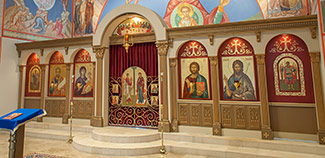 Now, Herod's wife wanted John dead. Herod wouldn't do it. He would go to the prison and listen to John, though he couldn't make heads or tails of it. Some people want to hear the truth but somehow just can't take it in. So here comes the most gruesome of stories: Herod threw himself a birthday party perhaps at this, his western palace (In the old days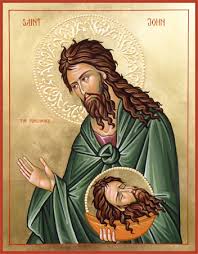 only royalty celebrated birthdays.)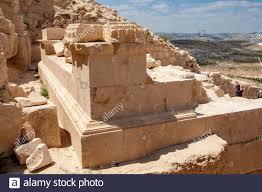 He invited all his rich friends in. Herod's wife's daughter danced delightfully, and Herod (no doubt drunk) said to her: Whatever you ask of me  I will give you. She went to her mother: "What should I ask?" She answered "The head of John the Baptist on a platter." Herod didn't want to embarrass himself in front his guests. (There is a moral here about pride, but let's not go there now.) So John was beheaded, and they brought his head into the party on a platter.
And that was the tragic end of John the Baptist.
Or was it?
John after his Death
Listen to the Church's Troparion/Apolytikion for John the Baptist: "The memory of the righteous is celebrated with hymns of praise, but the Lord's testimony is sufficient for you, O Forerunner. You were shown in truth to be the most honorable of the prophets, for you were deemed worthy to baptize in the streams of the Jordan Him whom they foretold. Therefore, having suffered for the truth with joy,  you proclaimed to those in hades the God who appeared in the flesh, who takes away the sin of the world, and grants us great mercy."
It was John's calling to precede Jesus, to proclaim His coming not only on earth but also in hades, in life and also in death. Hear him crying out in the darkness to the dead from all times: "Prepare the way of the Lord. Make his paths straight". And so Christ would follow him into hades.
But then… Look at this Pascha icon. Now it was time for Christ to precede John. Now Christ becomes the Forerunner. Jesus Christ breaks down the gates and bars of hades and leads the dead up into Life, into the Light. And look to His right. It's John the Baptist! still pointing to his Lord.
But today all that is thirty years in the future. Today John is still a little baby, snuggling in the arms of Elizabeth, being doted over by his father Zachariah, with all the relatives and friends coming in to see this tiny Gift of God.
For today: Happy Birthday, John the Baptist!
Next Week: Apostolic
Week after next: Opening Up