Last week we looked at what the Holy Scriptures have to say about the End, and then we looked at Roman Catholic and Protestant teachings about the immediate Afterlife in light of Orthodoxy.
Before we proceed, I think something should be made more clear about Heaven and Hell. Do we Orthodox see Hell as God's punishment? No. No more than Heaven is reward. At least not in the sense that God looks at our lives and says "OK, you got an 80% grade, that's passing, you're in". In the Orthodox understanding, both are the natural result of how we have lived on earth, and if we're still trying, haven't given up on Him, then after death He lets us continue. That's why in the parable, the Publican pleased God. It is our choice. C.S. Lewis * wrote somewhere that in the End either we will say to God "Thy will be done", or He will reluctantly have to say to us "your will be done". If you don't want Me, you needn't have Me. And to be without God would be Hell – if a person can truly be said to "be" without God.
Why do I quote CSL so frequently? Because he was in most ways orthodox even though he was not Orthodox, and often succinctly stated what we believe. He obviously knew the Fathers well.
Often Christ described Hell as "Gehenna" (Gehinnon) – see Matthew 5:22 and many other verses.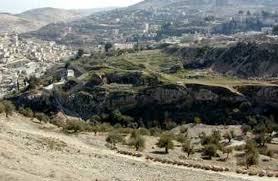 The Gehinnon Valley was then the  garbage dump down below Jerusalem where fire and smoke continually went up destroying the refuse. Right: it looks much better today. Hell is the eternal garbage dump where those not worth saving wind up.
Now, moving ahead…
Eastern Orthodox Teaching on the Afterlife
Was there a systematic explication of this in the Fathers? I haven't found one – though I'm no expert on the Fathers. The earliest Fathers were concerned chiefly to affirm the Bodily Resurrection, in opposition to the Gnostics.
Orthodox teaching is usually clarified only when it is challenged. So at the Fifteenth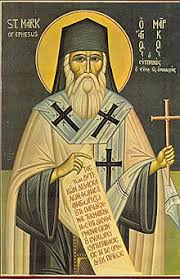 Century Council of Florence, Mark of Ephesus wrote this, giving Orthodox teaching in refutation of the "Papist" doctrine of Purgatory: "If souls depart from this life in faith and charity but marked with some defilements, whether unrepentant minor ones or major ones repented of but without having yet borne the fruits of repentance, we believe that within reason they are purified of those faults, but not by some purifying fire and particular punishments in some place." Notice how beautifully imprecise and non-legalistic this is.
For a short but thorough presentation of the Orthodox "take" on this, see the Greek Orthodox Archdiocese of Canada: https://www.gometropolis.org/orthodox-faith/concerning-death/what-happens-after-death/
Other matters that people wonder about
I'll try to look at these from an Orthodox point of view, of course. Anyone, please correct me if you think I'm off base.
Does the soul remain on earth for forty days after death? with the soul departing after Trisagion Memorial prayers are sung on that day.
Below: music in the Russian tradition
This belief is not part of "The Tradition"; it's more like "tradition". It certainly helps the bereaved to "let go" and move forward themselves. The fixed sequence of Trisagion Memorials works wonderfully in this way.
But I think there is also some evidence for it: When people have "visitations" of the departed, whether in dreams or when awake, they usually seem to happen during this period. I could tell you some stories. Here are two: 1 I know of a man who appeared soon after his death, seen on the same day by two different people while they were awake, each unaware of that he had been seen by the other. In both cases he asked if his wife was alright and then he was gone.  2 I know a man who had an extraordinarily vivid "dream" just before dawn. His newly departed mother walked in. He said, "Mother, I thought I'd never see you till after I died." She said, "I've been allowed to come back for a few minutes." They sat at a table. She put her dear hands over his, and they talked about many things. (He later wrote down some of what she had said.) Then she said "I must go now", and the "dream" became confused and faded, and he immediately was awake, crying for joy. Was this a genuine visit? Who can say? Whatever it was, it was more "real" to him than "real life". He was never able to grieve again after that. He still cries every time he thinks about it. Many years before, she had had a similar but even more vivid "dream" of her brother after he had been killed in a truck accident, which also had settled her grief.
What about spiritualism? – trying to summon the dead. Don't touch it with a ten foot pole! Christians of all stripes have long warned that this is foolish and dangerous. Most mediums are charlatans. And even if you should get in touch with the "other side", how do you know whether it's your Aunt Hattie or a demon or someone or something else pretending to be Aunt Hattie, leading you into…? Do not get into this!
What if there is no Afterlife? What if we die and that's it? Let's spend some time on this, because this is a fear that comes upon almost all of us sometimes (yes, priests too), but faithful people are often embarrassed to talk about it. "Shouldn't I have more faith?"
I think the answer to the question above, when the thought comes at us, is: Get hold of yourself! Don't fall into "blind doubt". Don't let your irrational feelings overcome your faith. What's behind this? Demonic temptation. Satan is out to drive you crazy. So first, tell the devil to go to hell! Literally. Say it.
And then, think! We have a reasoned Faith, and here comes a crash course in it.
Let's begin at the beginning. We believe in God. How could we not? The world exists, it is designed, it endures. This means God is working everywhere. How could He not be? So He has created you, designed you, causes you to exist right now. Can you even imagine that He has had you spend your life growing in knowledge and love and virtue – only to blot you out?
We believe in Jesus Christ, who taught us that God loves us, cares about us. Listen to Him: "God so loved the world that He gave His only Son that those who believe in Him may not die but  have everlasting life." "I go to prepare a place for you, that where I am you may be also". And so much more. And then He showed us by His death: "Greater love has no man than that he should give up his life for his friends." And by His holy Resurrection He opened eternal life to us: "Christ is risen from the dead, trampling down death by death, and upon those in the tombs bestowing Life." The evidence of this is the continuing work among us of the departed saints.
In the New Testament (1 Thessalonians 4:14, for example) and the early Church, death is often called "falling asleep". This is not a euphemism.
 This describes what faithful Christians experience when we die. We close our eyes and fall asleep with Christ who went through death before us, and then we wake up with Christ on the other side, who is also there, as He is present in all places.
You say what you believe about this every Sunday: "I look for the resurrection of the dead, and the life of the age to come. Amen." So believe it.
Below:: an icon titled "The Falling Asleep of John the Apostle and Evangelist"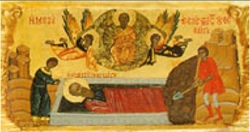 This "blind doubt" about our future comes from Satan, the Evil One, the Father of Lies. So prepare yourself: If you should feel yourself falling into this state of mind, then resist and think, and cling fast to Reality. Give me one piece of evidence that death is the end. There is not a single one.
And if that doesn't work, go watch a happy TV program for a while till you get over it. Maybe it's just something you ate.
Will we see our loved ones on the other side? (I miss my Mom and Dad so much I can hardly stand it sometimes.) Unfortunately, so far as I can find, our Orthodox Tradition says almost nothing directly about this. (If I'm wrong about this, and I hope I am, please correct me below.) That the departed are visible to us over there is affirmed by the many appearances on earth of saints, especially the Theotokos. But I have the feeling that when I get there (trusting in God's mercy that I do), many people I have known and loved will have moved on far beyond me,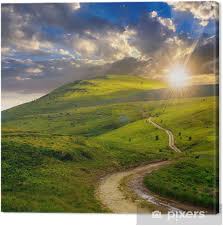 will be "further up and further in". So how can I ever catch up with them? Maybe are they allowed to come back to meet me and lead me on? I hope so. I trust that at the End we will all be together. Or maybe time there doesn't work the same way time does here. Maybe there the End is Now. (And maybe I'm just babbling.)
What about "near death" experiences? Orthodox Tradition doesn't deal with this, so far as I know. I think this is because in the old days when people got to the edge of death they almost always died. There are some beautiful stories of saints who saw the Holy Ones coming to welcome them, but I think we who are not saints can hardly count on that. There is an ancient "pious belief" that our guardian angel  leads us through death.
Today, because of modern medicine, many people nearly die but then return to us, so "near death" experiences are more common. These also frequently describe going through a passage, often led by a being of light. Most (though not all) who have experienced it seem never to fear death again, and lead a very positive life thereafter. I knew a man long ago who came back fascinated; he said he could hardly wait to go further into it again. However, even if these experiences are genuine, be wary of what they tell us about the "other side". Remember, these are only near-death experiences. They are like an American flying over the Atlantic, getting a glimpse of Heathrow airport, and returning to tell us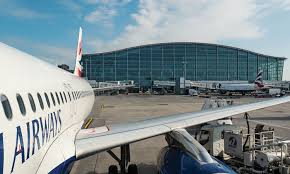 "I've seen what England is like!" Yeah, It's like an airport! Nobody who gets only a peek through the door of death has any idea what actually lies over there.
Of course,  there is One who truly came back from death, Jesus of Nazareth. Listen to Him. And there was another, Lazarus of Bethany, Four Days Dead, but so far as we know he never said a word about it. Dorothy Sayers wrote a play The Man Born to be King, where Jesus and Lazarus, after he has been raised from death, sit at table in Bethany exchanging knowing looks…
Next Week: Part Three about the Afterlife. I began this article thinking I could cover it in a week. Ha! Well, it is a fascinating topic, and as I said it's relevant to my present situation, and I keep finding more to talk about. However, next week I promise we'll conclude this series. We'll begin with the Toll House theory. That should keep you Orthodox interested. For non-Orthodox readers who may not have heard about it, it has nothing to do with my mother's cookies. And then we'll conclude with some lovely Orthodox music.
Week after next we'll resume The Divine Liturgy