This is a subject of considerable interest to me, since I am 81 years old and getting older. Fast.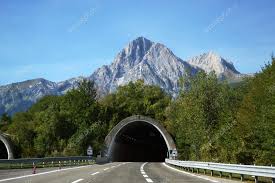 The End
All traditional Christians agree here. "All the peoples of the earth will …see the Son of Man coming on the clouds of heaven, with power and great glory."  Matthew 24:30 Then will be  the Resurrection of the Dead, "those who have done good, to the resurrection of life, and those who have done evil, to the resurrection of condemnation." John 5:29 This will be conjoined with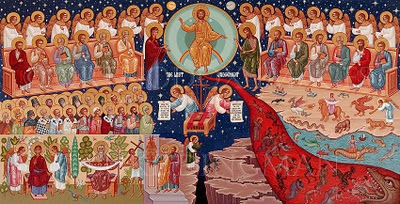 the Last Judgment. However, note carefully: "He who hears My word and believes in Him who sent Me has Everlasting Life, and shall not come into judgment, but has passed from death into life." John 5:24 The Judgment will be of the "nations", nonbelievers, those not consciously in union with Christ. Among them, those who have cared for "the least of my brethren" will enter "the Kingdom prepared for you". Those who had no love will "depart into the eternal fire prepared for the devil and his angels". Matthew 25:31-46
Can non-Christians be saved? Can those who did not believe in Jesus Christ be saved? Yes and No. No, because Jesus Christ is God, and God is salvation. But yes, because at that time they will see Him for who He is, and have the chance to accept Him or not. Some of the saints Gregory of Nyssa for one, have hoped that all might be saved. How could anyone see our loving Lord and reject Him? I don't see how, but I wouldn't bet on it. Some people already in this life seem impervious to Reality, so why shouldn't they be the same then?
And those who are saved (and may you and I be among them) "will be like Him; for we shall see Him as He is." 1 John 3:2 Oh, just to imagine  – that we should see His beautiful glorious Face! and to be like our resurrected Lord!
But what happens before that? What about immediately after death? That is our chief topic today. I wonder a lot about it. Don't you? How could we not?
New Testament Teaching
Christ said little about the immediate Afterlife, and even that is…is it irreverent to call it "vague"?
In the parable of Lazarus and the Rich Man Luke 16:19-31, it's clear that both are alive immediately after death, but is the chasm between the Rich Man and Lazarus permanent or temporary? Is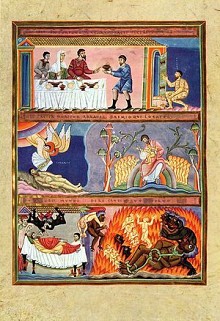 the Rich Man suffering in the fire of eternal punishment or in the fire of purification? Is the fire actual or is it symbolic? It's not clear.
Jesus said "Settle matters quickly with your adversary (Σατανᾶς, Satan) who is taking you to court. Do it while you are still together on the way, lest your adversary hand you over to the judge, and the judge hand you over to the officer, and you be thrown into prison. Truly I tell you, you will not get out until you have paid the last penny." Matthew 5:25-26 This is the origin of the Roman Catholic doctrine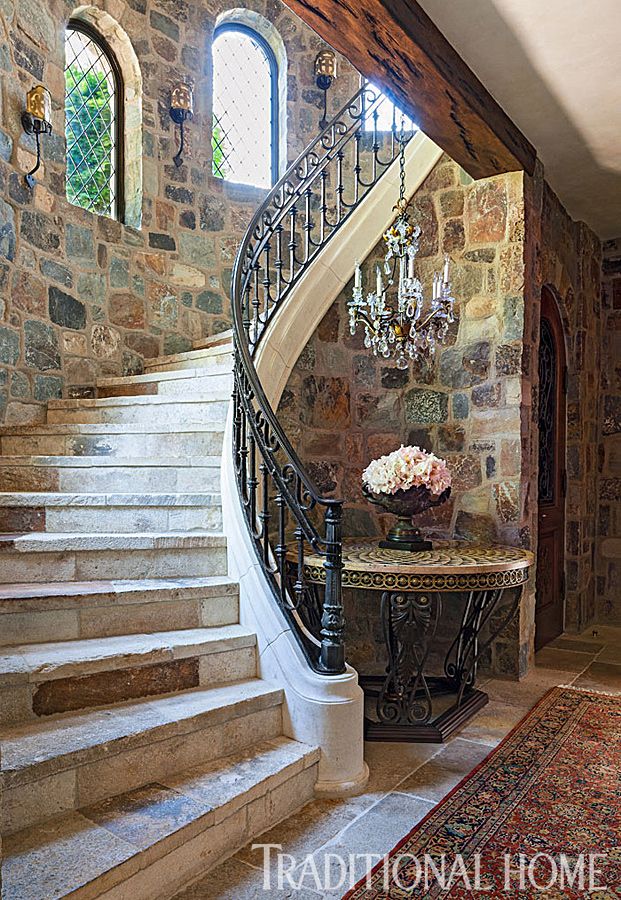 of Purgatory. But does Christ mean we can still repent and escape from going to "prison" after death? It's not clear.
Christ said "in my Father's House are many rooms. If it were not so, I would have told you." John 14:2 "I go to prepare a place for you." This fits with Saint Paul's vision, where he was taken up to the "Third Heaven" 2 Corinthians 12:2-4  – presumably out of the Seven found in many ancient religions. Does this suggest that after death we may climb, room by room, toward the Highest One? It's not clear.
Why did Jesus tell us so little about the immediate Afterlife? He didn't tell us why! Perhaps because it is so beyond our ken that it cannot be put into words? Paul said that in the Third Heaven were things which "cannot be told, which man may not utter".
Unlike Roman Catholics and many Protestants, we Orthodox have no formal, official teaching about the immediate Afterlife. About this and many other matters, we Orthodox agree not to speculate overmuch about the mystery.
I think it will help if we begin with non-Orthodox Christian beliefs, with a few comments from our Orthodox point of view. There are also many non-Christian beliefs about the Afterlife, but that's too much to tackle here. It would make another interesting article (or two? or three?), now that I think about it.
Roman Catholic Teaching
Roman Catholics know precisely what happens in the immediate Afterlife.
They believe in Purgatory, where after death peoples' sins "are purged away through torment or 'purifying' punishments'". Catechism of Pope Paul VI, 1967. (No wonder my sweet, loving, faithful Grandma Rosie was afraid to die.)
For many centuries this terrifying hymn Dies Irae Dies Illae ("Day of Wrath, O Day of Mourning") was part of the Roman funeral service. I think there is nothing hopeful in it. It's all death and destruction. It is not sung much now, but interestingly I read that the first four notes often are heard in popular horror movies!
Roman Catholics believe that at death God decides where we will go, either Heaven or Hell. After that begins the fiery punishment of those who will go to Hell, which increases and continues forever. Those who will go to Heaven also enter Purgatory, but for them fiery purification begins in preparation for entrance into Heaven. How does God decide this? I'm not sure. For many centuries Purgatory was assumed to be a literal place, and the purification in literal fire. This was required to satisfy the "justice" of God, even of those sins He had already forgiven. (I've tried to understand this. I can't.)
However, in a completely different tone, here is the traditional hymn as the body is led out of the church. "May the Angels lead you into paradise: may the martyrs receive you at your coming, and lead you into the holy city, Jerusalem. May the choir of Angels receive you, and with Lazarus, who once was poor, may you have everlasting rest."
This is classic Gregorian chant:
This is the Faure setting. Every time I hear it, it almost makes me want to turn Catholic and die right now, so it can be sung over me. Almost.
The current Catechism of the Catholic Church (Sections 1030 and 1031) is not so fearsome about Purgatory: "All who die in God's grace and friendship, but still imperfectly purified… after death [must] undergo purification, so as to achieve the holiness necessary to enter the joy of heaven…  Certain offenses can be forgiven in this age, but certain others in the age to come."
However, at recent Roman Catholic funerals I have attended, the horror of death seems to be nearly ignored. All is hope and joy, almost as if nobody had died. Is this typical now? I don't know.
From the Orthodox point of view, I find it hard to put all this together. In our funeral service we sing about the dreadfulness of death itself, but all in the context of hope in the love and mercy of God. We'll come to this next week,
I should add that in the midst of all this Roman Catholics still believe in Indulgences: prayers or acts of charity, each assigned a certain number of days (outside earthly time…?!) which can be applied to souls in Purgatory. When I read the Documents of the Second Vatican Council I thought much was acceptable, but then every so often here came lists of Indulgences, and I thought "What…?!" Orthodox find this just bizarre – to think that such things can be determined by Papal authority instead of being left to the love and mercy of God. Way down deep, the notion of Indulgences seems to be grounded in the correct belief (but twisted terribly out of shape by Western legalism) that before we can enter Heaven we need to be rid of our sins, and it helps to pray for others.
However we Orthodox are not quite faultless in this regard, as we shall see next week.
Protestant Teachings
"Teachings" because, as with all things Protestant, there are many. What follows here is a great oversimplification.
Reformation Protestants believed that we are saved by "faith
alone" (defined variously, and Calvin said it is pre-determined before our birth!) and that when we die we go to Heaven or Hell, and that's it. Or alternately we sleep till the End of the Age. Protestants therefore think there's no point in praying for the dead – although most Anglicans now allow such prayers.
This betrays a completely different understanding of Heaven than ours. Heaven as we see it is not the reward for proper faith or good behavior. Heaven comes as the result of our growing into the perfection to which God calls us. We agree with Roman Catholics that after death we must continue to grow into the fullness of Salvation.
At our local coffee house, I've lately been having a friendly conversation with a woman from the Wisconsin Synod, the most rigid and conservative of Lutherans. They're not even allowed to pray with anyone else, not even with other Lutherans. (She, by the way, has completely overturned my image of Wisconsin Synod people. I've had to deal with a couple of very conservative Lutheran pastors, and… … well, I expected her to be difficult and rigid and closed-minded. Far from it, she is simply faithful as she sees it, but pleasant and interested in knowing about the rest of us. So I live and learn!) She says it troubles her greatly to know that some of her friends and family, not being strict believers, will go to Hell. And she cannot understand why we Orthodox pray for the departed. "What good can it do?" I've explained that I pray for my departed loved ones because we believe "all are alive to God" Luke 20:38, and because I love them and trust Jesus to take it from there. When my father died in 1965 I was so thankfuI I had become Episcopalian, because if I couldn't have kept praying for him it would have torn my heart out.
But now hear this! The best-selling 20th century writer among Protestants was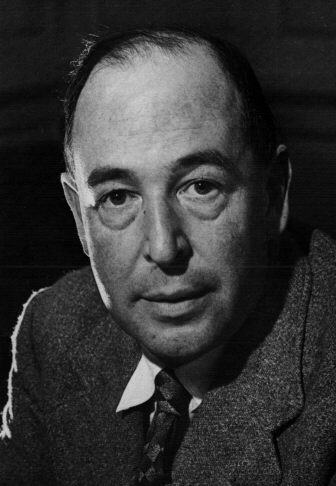 Anglican C.S. Lewis who received Communion at least weekly, made his Confession regularly – and said he believed in Purgatory! (Go figure.) He wrote "Our souls demand Purgatory, don't they? Would it not break the heart if God said to us, 'It is true, my son, that your breath smells and your rags drip with mud and slime, but we are charitable here and no one will upbraid you with these things, nor draw away from you. Enter into joy'? Should we not reply, 'With submission, sir, and if there is no objection, I'd rather be cleansed first.' 'It may hurt, you know'—'Even so, sir.'" from Letters to Malcolm
However in practice, many Protestants today seem to believe that at death everybody goes automatically to Heaven, a "better place". Die and Bang! you're in glory! Comforting, yes? and completely contrary to the Scriptures.
Next Week: Part Two – Orthodox Teaching about the Afterlife
Week after next: The Lenten Gospels – Who is Jesus?