I know that most gun violence in America takes place at home. However, here we're talking about church.
Trying to Protect our People in Church
I just read in a conservative on-line magazine that it's absurd to worry about gun violence one way or another, since chances of any of us getting shot up are so slim. True. Chances of our getting hit by a tornado are also very slim, yet we take precautions.
Therefore our Saint Nicholas Parish Council and other religious groups in Milwaukee – Christian, along with Jewish and Muslim which are particularly susceptible – have been getting training to help us know how we might handle a shooter
This is not an abstract issue. Churches, synagogs and mosques are increasingly being attacked. A few years ago someone shot up a Milwaukee Sikh temple, killing six,  because – well, they did look "different", didn't they? so they must be terrorists. Orthodoxy also seems foreign to many people and, as we said last week, Saint Nicholas, Cedarburg, has Middle Eastern connections. And "Orthodox" does sound Jewish.
Now, I trust that not many of you would want to shoot your priest  – though I suppose the thought has occasionally crossed your mind during the sermon. But we, like every parish, have some people with mental issues – one guy who does very odd things, like lurking in the dark coat room in back startling people. And we do get visitors whose mental state we do not know and who can obtain firearms easily.
Why are we so "uptight" about firearms in particular? It's said, "Guns don't kill people. People kill people." Well, of course. Guns are just the most efficient way for people to kill people. I mean, if someone headed to the altar with evil intent, a knife wouldn't get him very far, would it? Someone along the way would likely try to stop him. But with a gun he could quickly get me (or anyone else) from the back of the church.
What should we do to try to protect ourselves from a gunman? One thing suggested was to train everybody, so when they hear shots, to quick get down behind the pews while an usher distracts the shooter and likely becomes a martyr. Another is to have one of our doctors or nurses present every Sunday, so they could minister quickly to the wounded and dying.
Some churches in the U.S. (and many schools) now have armed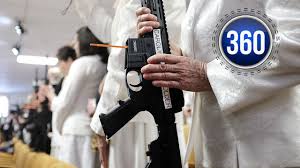 guards. Some, I read, have metal detectors at the door. A few pastors (mostly "Bible church" and not here in the Upper Midwest, I think) are urging  their people to carry guns at worship, so they can shoot back just in case. This would be based on the Biblical precept:…uh, I'd be a little hard pressed on that one. Maybe Matthew 26:52: "Jesus said  'All who live by the sword will die by the sword." I don't mean to sound snide, but in the training we received they specifically warned against this, in the belief that a bunch of untrained people shooting back at a moment's notice would more than likely augment the killing. I read just this week that the Mormons, in this spirit, have now banned firearms in their assemblies.
How far should we go in this? I suppose a few  precautions are in order. But even thinking and worrying about this would distract us during worship, would it not? Should we just pray hard and trust in God? I don't know.  I really don't. All I know is that not many years ago this was not a problem. I keep wondering what Christians in other countries may be thinking of us today – not only the danger but even more our mindset of fear.
So should we try to go deeper?
What could we Orthodox contribute to American society?
For one thing maybe could we set a pattern for rational discussion of the subject, without "pigeon-holing" or accusing others of unworthy motives? This is offered in the context of what we said last week: "Orthodoxy is interested not just in saving souls but in building  Orthodox cultures."
Most Americans today are fighting like fury about this issue (as well as many others), divided into right wing, left wing, liberal, conservative, and so on. We Orthodox, however, are grounded not in American politics or law or culture of whatever sort, but rather in the Tradition of the Church. We Orthodox come from somewhere else. We're super-cultural, and that should give us a higher, broader, deeper perspective.
A lady and I were talking at church Sunday before last. We generally come at politics from different directions, but we agreed that so long as we both are grounded in the Tradition, we can trust each other to proceed from there. Did I ever tell you the story about the two old guys at Saint Nicholas Sunday coffee hour years ago? One was about as far to the right as one can go, the other an old-fashioned Milwaukee socialist. They argued like crazy, then got up, smiled, said "See you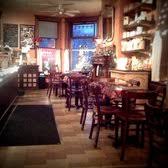 next Sunday" and left. Could we Orthodox show others how to be like that?
Not long ago, at the coffee house where some of us go after weekday Matins left: Java House, Cedarburg, we had a quiet discussion about why America now has so much gun violence. We were not talking legalities (as I said last week) but rather "practicalities". In what follows, please don't any of you get "all a-twitter", as my mother used to say. We were just asking.
Is it because of the great proliferation of firearms in recent times? (note the charts from last week) and their power and easy accessibility? The increase in mass shootings generally parallels the increase in guns. However, we also know that the vast majority of gun owners are responsible people – my son-in-law, for one example, and my dad. Note also that the rate of gun deaths in America has been decreasing.
I mentioned some things I've learned overseas. Greece, like most countries, requires guns to be registered. Gun deaths are low. Likewise, in Switzerland all men are required to have guns – registered, because they all must serve in the militia – but the gun death rate is minimal.  In both countries mass shootings scarcely exist. Why?
However on Crete which I know best, up in the mountains there are many unregistered firearms – they remember the Turks and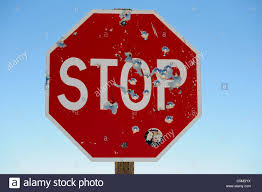 the Nazis, and after that they don't much trust anybody. Stop-signs often have bullet holes in them! But do they shoot each other? No. Recently when a female tourist was murdered on Crete, waves of shock and horror went around the island.
If the problem is not firearms alone, what is?
Do we in America have more mentally unstable people than other countries? and more than we had before? If so, why?
Is it because of easy access to firearms, some of them powerful?
Why are shooters almost always male? Has something gone particularly wrong with men in our society? If so, why?
Are the mass shootings influenced by inflammatory speech by political leaders? or because of the political ideology of many mass shooters? augmented by social media which allow people to easily share bizarre conspiracy theories? Or violent video games? Or because Congress is dysfunctional and unable to act? Or…? Did we miss any possibilities?
Or is the problem all of the above? I learned while majoring in meteorology that great storms occur when many factors coincide.
At coffee we all had our opinions, but we didn't fight about it, because we didn't know. Nor do you. And that's the problem. The 1996 Dickey Amendment of the U.S. Congress (renewed ever since) forbade the national Center for Disease Control (as impartial a group as one could find) to recommend any sort of gun control (as they would in the case of other health situations), so they have been afraid even to tackle the issue lest they lose funding.
So how do we find out? As divided as Americans are about guns, would it even be possible to agree today?
An Amateur Attempt at Orthodox Theological Sociology
So can we try to go to the roots of the problem?
Could we Orthodox somehow help lead the way towards a solution?  It would be quite a task for us to create an American Orthodox culture – we who are only about 0.5 % of the population. But may we at least think about it? What might it look like? This would apply to much more than guns.
Surely these would be the foundatons:
1 We'd need to begin with our Judaeo/Christian Orthodox/Patristic heritage – God and his worship and his revelation – so that people could gain a super-cultural perspective. Most American Christianity, whether liberal or conservative, does not provide much of that today. Maybe that's at the core of what'e gone crazy.
2 With "love your neighbor as yourself", instead of the present atmosphere of "Put your neighbor down. If he hits me I'll hit him ten times harder" – which can easily lead to "I'll shoot him before he shoots me". Of course we need to protect ourselves, but are we returning to pre-Judaic morality? The book of Genesis describes how mankind originally suffered this moral decline, using Lamech as a general symbol of it. As the killing increased, Lamech proclaimed,"If Cain is avenged seven times, then Lamech seventy-seven times." Genesis 4:24 That's where most of the ancient world was. Compared to that"an eye for an eye and a tooth for a tooth" was progress! Then Christ came to take us further: "Forgive your brother seventy times seven times." Matthew 18:21-22 " "Do not be overcome by evil, but overcome evil with good." Romans 12:21 Today our culture is regressing. Fast.
3 In America, we would need to protect personal freedoms as much as possible. People here do not respond well to dictates from on high. How could this be done while still protecting the innocent? Perhaps the Orthodox Church could make a special contribution here – because Orthodoxy is not authoritarian, nor bound up by legalisms and "rights". Orthodox people are free, not repressed, and yet there is little or no rebellion in the ranks. Could this somehow  be applied to our culture?  – if only we could figure out how we Orthodox do it! I certainly don't know.
4 And then could we Orthodox help other Americans somehow to become humble enough to look beyond our own limited culture and try to learn from other first world countries – about gun violence and maybe some other matters?
The "amateur theological sociologist" has spoken! I'm just speculating, but could these be the foundations to build on? What do you think?
The Future
I think this is the question:
Do we want America, without moral leadership, to turn into the "Hatfields and the McCoys" who spent all their time feuding with each other? Or into 19th century Dodge City? Movies about great shoot-outs are fun (or at least they were), but would you like to live that way?
There is a peninsula in the far south of Greece called the Mani. Back in the 19th century, the villagers hated each other for some reason, so they built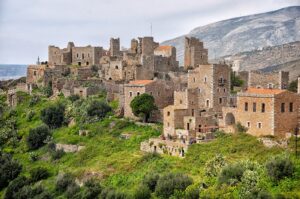 towers ever higher and higher so they could better shoot at their neighbors. It worked. Today the towers remain. The villages are almost abandoned. The churches are still there, the iconography fading away. The few survivors run small tourist hotels and do a little fishing. But for all intents and purposes the old Mani is gone.
by KASPAR, Creative Commons Licence
Most areas of America are still free from this. It takes place largely in poverty-stricken parts of our cities which, in their way, are now kind of like the old Mani, only the shootings are "drive-by" and more random. But the rest of us, in our attitudes at least, are a lot closer to that today than we were in 2009, and far closer than "back in the old days". When I was young, at least in this part of the country, very few people were regularly carrying guns, and certainly not to church.
Civilization is fragile. I've seen a lot in my 81 years. If trends don't change, I wonder what will another 81 years bring.
Back to the Notices by the Doors
In 2009 I put up the notices at the entrances to Saint Nicholas to declare what the Church is. I hoped they wouldn't offend anyone. No parishioners left because of it. In fact the only negative comment came from a man whom I loved dearly. He said teasingly, "Are you trying to take away my Second Amendment Rights?" I teased back, "Yes." Then, since we both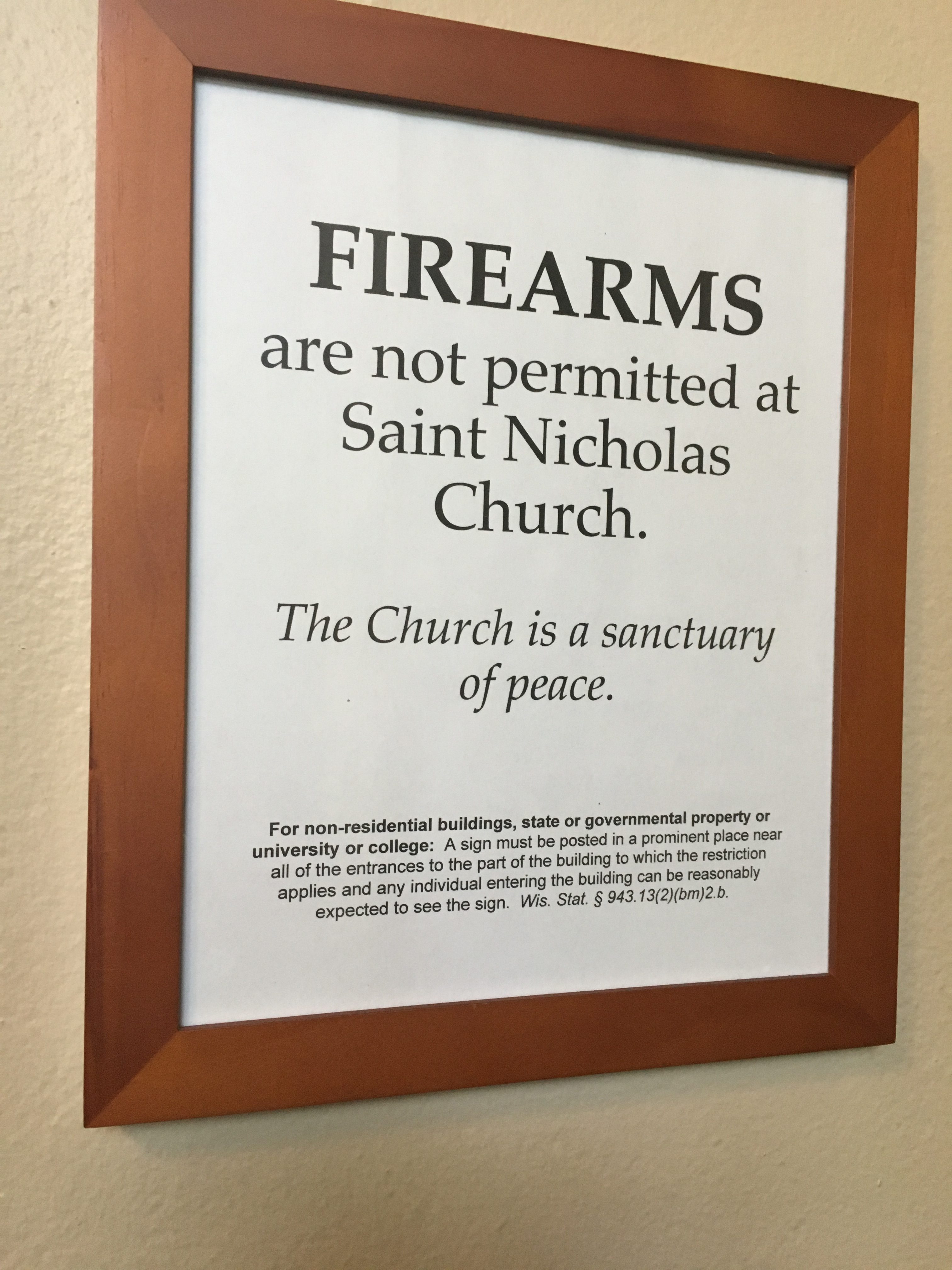 understood the laws and my real purpose, we both smiled and kept loving each other till the day he died, and I miss him so much. (Memory eternal, Tom) But I don't see any middle ground on this. I mean, trying to divide the church into shooting and non-shooting sections would not work! Either you try to establish that a church is God's Sanctuary of Peace or you don't.
Maybe I have felt so strongly about this because Orthodox clergy are expected to be men of peace. By canon law we are forbidden to fight in wars. (In the old Byzantine days, we were even forbidden to enter military camps. ) I once sat with our former Diocesan Bishop Mark as he interviewed a man who was interested in ordination. His first question was "Have you ever killed anyone?" Orthodox canon law says that a man who has killed another human being, for any reason, should not be ordained. That rule certainly can't be applied to everybody – in this fallen world, we need police and military to protect us – but it is intended to set the ideal, to prepare us for God's heavenly Kingdom where there is no violence or hatred and people cannot be killed.
Other Churches and  Institutions regarding the Issue
What has startled me is how few churches have tried to ban weapons. Wisconsin schools are required to do so, and all local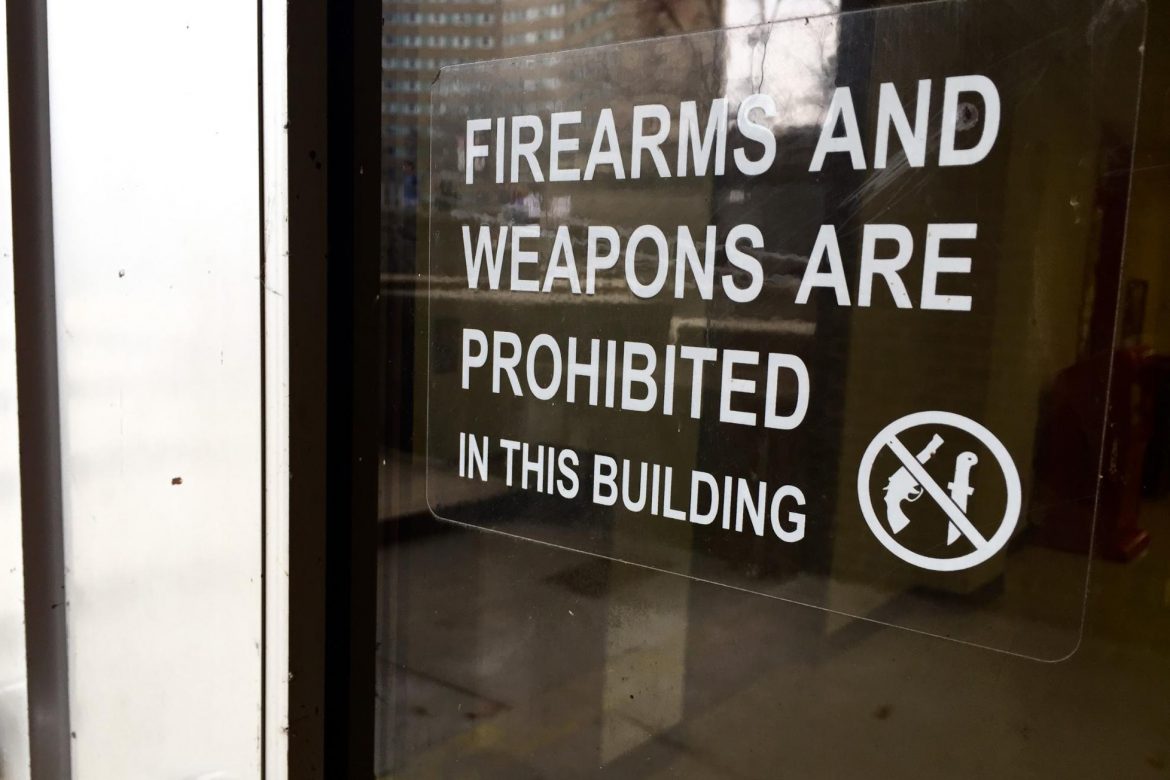 hospitals and clinics (I think) have, and the local YMCA and a few businesses – the coffee house we patronize, for one. I've thanked them. But churches, God's sanctuaries of peace? Not so much. So are firearms welcome there? I am told that in a local Orthodox church a man showed up in the altar carrying a gun. I don't know the result, but if I had been pastor there, he would have been out the door of the church in 30 seconds.
As I said earlier, my personal opinion – confirmed by our "protection training" (see way above), but this is not the word of God so feel free to disagree – has long been that firearms in private hands * in public buildings are dangerous. So back in 2009 I tried to keep a secret rule, not telling anybody, that I would patronize only places which forbade firearms. I tried to talk the manager of a local supermarket into posting "No Weapons Allowed" at their entrance. He very politely refused – not on principle, but explaining that it would offend some shoppers. I was polite. I didn't say it. What could I do? I was fighting against the tide. I discovered that my rule was impossible to keep, unless I was to go hungry and naked. It also would have meant that I could not enter any other Orthodox churches in the area.
In Wisconsin, training for a license for "concealed carry" is sometimes minimal, and neither training nor license are required for "open carry". I honestly do not understand.
So I secretly compromised on my secret rule. No, actually I gave it up. I guess that's just the way it is now. So how far do we go with compromise? Should I compromise and carry a pistol in the altar? *
* Bishop Anthony, in case you're reading this: I'm not going to do it!
Next Two Weeks: Back to Greece! All summer I've been missing Greece so much, especially in light of the last two weeks' discussion. At least I can write about it. I hope you'll come along.