In summer 2009, when I was still pastor of Saint Nicholas, Cedarburg, I posted this notice at the three entrances to the church.
Firearms are not permitted at Saint Nicholas Church. The Church is a sanctuary of peace.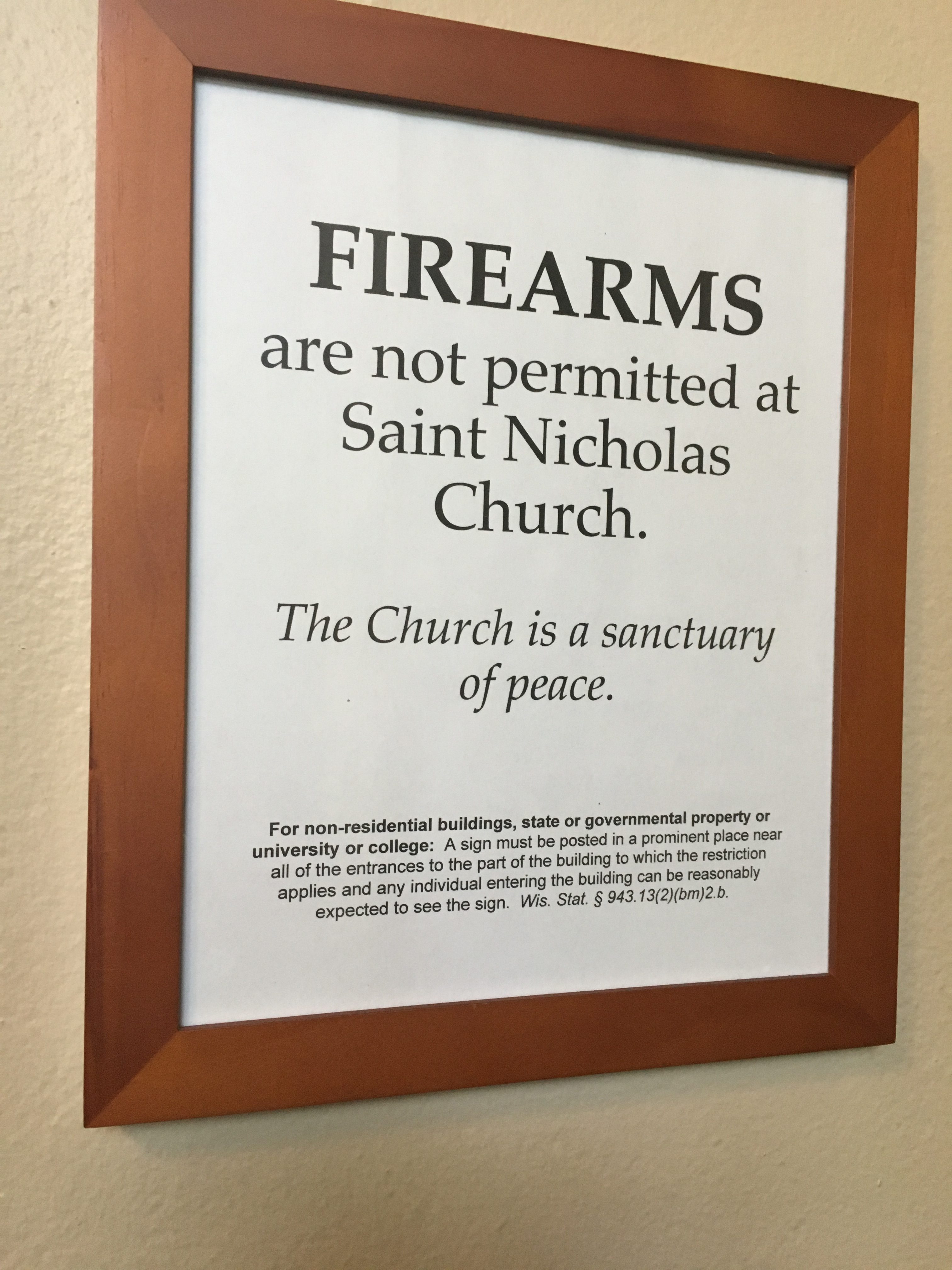 Here's what brought this on: All churches and businesses in town had just received a letter from the Cedarburg Police Department stating that the Attorney General of Wisconsin had (rather suddenly) determined that the Constitution of the State of Wisconsin allows concealed weapons to be carried anywhere. It added that churches and businesses retained the legal right to restrict weapons on their property. 
There is long-standing tradition that churches, as sacred places, are protected sanctuaries to be kept free from violence. The purpose of the signs was to establish that principle and that atmosphere. I am grateful to my successor Father David for keeping the notices up.
Did I think it was likely that Saint Nicholas Church would be shot up? No – although we do sound "foreign" and we belong to an Archdiocese whose origin, Patriarch and Metropolitan are Syrian, and we know that shooters often do not distinguish.
Did I think that posting a notice would keep a potential shooter from shooting? Probably not. Though who knows? Maybe a shooter would read the notice and think twice. And how many times in the Liturgy does the priest turn around and sing "Peace be to all". Maybe a shooter would hear that and peace would enter into his heart. Who knows?
Minor point: this is the Orthodox Church where priests face away from the congregation. I'd just as soon not get shot in the back if I can avoid it!
2019
Really? some of you may be thinking. Can't we find something more edifying to talk about this week?
No.
I begin working on these Posts a couple of weeks beforehand, and as I began this week's we had just had two more gun massacres. And I thought back: Since I was growing up, mass shootings in America have increased from one per year to more than one per day.
I promise you I am not going to get into politics or legal issues, so you can all sit back in your chairs and relax. If you want to draw any conclusions, that's your business.
We've previously looked at other moral/social issues – abortion, gay marriage and such. In the future I think we'll tackle "Thou shalt not bear false witness". Lying is a moral issue which is now a major societal issue. And also the sin of lacking mercy and compassion. All these things and more are having a major effect on the "coarsening", the moral decline of our culture.
So how exactly is gun violence a moral issue for us who never shoot people? (I hope!) What does it have to do with our Orthodox religion?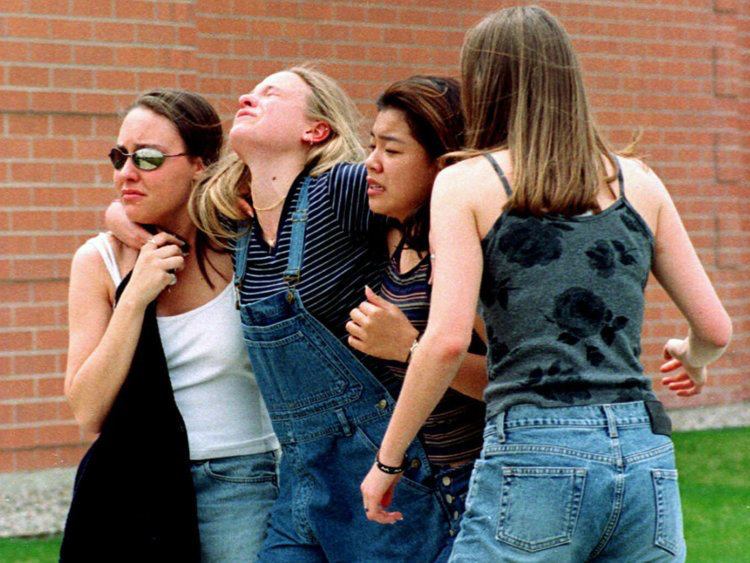 Well, how about "Inasmuch as you have failed to do it to the least of my brethren, you have failed to do it to me." Is there some way we can protect people, especially our youth, from this growing needless fear and grief? Right: Columbine, 1999. 13 killed. Or "love your neighbor as yourself"? Can we keep our "neighbors" from being killed? Below: Sandy Hook, 2012. 27 killed, mostly children. Or "Thou shalt not kill", or "God so loved the world." God cares about his world and the people in it.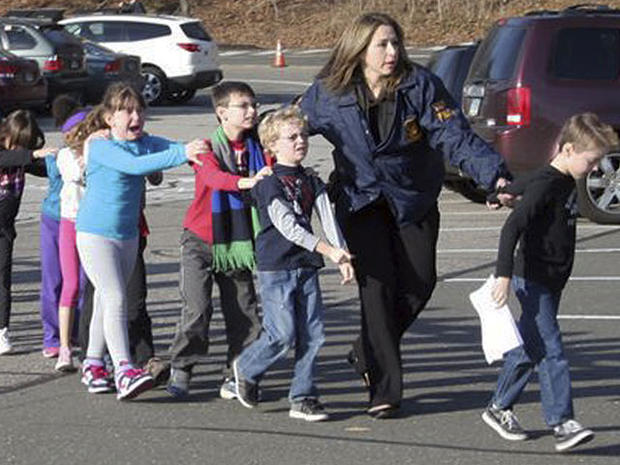 Bishop Kallistos Ware wrote that the Orthodox Church is interested not only in saving souls but in building Orthodox cultures.
Here and there, now and then
Someone else wrote that the chief work of Orthodox Christians is not to discuss Orthodoxy (that is well established) but to look at God's world in light of Orthodoxy. I think my travels and my advanced age have given me some opportunity to do this, comparing here with there, and now with then.
Looking back to 2009, here is why I reacted so quickly and so strongly. I had just returned home from Europe where it felt different. There I felt safe, even in the cities. Even in Athens, despite the fact that some Greeks can get excited. (Sorry, you Greeks, but you know it's true.)
Certainly there has been terrorism in other first world countries. I remember when we flew into Rome to be greeted by police with machine guns, and when the plane flight I took out of Athens had been hijacked only two weeks before. (As we prepared for take-off, the TV screen at the front of the plane showed us a video of a recent air crash! I kid you not.) A few other first world countries have higher overall murder rates than the U.S. – wives strangling their husbands (probably with good reason) and what not.
However…
Some Statistics with a few Charts
I dug these up chiefly for my own information. They startled me. I hope this doesn't drive you crazy, but I think we need to look at the stats in order to understand. If you want, check them out for yourself. They're all over the internet. However, be careful. Some charts are cleverly designed to promote a particular point of view. I know this is a sensitive subject, so I tried hard here to provide unbiased information and it has about driven me crazy to be sure of that. Please correct me if I've failed.
Mass shootings *: I told you some of this above. In America in the decade of the 1940s there were eight mass shootings. In the entire decade of the 1950s there was one mass shooting. To date in this year 2019 (and it's only August 23) there have been about 260 mass shootings. It's hard to keep up. They're so commonplace now that, except for the most dramatic, we have to search to find them in the news.
usually defined as at least four people shot at the same time in the same place. There are, of course, many more shootings of various sorts. And many more are thwarted by our competent police.
Firearm homicide rates per 100,000 people in various countries. Greece – 0.5 (not listed below), U.K – 0.1, our neighbor Canada – 0.5, U.S.- 3.2. If I calculate right, one is about 30 times more likely to be gunned down in the U.S. than in England, 6 1/2 times more than in Greece, about 6 1/2 more than just across the border to our north. Japan – almost infinitely more!
Or if you prefer to see a chart with more information: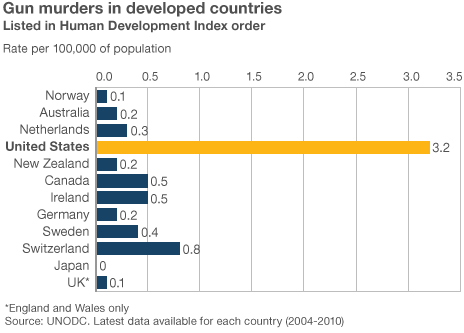 Let's compare Illinois (population 11.7 million) with Greece (population about 11 million) *: In 2017 Illinois had 799 homicides, chiefly by firearms. In 2015 (latest figures I could find), the entire country of Greece had 21 homicides I don't even want to calculate the comparisons.
This is not quite fair because parts of Chicago now have so much violence. As someone from Chicago pointed out, on a typical weekend there can be as many shootings in Chicago as in the entire U.S., but for some reason (can we guess?) hardly anybody notices. Let me add that other parts of Chicago are safe and spectacular. Have you ever walked North Michigan Avenue? driven Lake Shore Drive? Wow!
However, while the number of U.S. gun deaths (especially suicides) has continued to rise. They are (except for suicides) proportionately less than they were in years past.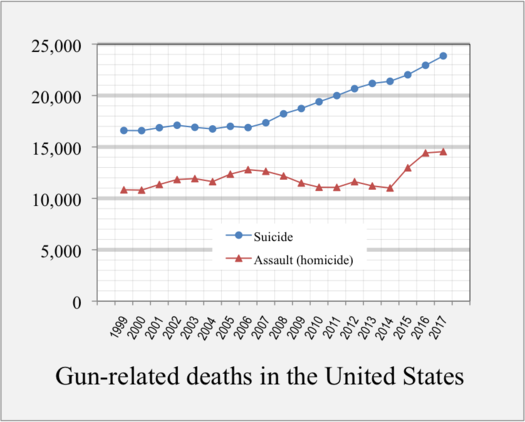 above: from Pew Research
Above: from the national Center for Disease Control
The figures below are hard to read.. However you can see the general trend in reported gun sales from the two major gun companies from 1998 to the present. They have approximately tripled.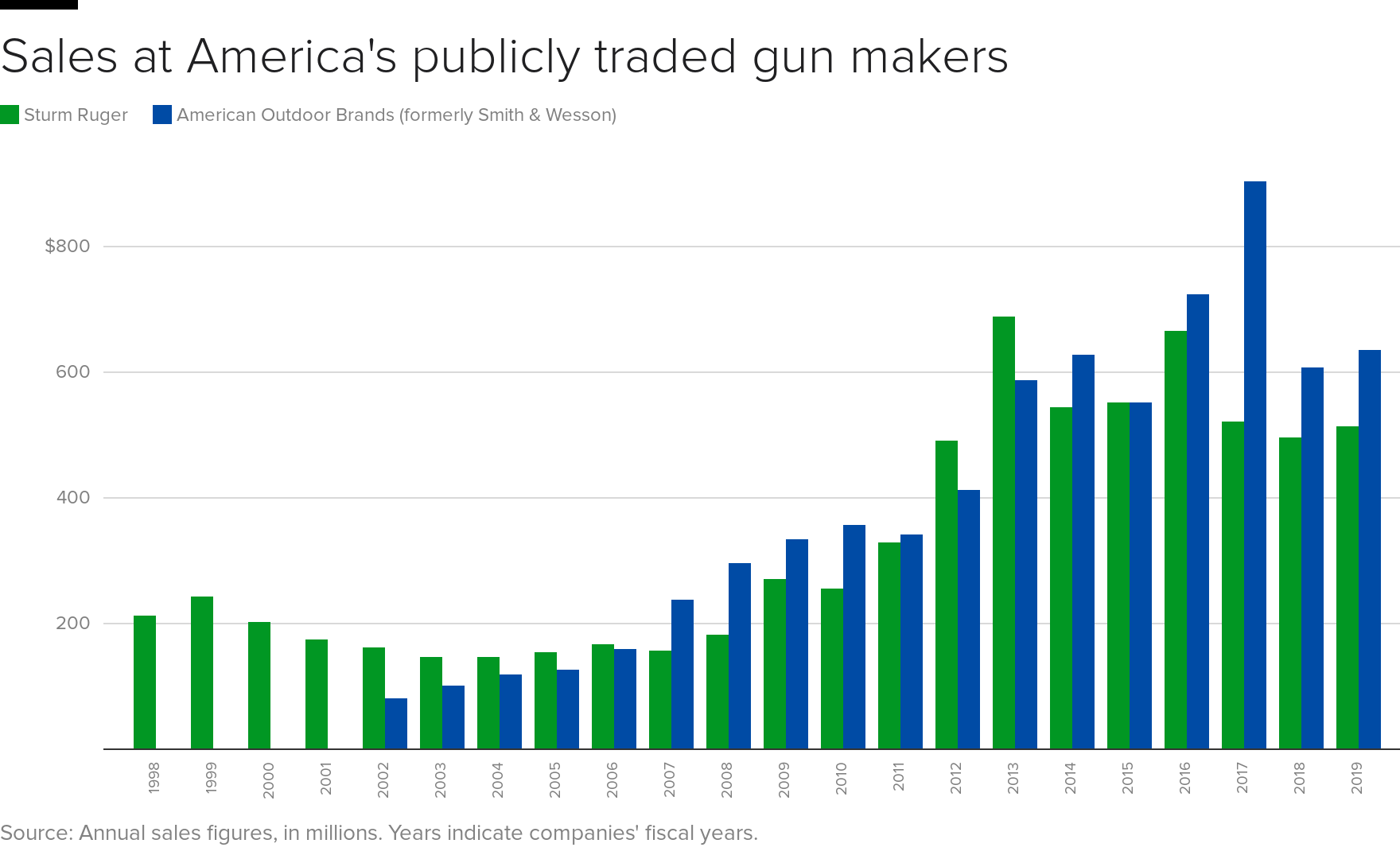 The figures are from Inverse, a site I didn't know before. It's rated accurate for facts, with a slight liberal editorial bias.
The Congressional Research Service says there are now about twice as many guns in private hands in the United States as there were in 1968: totaling more than 300 million.
Did you know there are more privately held firearms in the U.S. than in the rest of the world combined?
Here's an interesting stat. In the United States there are more guns than people.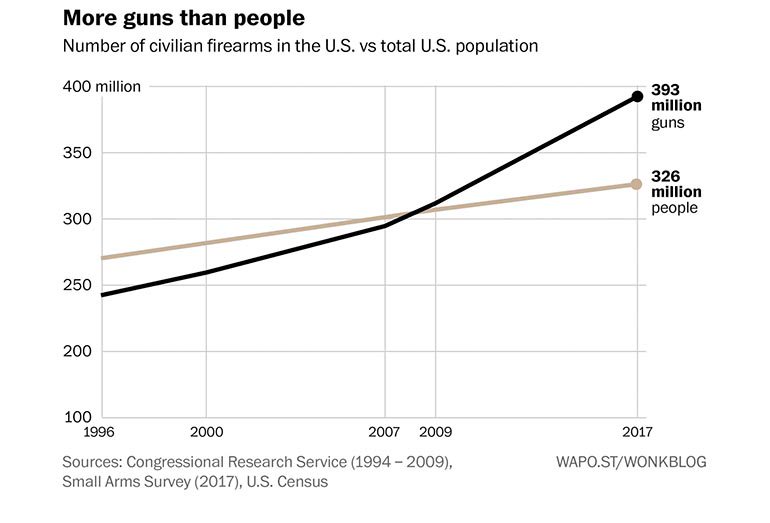 Are we all getting tired of statistics? Me too. But I thought we needed to see this.
Now let's try it another way.
Back in the Old Days
I know that's a phrase which we old people use too much. Sometimes younger people roll their eyes. But sometimes they listen and learn.
All I can tell you is that America feels very different than it did when I was young. Some things have certainly changed for the better. But public safety? No.
I have read that we should be pleased because some crime statistics have improved. Compared to what? Compared to when? When I was young, people felt safe walking in our cities and towns. When she was a girl, my wife and her little brothers could safely take the bus into downtown Chicago to meet their step-father. When I was young (and  in this area even till the early 70s) most churches were open all day so that people could go in and pray – as they still are in Greece. When I was young, kids in "inner cities" did not regularly tell stories about friends and family members who have been shot, sometimes killed.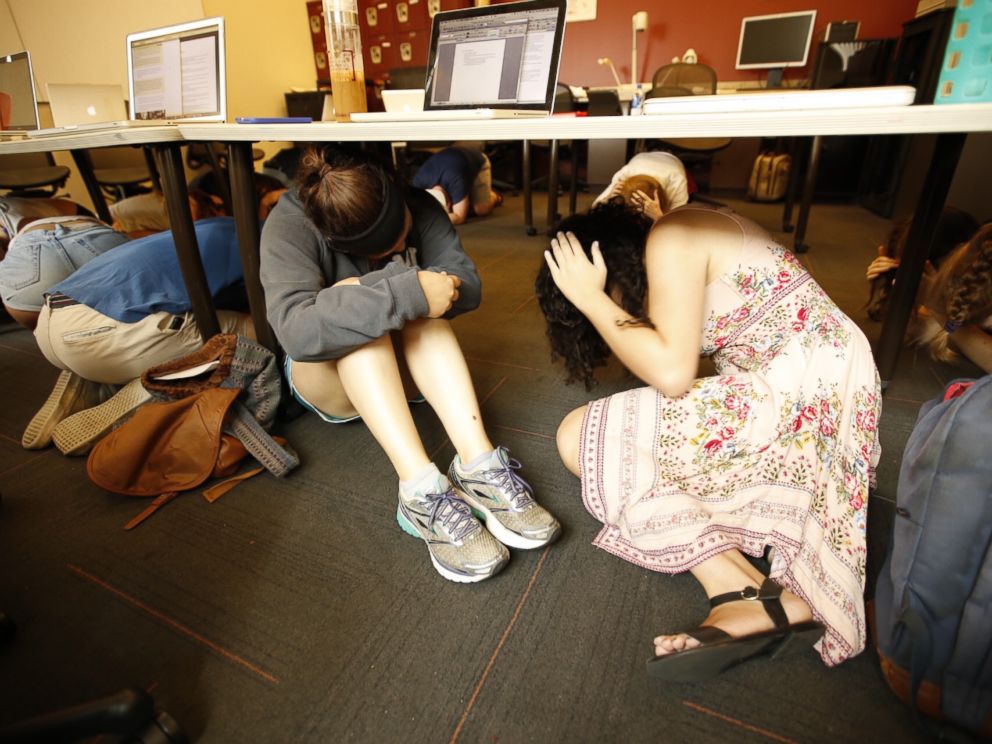 Even in 2009, school children were not doing drills in case a shooter should attack. Nor did it occur to us at Saint Nicholas (well, up till the Wisconsin Attorney General's ruling) that we were not safe in church or at concerts.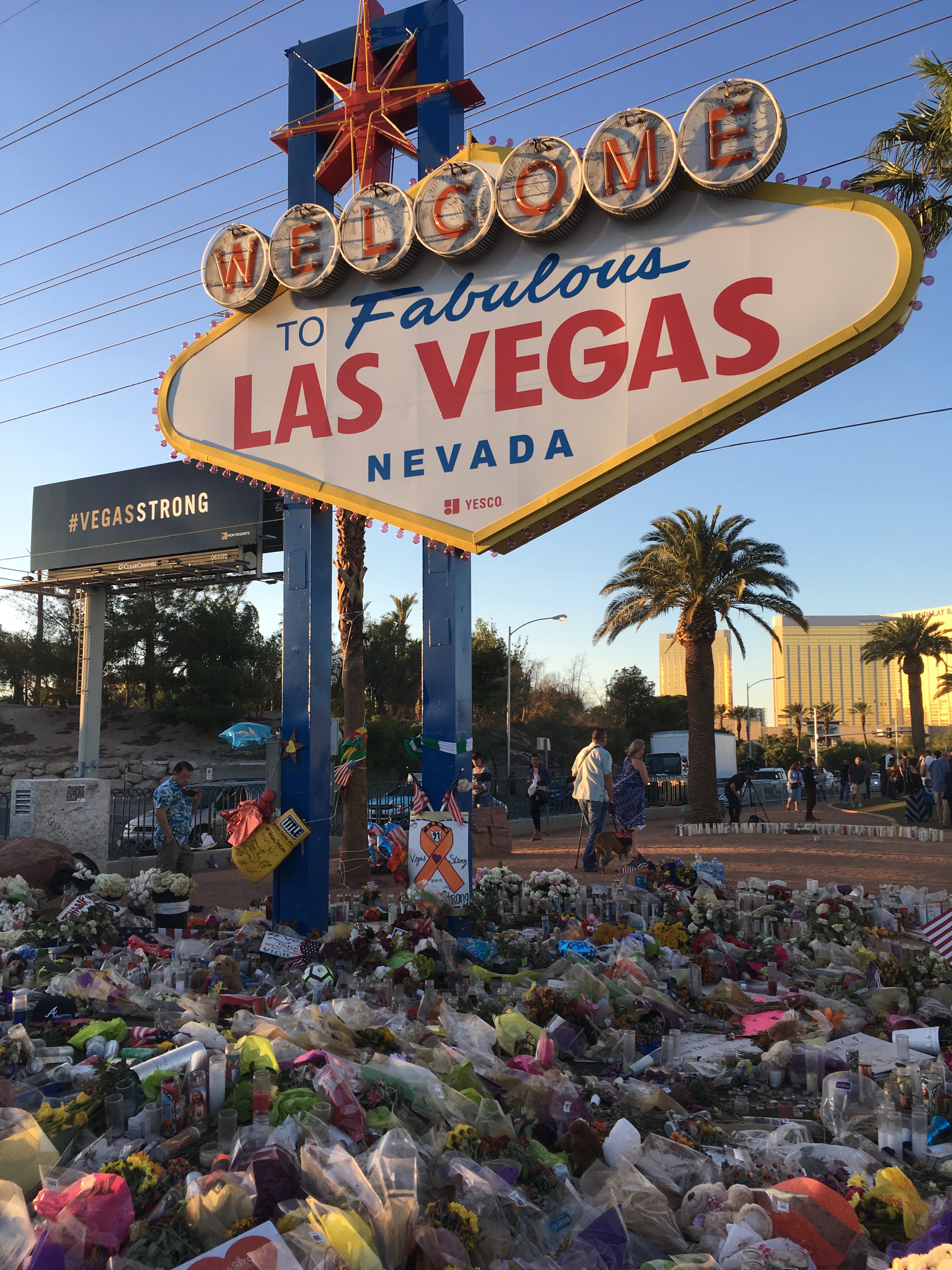 But last weekend my wife and I went to Milwaukee Irish-Fest (largest in the world! great show!) and I wondered…
Right: Las Vegas 2017. 58 dead, and about 850 injured either by shooting or in the ensuing panic.
Like all of us, I worry. Why would I not? About my son who, in addition to his regular job, bartends two nights a week in a place where firearms are permitted, despite the fact that people drink sometimes to excess and he has to deal with that. About my grandchildren who are in schools which are increasingly shot up and, as I say, now do drills to protect them from crazy shooters. When I'm driving I now try very hard not to mistakenly aggravate anyone, lest… well, who knows? I worry about my people at church, another place where shootings are increasing. And as I said,  I worry about myself, and now Father David, standing there in the altar with our backs to the church entrance.
I think what is most scary in America today is not just the number but the nature of the shootings – innocent people anywhere being targeted randomly for no reason. It's just  irrationality and hatred.
Of course there are other things to worry about – disease, auto safety, climate change and so on. But these things have been studied carefully and conclusions often reached, even if they're not always accepted or acted upon. But at least we were trying and often we've made progress. But have we had a competent impartial national study of gun violence? No.
Why not? Because the U.S. Congress has refused funds for it.
And with that political comment, which I said I wasn't going to get into but I just did, let's end it for this week.
Next Week: Part Two – We'll go back to Guns in Church. Can we protect our people in church? Is there anything Orthodoxy can contribute to help our society?
Week after next: Summer is almost over (already?). Let's do one more Greek Trip while we can.