Holy Wednesday evening Matins and Holy Unction
For most of our history the Holy Wednesday night service was Matins/Orthros alone, which continues the Holy Week narrative. However, beginning a few hundred years ago in Greek and Antiochian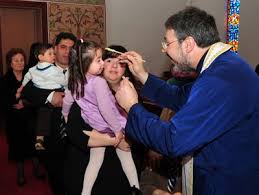 churches, Matins began to be replaced by Holy Unction. The Anointing was used as part of the preparation for Pascha Communion. In those days the Holy Eucharist was received rarely, for many only at Pascha, and there was extensive preparation – strict fasting all week, Confession and Holy Unction. This is still true in some places.
However, today Communions are far more frequent, and Holy Unction is also used much more often for healing as it was originally intended. Still the Holy Wedneday Anointing remains popular. I know Greek churches especially are full to overflowing. Liturgical scholars now recommend that we do both Matins and Anointing services tonight, so I'll comment on both of them. 
Please remember to read the Gospel readings before you read these articles.
Matins Gospel: Luke 22:1-39
There is so much to cover in these next days that in the readings we "anticipate" – and it is already Holy Thursday evening.
Jesus and the disciples are in the upper room at the house of John Mark's mother – perhaps the Mark who wrote the Gospel. Imagine having the Last Supper, the risen Lord's Pascha night appearance and the descent of the Holy Spirit in your house!
Matthew, Mark and Luke all say this was the Passover meal. John says it was the night before the Passover – a mystery which has never been resolved.
In Luke Jesus says: "I have earnestly desired to eat this Passover with you before I suffer….I shall not eat it again till it is fulfilled in the Kingdom of God… I will not drink the fruit of the vine again till the Kingdom of God comes." A pall must have fallen over the meal which is usually a celebration. 
At the appointed time during the meal Jesus took the unleavened bread, and added the puzzling words "This is my Body given for you." And at the end: "This is my Blood shed for you."
What could this mean? Some Christians have given complex answers. Here is my own understanding, for what it's worth. I think it is very simple: Our bodies are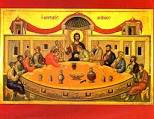 where we are; we act through our bodies. The eternal unseen Christ had taken on a human Body born of Mary where his followers could locate him, be with him. The next day that Body would die. He would rise again in that Body and then take it into heaven, yet promising he would be "with us to the end of the age". So now this bread "is my Body"; this is where you will find me, locate me, be with me "to the end of the age". Blood gives power, strength for the human body. "This is my Blood", my power, my strength for you.
"This is my Body given for you…, my Blood shed for you." In the Holy Eucharist Christ pours into us all he accomplished through his life-giving Passion, Death and Resurrection.
"Do this in remembrance of me". The Greek is "in anamnesis/ανάμνηση" of me ". Our English translation, "in remembrance of me" is extremely inadequate. It sounds as if all we're doing is bringing him to mind. But "Anamnesis" in the New Testament means a literal re-calling, calling again. "Do this to call me back among you". This is what we do at every Divine Liturgy: "Blessed is he who comes in the name of the Lord."
Christians later would realize that the Church also is the Body of Christ – that he meets us, comes to us, strengthens us in the holy People of God, on earth and on high. As indeed he does in all things, if we have eyes to see, for there is no place where Christ our God is not! But to see that, first we need to recognize, focus on his presence in the Holy Eucharist.
Judas now goes out to betray him. Jesus again tells his apostles how to lead the Church, not by lording it over others but by serving them, leading them, just as he the Lord of all is servant of all and will now lead our way through death into the Resurrection. He promises his Apostles that they will sit with him at his table in his Kingdom on thrones judging the tribes of Israel. Tonight they will fail, but he looks beyond tonight. He knows they will again be faithful.
Simon Peter especially. Simon, Satan is out to get you. "No, Lord, I will go with you to prison and death", which he did in Rome 35 years later. But not tonight. Peter, before dawn you will deny me three times – and discover how weak you are. (This is something we all need to discover.) Once I sent you all out with nothing, so you would learn to depend on God alone. But now you need provisions, a moneybag, a sword, "for now that which is written about me comes to its conclusion". He speaks in symbols. The disciples don't understand: "Look, we have two swords." Jesus said: "It is enough."
Enough swords? No. That night Peter would use a sword, and Jesus would forbid it: "He who lives by the sword will die by the sword". Like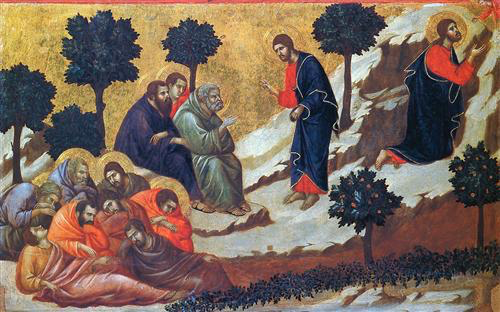 all the others, they also do not understand. So now he will show them.
He leads them out to the Mount of Olives and into the Garden of Gethsemane.
And now, in the next three days, we will follow with him, with  them through the final crucial events of Holy Week.
I wonder if that is why Holy Unction still seems so meaningful during Holy Week – now to heal our sin-sick souls and open our inner eyes and foggy minds – so that with our hearts and souls and minds at peace, we may enter into the wonderful events of these next three days and truly live them with the Lord.
If you come for Anointing this night, pray: "Lord, open my eyes, my ears, my heart, enter into my soul. Focus my wandering mind. Heal me and let me truly walk with you again through your Passion and Death and into your holy Resurrection.
Holy Thursday Divine Liturgy of Saint Basil
In Orthodox tradition, the full Divine Liturgy is not celebrated on fasting, penitential days. But today is a feast day, the day Christ instituted the Holy Eucharist.
Gospel Reading: Matthew 26:1-20; John 13:3-17; Matthew 26:21-39; Luke 22:43-44; Matthew 26:40-75; 27:1-2
Now our worship services and readings get longer – as you see immediately above. In these articles it's just not possible to cover it all, and not necessary because these late Holy Week events are better known to us all.
So… on this night of the first Holy Eucharist.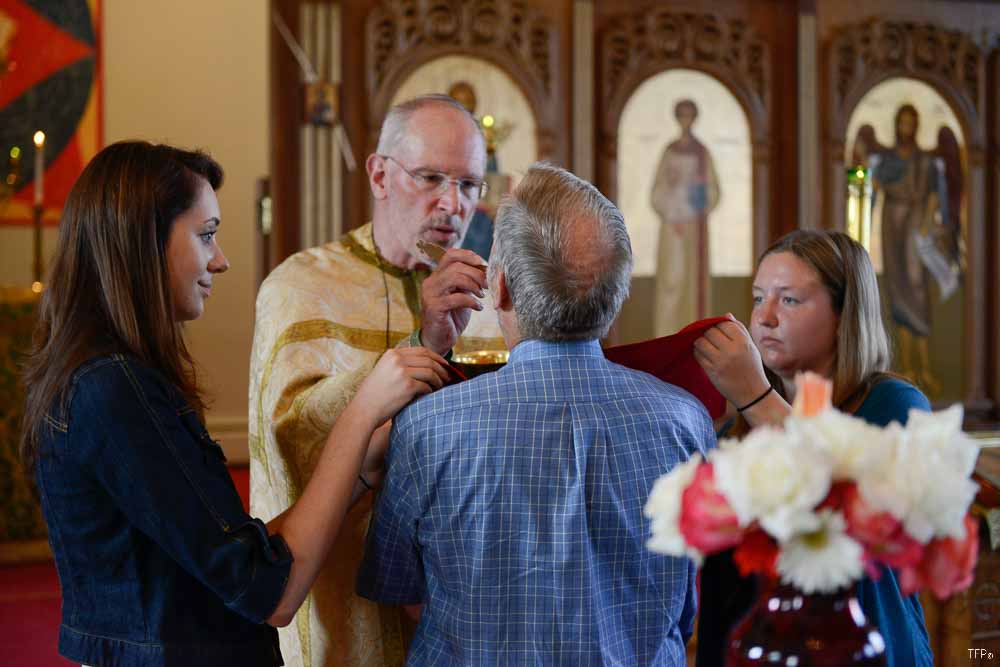 This is from the book The Shape of the Liturgy  by Father Gregory Dix, a 20th century Benedictine monk of the Church of England. It reflects a Western view. We Orthodox do not "offer Masses" for particular persons and their needs, but we certainly do offer prayers for people and their needs at every Divine Liturgy. So in that context these words describe us as well.
"Do this in 'remembrance' of me."
"Was ever a command so obeyed? For century after century, spreading slowly to every continent and country and among every race on earth, this action has been done, in every conceivable circumstance, for every conceivable human need from infancy and before it to extreme old age and after it, from the pinnacles of human greatness to the refuge of fugitives in the caves and dens of the earth. Men have found no better thing than this to do for kings at their crowning and for criminals going to the scaffold; for armies in triumph or for a bride and bridegroom in a little country church; for the proclamation of a dogma or for a good crop of wheat; for the wisdom of the Parliament of a mighty nation or for a sick old woman afraid to die; for a schoolboy sitting an examination or for Columbus setting out to discover America; for the famine of whole provinces or for the soul of a dead lover; in thankfulness because my father did not die of pneumonia; for a village headman much tempted to return to fetich because the yams had failed; because the Turk was at the gates of Vienna; for the repentance of Margaret; for the settlement of a strike; for a son for a barren woman; for Captain so-and-so, wounded and prisoner-of-war; while the lions roared in the nearby amphitheatre; on the beach at Dunkirk; while the hiss of scythes in the thick June grass came faintly through the windows of the church; tremulously, by an old monk on the fiftieth anniversary of his vows; furtively, by an exiled bishop who had hewn timber all day in a prison camp near Murmansk; gorgeously, for the canonisation of S. Joan of Arc — one could fill many pages with the reasons why men have done this, and not tell a hundredth part of them. And best of all, week by week and month by month, on a hundred thousand successive Sundays, faithfully, unfailingly, across all the parishes of christendom, the pastors have done this just to [create] the holy people of God."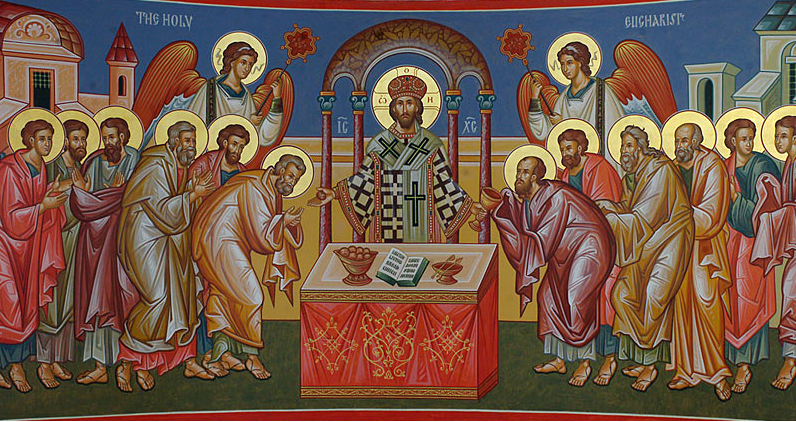 Let me add only one comment. In today's Epistle 1 Corinthians 11:21- 32  Saint Paul warns each of us not to receive the Eucharist "in an unworthy manner, lest he eat and drink judgment upon himself". Please do not misunderstand this.
Does this mean we must be morally perfect before we receive Holy Communion. Of course not. In that case, the only people who should come to the altar would be Christ and his blessed Mother! The whole point of receiving the the Lord's Body and Blood is for him to give strength to us who are imperfect.
Pay attention to the next words: To receive "unworthily" means "not discerning the Lord's body".
Worthy reception means: 1 Believing in the presence of your Lord Jesus Christ here. 2 Preparing yourself to meet him with repentance – not asking for the Lord's forgiveness, intending to try to live a better life and especially to be a peace with those around us. 3 Preparing yourself for the sacrament by prayer and fasting.  4 "Discerning" the Church also  as "the Lord's body", with the need for you to be participating in the life of the Church. 5 Not just running in and out once in a while for Holy Communion as if you were catching a snack at McDonalds'.
So long as this is how you approach the chalice, you will not receive "unworthily".
Tomorrow: Holy Thursday evening Twelve Gospels Service and Holy Friday afternoon Great Vespers