This time we're going to look at 1 How the Orthodox Church deals with Abortions, 2 How should we try to apply Orthodox principles to Society? 3 Being consistently Pro-Life, 4 the Spirit of Judgment.
How the Orthodox Church deals with Abortions
As I understand it, from ancient times the Orthodox Church has handled sin pastorally, not juridically – less concerned with culpability and punishment and being legally acquitted, more concerned with helping people overcome sin, getting them back "on the mark".
In the early Church any who had committed major sin were subjected to a period of "Penance", a discipline which consisted of exclusion from the sacraments for a period of time. This was applied, for example, to all who murdered or killed for any reason. The purpose was not punishment but to establish that the particular sin is an objective evil.
Women who had abortions * were therefore excluded from the sacraments for a period of time. (Were the men who were responsible for

the pregnancy given the same discipline? If not, why not?) The length of the Penance varied. Saint Basil recommended a few years for soldiers who killed in war, but till death for a woman who had an abortion. To what extent either of these were carried out in practice is not clear. Saint John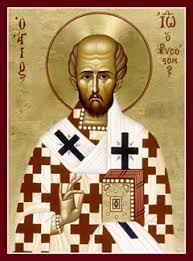 Chrysostom said that the period of Penance for abortion should be ten years, or shorter according to circumstances. **
* Am I correct that most were assumed to be prostitutes who got rid of unborn babies in order to continue with their "work"?
** I have lost this quote from Chrysostom. Does anyone know where to find it?
How long should the Penance be today? I believe that our approach should not be absolutist. Lesser evils must always be balanced against greater evils. After all, we have justified the killing of multitudes of innocent people in war (Dresden, Hiroshima, Viet Nam) in order to achieve what was believed to be a greater good. Likewise I think the Penance regarding abortion should vary according to circumstances. (I speak after 51 years of pastoral experience. "Young priests know the rules. Old priests know the exceptions.")
Here would be two extreme examples: 1 If it was a wealthy woman who got pregnant when she and her husband could have avoided it, and then they just didn't want to be bothered with a baby and so had an abortion, then both (I repeat, both mother and father) should be excluded from the sacraments for a long time. 2 If it was a 14 year old girl with mental problems, living in poverty, the pregnancy the result of rape, and the baby seriously deformed, and her life seriously threatened,  the period of Penance should be short. Very short.
To repeat: The Church's discipline is intended not as punishment but simply to make it clear that all human life, unborn and born, should be reverenced and protected, not killed.
Alright. That is our discipline within the Church.
How should we apply our Orthodox principles to Society?
This is a different matter. Unlike some others, the Orthodox Church does not answer this question for us, does not tell us how to vote. This is a matter for each person's conscience.
1 Obviously our first work as Orthodox is to maintain the standards of the Church, to set an example to those around us, and to try to win people to Christ and the Church and the Orthodox way of living.
2 Our second job as Orthodox is to teach others the evils of abortion. In addition to what has been said above in this article, I think we need to add the following: 1) Sexual intercourse belongs only within marriage. This idea is almost completely counter-cultural today. But is this not one of the chief causes of unwanted pregnancies? 2)
That we agree completely with the claim of some women that they have the right to do what they want with their own bodies. For, unless they were raped, they have the right and choice and responsibility whether or not to get pregnant in the first place – just as men have the choice and responsibility not to get them pregnant. And once a woman is pregnant, the baby living within her is not her own body, and the choice then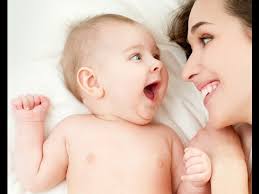 is whether or not to kill that unborn person, that unique and irreplaceable human being whom she will have the privilege of carrying and knowing and loving in a way that no one else ever can.
3 Our next job as Orthodox is to try to reduce the number of abortions, as much as possible. Here there are at least two possible approaches:
1) Some would take the legal approach: we should criminalize abortion, either altogether or at various stages of unborn human development. Or simply reverse Roe v. Wade, and send it back to the states for each of them to litigate again. Simple solution.
2) Some think that making abortion entirely illegal would work rather like prohibition of alcohol once did – not reduce the number of abortions but rather drive them underground, and encourage law-breaking and organized crime. They would take a more pastoral approach, believing the most effective way is to provide support for poor, desperate pregnant women so that they won't be so tempted to abortion. *
* As all advanced nations except one now do. In Germany, for example, both parents can have parental leave, with salary guaranteed, during the first twelve months after childbirth. Mothers are not allowed to return to work for eight weeks after childbirth.
My opinion on this has changed over the years. Both opinions (or any others, or any combination or permutations thereof) may be held by Orthodox in good conscience, so long as the intention  is to reduce the number of abortions.
By looking at what has been done regarding abortion in various countries and states, can we demonstrate which way works better? I think not, because abortion rate statistical comparisons are almost completely unreliable. Why? Because where abortion is legal, the reported abortion rate is probably fairly accurate. But where abortion is illegal, most abortions are performed illegally, unreported behind the scenes, and nobody knows how many there are. Partisans on the issue (and there are many) then pick and choose among the statistics to suit their cause – proving nothing. The only stats I think to be fairly consistent are that there are generally far more abortions in poor countries or regions than in wealthy ones.
Forgive me, but I think I now need to touch briefly on politics. Pardon my cynicism, but for 45 years I have watched many politicians on both sides use the abortion issue as a tool to rile up their "base" and help them get
elected. This has led to a lot of yelling and screaming and extreme positions on both sides. One side wants to abolish abortion entirely with little or no concern for supporting poor mothers and babies. The other side wants legal abortion with little or no concern about abortion as a moral issue. Whether either side is serious about this is hard to say. On my bad days, I sometimes feel we're caught between those who don't seem to care much about people before they're born, and those who don't seem to care much about people after they're born. The sad result has been that abortion in America has now become chiefly a political legal issue. But abortion is primarily a moral issue.
Even in religious circles, how can it be that some who condemn abortion most vehemently don't seem concerned that their stance against birth control (actually "conception control") is a major cause of abortions? I don't understand.
To repeat, members of the Orthodox Church may disagree about how to apply Orthodox teaching about abortion to society. However it is not acceptable for a member of the Orthodox Church to hold that abortion is morally neutral, or that killing people, born or unborn, is not a grave evil.
Being Truly Pro-Life
May we try to be consistent? Being Pro-Life involves many matters, not just abortion.
Enormous numbers of innocent lives are also taken in war, creating far
more objective evil than abortion – for those killed are not only unborn babies but "born" babies and their fathers and mothers, leaving  countless orphans, and starvation.  (Yemen, to date: 50,000 children dead, about 5 million starving.) This also results in abortions by poor desperate refugee mothers. (I, an Orthodox priest, have heard confessions.)
There are also sins of omission: Human lives are lost when people die for lack of health care. Human lives are lost when people starve to death. Worldwide almost a billion people suffer from malnutrition, and today 20 million more are at risk of starvation because of famine, and annually about 10 million die for lack of food, the majority of them women, some of them pregnant. Human lives are taken day after day by gun and non-gun violence. And by capital punishment. Today the only major nations who still retain the death penalty are the Muslim countries, China and the United States. Either all life is sacred or it is not. May we try to be consistent?
Back to the Bible
Finally, if Christ and the Apostles did not condemn abortion, what sins did they frequently condemn?
Greed, which causes the rich to get richer and the poor to get poorer, Why do so many not see this as a moral problem? the connection between poverty and abortion?
Christ also often condemned Pride, being puffed up and self righteous,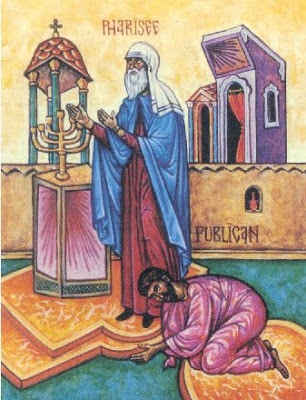 like the Pharisee looking down on the Publican. Like those who look down on those who oppose abortion, assuming they just hate women, and think, "Hmph: Thank God I'm not like them." Or like those who look down on desperate women who have abortions and think, "Hmph. Thank God I'm not like them."
Regarding abortion, I see a lot of pride and "harrumphing" on all sides. This is spiritually deadly. We need to keep our Orthodox principles – absolutely. But we cannot see into the hearts, souls, minds and motivations of those who believe or do things we disapprove of. Only God can do that. So far as I can see, the only persons whom Jesus condemned were those who looked down their noses and despised and judged others.
The End
Dear ones, as I said before, this has been a subject very difficult for me to deal with, demoralizing to think about and hard to write about. I'm sure it has been equally distressing for you to read about. Thank you and God bless you for hanging in.
Next Week we begin a happier series on Preparing for Lent.