Back in the 1930s my mother, an intelligent well-read small town professional woman, had heard of "homosexuality". When she was in her 30s she finally asked my father what it was – and could scarcely believe it.
Times have changed.
I trust you know what LGBTQ means. If not, look it up. I think I understand except for Q which used to be an extremely derogatory term for G, which is a replacement for H, which I hope is not derogatory. Nomenclature changes too.
And let me say here at the beginning that I dislike designating any individual solely or even chiefly by his or her sexual predisposition. We certainly don't describe heterosexual persons this way.
The Church's Principles
Lest there be any misunderstanding, let's also be clear about 2 things: 1 In obedience to Our Lord's command, we must be compassionate to all people. "Love your neighbor as yourself." 2 The Orthodox Church does not approve of sexual relations outside of heterosexual marriage. Neither of these are going to change.
Some of what follows now is the Church's teaching. Some is just obvious. Some is my opinion. It's your job to separate it all out! If I say anything unkind or inaccurate, please correct me.
Yes, times have changed, and rapidly.
I guess the chief evidence of this is that 3 years ago the United States Supreme Court ruled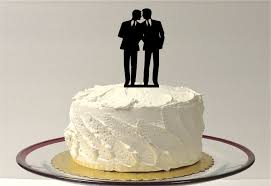 that all states must recognize same-sex civil marriage. This would have been unimaginable not so long ago. When I was young, homosexuals were shamed and even prosecuted. 25 years ago I had never heard of gay marriage. Now gay marriage has become legal everywhere, and with no big fuss. Homosexual and trans-gender themes are common in the media. These days to say homosexuality is not completely acceptable is often considered offensive, even tabu.
In 2000 35% of Americans favored gay marriage. Today, not 20 years later, about 65% of Americans favor it – over 70% of those age 35 and under, and over 60% of Republicans of that age! As of 2014

70% of Roman Catholics believe homosexuality "should be accepted by society" – and 62% of Eastern Orthodox (!), almost as many as "mainline Protestants", despite forceful statements by the Canonical Orthodox Bishops in the Americas. (All these statistics are from Pew Research – http://www.pewresearch.org/fact-tank/2015/12/18/most-u-s-christian-groups-grow-more-accepting-of-homosexuality/)
Three American Protestant denominations (the Episcopal Church, the United Church of Christ, and the ELCA Lutheran Synod) now bless gay marriages and ordain practicing homosexual clergy, while others are edging up to it.
What has caused this change in attitude?
I'm no sociologist, but here's my guess:
1 As I said before, gay themes are now all over the media, whether in news or movies or TV programs – emphasized way out of proportion, I think. This has had a massive impact on public opinion. It is very hard not to go with the flow. Now it is those who disagree who are made to feel ashamed of themselves.
2 Individualism. In recent times in America there has been ever more tolerance for "doing your own thing". "Things" which once would have been kept hidden now come out in the open, are even flaunted. "Gay Pride Week", for example.
3 Compassion for human beings. Some, apparently through no fault of their own, have strictly homosexual inclinations. Should gay people be condemned to a life of private loneliness? And should those whose interior identify, through no fault of their own, doesn't match their body be denigrated?   
4 Secularization. Americans, especially younger people, are turning away from Christianity. About 23% of Americans now say they have no religious affiliation. "Why?" is a subject for another time. But honestly, folks, given the state of Western Christianity today I've wondered: Were I religiously unattached, would I now be drawn to an organized church? Jesus, yes! The Orthodox Church, yes! if I could find it and figure it out. But I'm wandering… 
What the Church says about homosexuality
Let's go back to the Pew Research poll and the question: Should homosexuality be  "accepted by society?" That is a rather misleading question, for it concerns tolerance, not necessarily personal approval. One may hope so, for the Orthodox Church teaches that homosexuality is disordered, not in accord with what God wills, as we'll explain below. The Church condemns homosexual relations. However we do not reject people who have homosexual identity or tendencies. Nor should we reject people of whatever sex who want to be together strictly for the sake of companionship and support. And, by the way, the Orthodox Church certainly doesn't disapprove of affection between people of the same sex. I've never seen so many men hugging and kissing (Eastern style, without sexual connotation) as since I've become Orthodox! And I've become one of them. It has caused me to feel closer to male friends than I have before. This is a good thing.
Why the Church's teaching about homosexuality? Because, for those of us who believe that mankind is not an accident but rather created by God (whether quickly or slowly, no matter), it is self-evident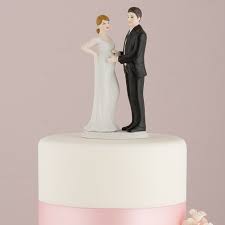 from our physical makeup that man was made for woman and woman for man. Genesis 1,2, Mark 10, Matthew 19  Nor can homosexual relations fulfill one of the chief purposes for which sex was created: the procreation of children. Therefore we conclude that homosexuality and homosexual relations are disordered. Is homosexuality "sinful"? Yes, but let's use that word very cautiously, lest others misunderstand. Sin ("amartia, ἁμαρτία) in the New Testament means "failure" or literally being "off the mark", not what God intends. Being off the mark does not imply personal culpability, unless the "sin" is purposely chosen.
A good friend of mine who is gay, having read my earlier writing about this elsewhere, commented, "You've got to say what your Church says." No. This is what I believe. I think it's self-evident.
A short history of the Church's teaching about homosexuality
Some people oppose homosexual behavior because "that's what the Bible says". Indeed it does: Old Testament Law required death (literally) for homosexual behavior.  Is that what we really want?
Homosexuality is definitely not a major theme in the New Testament. Christ never mentioned it – perhaps because disapproval of it was taken for granted in Jewish society? However, homosexuality was rampant in the Empire, and surely His followers were (or in the future would be) aware of this. If this had been one of His first concerns, why did He not say something about it? He was very specific about the evil of other sins. Matthew 25:31-46. 
The Apostolic Council in Jerusalem Acts 15 clearly said Christians need not adhere to Old Testament Law, but they retained the condemnation of "sexual immorality".
In Romans 1, Saint Paul described homosexual relations as "against nature", as one of the many ways * in which mankind has turned away from God's purposes. He mentioned it again only in 1 Corinthians 6:9–10 and I Timothy 1:9–10. In I Corinthians 6 he explains why all sexual relations outside marriage are wrong. It's because of the fact that sexual union creates spiritual union, whether "participants" believe it or not, though most do understand this. Therefore going "all the way" sexually (as they used to say) should be the natural expression of commitment that goes "all the way", namely in marriage. I think one of the reasons many modern lives seem so disoriented and unfocused is that people have been torn apart spiritually by sex with multiple partners.
Please note that Paul equally condemns "wickedness, greed, maliciousness, envy, murder, strife, deceit, evil-mindedness, gossips, backbiters, haters of God, [the] violent, proud, boasters, inventors of evil things, disobedient to parents, undiscerning, untrustworthy, unloving, unforgiving, unmerciful". (He gets more positive later!) Nowhere does he suggest that sexual immorality is worse than the other kinds. I wish conservative Christians would get equally agitated about the immorality of greed and ignoring the poor and lack of mercy. And cruelty and taking innocent little children away from their parents – and don't let me get started on that. You get my point.
Some of the Church Fathers seemed especially concerned about homosexuality – perhaps because of the difficulty of keeping their vows of celibacy in an all-male community? I'm just speculating. I'm no expert on the Fathers.
How should the Church deal with homosexuals?
Why some people are tempted to homosexual relations, who can say for sure? Many say the tendency has been "built in" to them. If so, is this similar to those who have a "built in" tendency or temptation towards drugs or anger or greed, for example? Many homosexuals say it goes deeper than that, to the core of their self-identity in a way that other passions do not. In any event, no one should be condemned or rejected because of their passions. All should be welcome in the Church, so long as they are trying to fight against their temptations, as I hope we all are – even if they fail sometimes, as we all do. If sinners are to be excluded from the Church, only the Lord Jesus and his Mother will be left.
All who are trying to overcome sin ("off the mark", remember) deserve our support, and forgiveness if they fail and repent and try again. Dealing with homosexual temptation seems to be particularly difficult, especially in today's culture which almost glorifies it. (Again we can say exactly the same about greed, which is so glorified in our culture that it doesn't even occur to many Christians that it's a sin.) I don't doubt that struggling valiantly with sexual temptations has turned some people into saints, made them holy.
The only people not welcome in the Church are those who say that sin is not sin.
You might want to read a short insightful book on this subject by the late Father Thomas Hopko: Christian Faith and Same-Sex Attraction  
How will the "homosexual revolution" affect society?
This will be a short section. No one knows. This is a new thing under the sun, at least since ancient times. Same sex marriage was legalized for the first time in history in the Netherlands in 2001 and in Massachusetts USA in 2004. At least 25 countries now permit it.
Will gay marriage be a threat to heterosexual marriage? Again, no one knows. I doubt it. Heterosexual marriage is not being abolished, nor are heterosexuals being forced into gay marriages! So far as I can see, the great threat to traditional marriage and family is from the many heterosexuals who have sex and children outside marriage, who cheat on their spouses and who divorce easily and often – and I wish people would get more worked up about all that. A cynic might say that homosexuals will now be able to devalue marriage in the same way many heterosexuals do.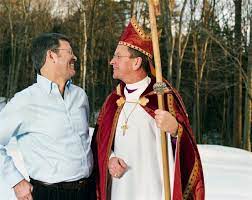 Episcopalian Bishop Gene Robinson and spouse, who divorced in 2017: from "The Living Church" magazine
I hate to pause on this note, but this is getting too long. So…
Next Week: LGBTQ, Part 2. We'll start with the difference between civil marriage and Christian marriage – of which many Christians seem to be unaware.
Week after Next: We'll begin the conclusion (I'll bet you thought it was never going to end) of our series on Orthodoxy and Other Faiths – Modern Protestantism and how it got this way.