Did Saint Nektarios do it again?
It was time to head to London, and on the way I naturally stopped by to visit Saint Nektarios again. I've told you (Blog posts  7 and 12) that on my f
irst two visits the saint seemed to arrange my transportation. Surely this great holy man must have better things to do than that. Nevertheless…
(With modern saints we have actual photographs.)
I took a ferryboat back from Paros, settled into my hotel just south of Athens and took another ferry to Aegina. It was evening, and the weather was cloudy and unsettled when we docked. I got a taxi. The young taxi driver had the radio on and kept shaking his fist and yelling: "Ne! Ne!" ("Yes" in Greek). I asked, "What's happening?" "Greek-Russian basketball game. Greece is winning!" But like most Greeks he was religious, and as we got to Saint Nektarios Monastery he crossed himself. Most Greek taxis and buses have a cross or an icon on the dashboard. I keep pointing out men who were showing their faith, because religion is so often assumed to "women's work". Not here it wasn't.
It was getting dark and beginning to rain by the time I got to Saint Nektarios. I hoped the monastery would still be open that late in the day. In fact I arrived just in time for Vespers. There were pilgrims. A spirit of peace and joy filled the place as always. The usual sunlight was missing, but there was another kind of light. I prayed again for all my parishioners and those whose names they had given me. I lit many candles. A nun chased me out of the women's chapel and into the men's chapel – but nicely, "parakalo", "please". I brought back more oil from the lamps that burn before Nektarios' relics.
Then as I rode the Flying Dolphin back to the mainland there was heavy lightning in the
north – exactly like this. To be on the safe side, I took another taxi instead of the slower tram (light rail) and got back to the hotel just as the storm hit: lightning, torrential rain, the streets flooded, water coming under the front doors of the hotel and into the lobby. If the storm had struck a few hours earlier, I could not have made it out to Saint Nektarios; only a few minutes earlier, and I wouldn't have made it back to the hotel for a long time. Another coincidence – or did Saint Nektarios do it again? for the third time? I mean, I graduated in meteorology and worked in it for a while (do you want to talk about global warming?), and I don't think God and the saints rearrange the weather patterns (and ferryboat departures and train schedules) just for me.* But still… why do these things keep happening? As I have hinted before, eventually I think I found out. But only after a series of even more striking "coincidences" involving Saint Nektarios, all in Greece. Keep reading.
I've heard a possible explanation as to how God can do this without violating his will or the usual workings of nature or anybody's free will. No time for that now.
England
And then I flew to London, where I found the cool September English dampness a bit depressing after the warmth and usual sunlight of Greece. (I wonder to what extent climate affects religion. Greek and Russian Orthodoxy have the same doctrine and essentially the same worship, but the "atmosphere" of each feels different to me.)
I was there to attend the tenth anniversary celebration of the Antiochian Deanery of Great Britain and Ireland. In 1991, at the invitation of our Antiochian Archbishop His Eminence Metropolitan Philip and Father Peter Gillquist, who was then chairman of our Archdiocese's Department of Missions and Evangelism (both of blessed memory +), Khouria Dianna and I had joined Father Peter and Father Michael Keiser on a mission to several places in England. They figured that we, as recent converts from Anglicanism, could relate to members of the Church of England.
Some small groups of members of the C of E, both clergy and laypeople, were then seeking Orthodoxy, and they were having a hard time finding a home. There are several hundred thousand Orthodox Christians in the British isles, but most then were still very old country ethnic, worshiping almost entirely in their native languages – Greek and Serbian for the most part. These Anglicans were told they must join these parishes, that they could not form English-speaking parishes of their own ethnicity. The British Orthodox felt that this was the only way for these Anglicans to become genuinely Orthodox; they justifiably feared that they might become a sort of semi-Anglican semi-Orthodox hybrid. But no: they wanted to be Orthodox all the way. All they wanted was the English language so their people could understand. So finally in desperation the Anglicans appealed to our Metropolitan Philip who had much experience with shepherding and shaping former Protestant congregations. He responded (practicing somewhat non-canonical "economia", shall we say? but he was a man who just couldn't stand to turn down people in need) and accepted and guided these little groups till they were trained and ready to be Orthodox. Then he turned them over to the Antiochian Orthodox Metropolitan of Paris who formed them as the Deanery of Great Britain and Ireland.
It was a great blessing to return for the tenth anniversary of their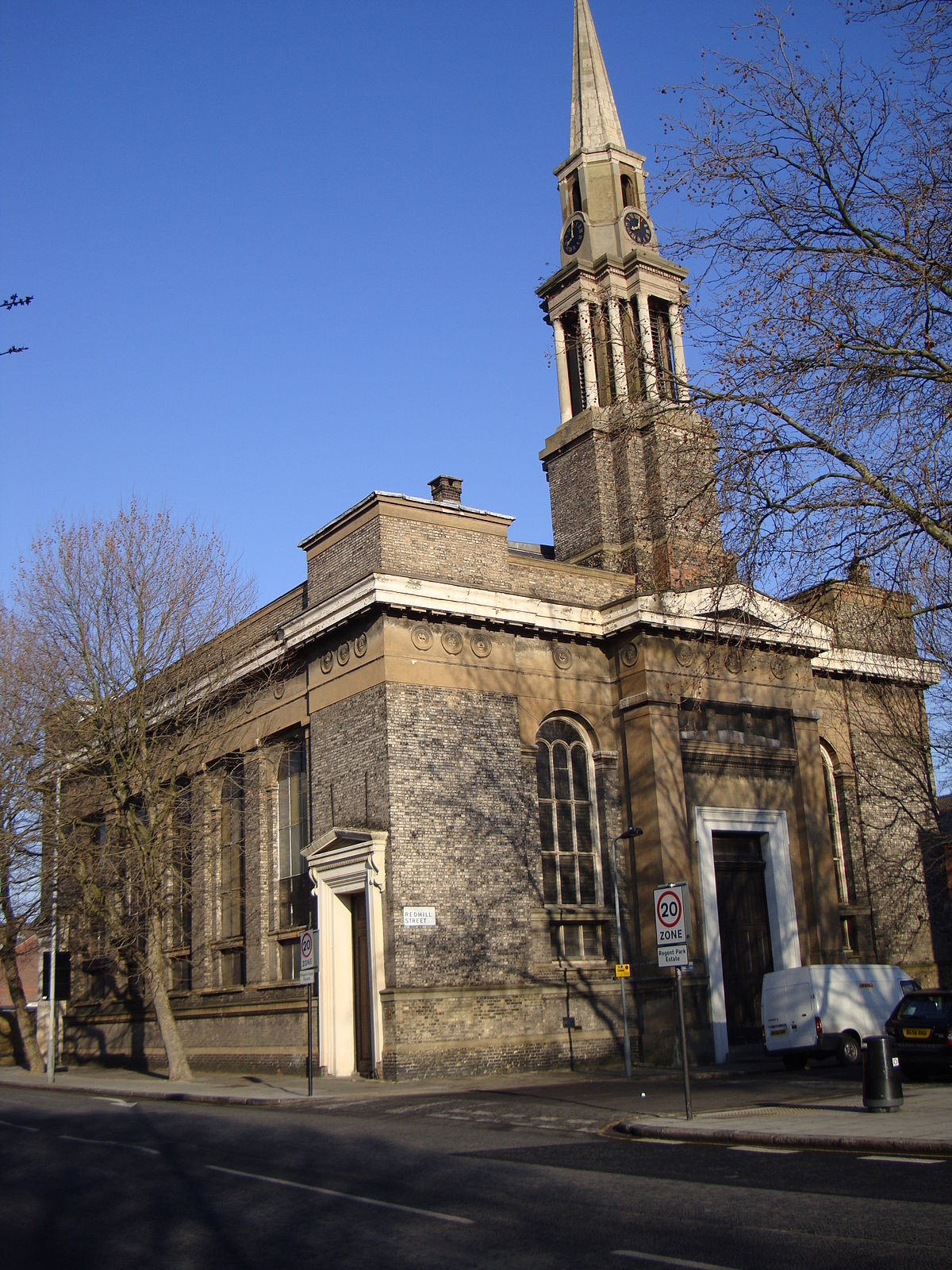 deanery. The celebration took place on a Saturday morning at our Antiochian Saint George's Cathedral in London, a building which once had belonged to the Church of England – as you can tell by its appearance.  Father Michael Harper, the dean (Memory eternal +. Oh dear God, so many of the good and holy people I've known are now gone from this earth) had preached there thirty years previously when he was a young Anglican priest.
Father Michael had been a leader in the English charismatic movement and author of many books. In a way I don't understand – and apparently they didn't either – God's Holy Spirit had shown him and his wife Jeanne that they must be Orthodox. In 1991 as they met my wife and me at the train, Father Michael's first words were, "We want to be Orthodox. Please tell us what it is!" Now a
t the Hierarchical Divine Liturgy to his surprise he was made an archpriest in the Holy Orthodox Church.
Father Michael's last book A Faith Fulfilled, about his journey to Orthodoxy, is available at http://store.ancientfaith.com/a-faith-fulfilled
About 200 Antiochian Orthodox people from all over England and even Ireland attended, some getting up long before dawn to make it – many on the excellent British trains. If they had had to drive they probably couldn't have made it. Their Metropolitan Gabriel of Paris was present – a gentle, kindly man in his 80s, who had fallen downstairs a few years previously and had never recovered and was failing; he could just barely get around. After his good sermon he came back into the altar and sat down, panting in pain, and then he began to cry. Everyone thought it was because he feared it would be his last time with them. And I think it was. He died in 2007. (Memory eternal+ again.) 
But for me it was a very happy weekend – to see what Khouria Dianna and I helped to plant coming to fulfillment. An old deacon, a former Anglican, told me, "I can't remember just what your wife said, but whatever it was, it convinced me. When she said it, I knew I had to be Orthodox!"
In 2015, at the direction of His Beatitude John X, Patriarch of Antioch and All the East, the Deanery of Great Britain and Ireland became the Antiochian Orthodox Christian Archdiocese of the British Isles and Ireland, with their own Metropolitan Silouan – above. They now have 15 parishes and 4 missions. If you want to know more about them and how they're growing, here is their website: http://www.antiochian-orthodox.co.uk/archdiocese/
Now it was Sunday morning, my last day in England. I had spotted a beautiful little Greek Orthodox Church near my hotel, so I walked over to it eagerly. It was locked tight as a drum, and I couldn't find an open church of any denomination in the neighborhood. So for a second Sunday on this four week trip, I didn't get to church.
Next Week: After a month in Europe – some ponderings about 1) the falling away from Christianity in western Europe, 2) "family values", 3) the joys and dangers of travel