A Visit to Saint Nicholas
When Clement Clarke Moore (an Episcopalian clergyman who should have known better) wrote his charming and bizarre poem, "A Visit from Saint Nicholas", he never explained why he turned our holy saint into a Norse myth. When we draw near to Saint Nicholas day, I'll write an article or three about the real Saint Nicholas and my parish's relationship with him. But the best way to be sure that this holy man is not an elf is to pay "a visit to Saint Nicholas". That's just what I had the privilege of doing.
Khouria Dianna and David flew home from Zurich, and I took the train overnight to southern Italy, to Bari and Saint Nicholas. I arrived on Sunday morning. It was a magical day. Nicholas' body lies in the crypt of the eleventh century San Nicola Roman Catholic Basil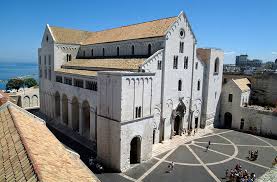 ica near the seafront. You know, perhaps, that in 1087 merchants from Bari stole him from his home town Myra in Asia Minor. Actually they claimed Saint Nicholas had appeared in a vision and told them to do this, and the legend says the people of Myra were overjoyed to have the relics of their saint taken away. Somehow I doubt that. My opinion is that the merchants of Bari saw a good business deal: tourists! money! pilgrims! And I was one of them. Anyway, I arrived about 9 a.m. to find many people in church. Apparently I was no longer in western Europe. A sung Mass upstairs had a good crowd as did the high Mass later.
But I went downstairs. There are many small relics of Saint Nicholas distributed throughout the world, but most of his body is in the crypt, behind a sc
reen in a tomb above ground. Many candles were burning and people were praying. Someone asked me later what it felt like, and I struggled to say. It was certainly not like visiting your ordinary crypt. There was an almost palpable presence of the living saint, the same Nicholas I have known and who has been leading me and my parish all these years. It felt holy, it felt happy, it felt alive… I don't have the words, but  I'll never forget. I lit candles and prayed for each of my parishioners and their needs and all the people they asked me to pray for.
Then I smelled incense. Behold, to the left of the tomb of Saint Nicholas is a
little Orthodox chapel, with room for a priest and a couple of acolytes, no more. But in a Roman Catholic basilica! I wonder if we Orthodox would be as generous. Divine Liturgy was beginning, celebrated beautifully in Italian. The music was good. There were maybe 75 or 100 people gathered outside the chapel.
You probably know that since his death in the mid fourth century the relics of Saint Nicholas have been exuding myrrh (for lack of a better name to call it) with healing properties. In the early days people used to pun about "myrrh from Myra". In his tomb in the Basilica in Bari his relics lie in a pool of this myrrh. In 1925 the Roman Catholics analyzed it chemically (I think we Orthodox wouldn't do that) and found it is like water but with almost no bacterial content. On the feasts of Saint Ni
cholas, a priest opens the tomb and removes fresh myrrh. I brought some home, after having paid a rather high price for it. (I think it's worth mentioning here that there is no charge for oil from the lamps at Saint Nektarios.)
Myrrh from Saint Nicholas! A relic of Nicholas is imbedded in the altar of our Saint Nicholas Church in Cedarburg – a gift from Father Thomas Hopko, of blessed memory +. Now we have this new treasure, this myrrh which we have used for anointings on Saint Nicholas Day and when people are ill. Holy Nicholas, pray to Christ our God to save our souls!
Greece again
I had ten days to kill before going to London (which I'll explain next week), and right across the Adriatic was Greece, so what could I do?  Sometime I'll try to figure out and explain why Greece has such a hold on me. From Italy to Greece I took a very comfortable ferry, passing over what Patrick Leigh Fermor described as the line where the Filioque drops out of the Creed.
From Greece's western port of Patras I rode into Athens (almost) on a dreadful noisy narrow gauge Greek train which threatened to lur
ch off the cliffs into the sea. Due to railway construction, without warning they put us all off the train on the north side of Athens, and provided no transportation into the city. As I said once before, if you want efficiency go to Switzerland. However, because of the construction there is now good modern train service on that route from Athens as far as Corinth – something Saint Paul would probably have appreciated. Then I took a respectable ferry back to the island of Paros. (If you go to Blog Post 3, you can read about about my first visit there in 1985.)
Paros is a lovely little island in the middle of the Aegean Sea, with low mountains, white villages scattered about, pretty beaches, countless churches and now, twenty years after my first visit, crawling with far too many tourists. But I was one of them, so I should complain? I poked around in villages, ate at tavernas and relaxed. I was probably the only person on the beach reading theology.
I visited churches. On Paros, Christianity is alive and well. On the feast of the Elevation of the Holy Cross I went to Divine Liturgy at what is called Ekatontapiliani ("100 doors") Church. I didn't count them on this trip either. The story has been that in the fourth century Saint Helena, mother of t
he Emperor Constantine, visited the little Christian community on Paros on her way to the Holy Land and was so pleased by what she saw that she promised to build them a big new church. Recent archaeological evidence indicates that the story is true: construction of the church was begun about the year 325. An even older church, now Saint Nicholas chapel, is still in use. So this is one of the oldest church buildings in the world in continuous use. Holy Cross Day is apparently a work holiday so people can celebrate it, because on that feast day, a Wednesday, the church was filled – with approximately equal numbers of men and women, which is easy to tell because the men are mostly over here and the women mostly over there.
I must tell you this story: I've found that restaurants outside churches are usually good and not overly expensive, so I settled into a restaurant across from Ekatontapiliani. (One of several mystery items on the menu was "Fish Soup without Fish". !?) In Mediterranean lands you can go for months without eating indoors, so on a Friday I was eating outdoors there. The only thing that looked good to me was beef stephado, so I justified ordering it: "I'm on vacation, it's ok". As I began to eat the meat I realized that from my table I could see directly into the altar of this venerable church where faithful people have been keeping the fast for seventeen centuries. The only way I could get through the meal was to promise to fast on Saturday.
Churches and chapels in the towns were open and used, with candles burning and often the smell of incense wafting out into the narrow lanes, with men and women as they went by crossing themselves, m
any going in and out to light candles. If the church was of any size old people were stationed by the doors at all hours to monitor the candles. Western European tourists stood outside wondering what in the world this was all about, and occasionally some wandered in even while services were going on in their shorts and tanktops, having no notion of propriety. Every morning when I turned on the radio, I could hear not a bunch of Bible thumpers but Orthodox services on three stations – Orthros, Divine Liturgy, Vespers and Compline broadcast daily, along with Orthodox teaching and commentary. I wished I could understand more Greek.
I began Sunday morning at Logovarda Monastery up in the hills, with about six monks, all of them aging (very different from Mount Athos with their young monastics), a very holy looking old priest celebrating Divine Liturgy and about ten men and boys present. When the monastic prayers got too long for me I went down to Ekatontapiliani and found the crowd even bigger than before. I arrived during Orthros (Matins). In front of me were three typical teenage guys, not your ultra-pious types, who were nevertheless there for Matins and the entire Liturgy, along with many families, many children. The services were celebrated with great devotion. Orthodoxy on Paros is flourishing, as it has been in most places in Greece that I've visited. What a difference from western Europe!
Greece is about 98% Orthodox. I don't know what proportion worship regularly. (Even during Liturgy, some people pop into church to light a candle, then quickly disappear.) But I am told there is a genuine Orthodox revival in Greece, that attendance and devotion are up, especially among men and young people. It certainly feels that way. I read that Greece, with a population about that of Wisconsin and Minnesota combined, now has about 1000 monasteries and sketes.
While I was there I wondered: This lovely experience of a popular lively Orthodoxy still integrated with daily life – is it the first breath of something that will spread out into the world? or is it the last beautiful gasp of something that will fade in the face of modern secularism? I don't know, of course. I've concluded it really isn't important to know. All that matters is that we be faithful as best we can. The future is in God's hands.
Next Week: Another "Coincidence" with Saint Nektarios, then London.