Here are two saints commemorated together on May 16. However, other than that they could not be more different. One a little girl called Home early. The other a builder and adventurer, forever on the move.
Blessed Musa of Rome
This is a story both very sad and very beautiful.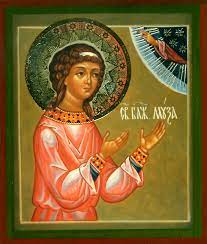 Musa lived in Rome in the Fifth Century. Saint Gregory the Dialogist of Rome told her story in his Dialogues (Book. 4, Chapter 17), saying he had heard it from Musa's brother Probus. 
One day little Musa had a vision of the Theotokos, in the company of young virgins clothed all in white. The Blessed Virgin asked her whether she would like to remain with them, and to live in her service. Musa answered that she would. Then our Lady told her to abstain from foolish pastimes, and that after thirty days she should be allowed to join them. 
Twenty five days later, Musa she fell sick with a feverish illness; and upon the thirtieth day, when the hour of her departure was come, she beheld our blessed Lady, accompanied with those virgins who had first come to her. Probus heard her answer with her eyes downcast, but very distinctly like this: "Behold, blessed Lady, I come. Behold, blessed Lady, I come". Speaking these words she gave up her spirit, and her soul departed, to dwell for ever in joy with Blessed Mother Mary and the holy virgins in heaven..
Sources: johnsadinopoulos.com and oca.org
Saint Brendan the Navigator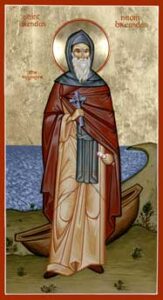 …sometimes called Saint Brendan the Voyager, who may possibly have been the first European to set foot * in North America.
I think we're all careful now not to claim that Europeans "discovered" America. America was discovered at least fifteen thousand years ago. By the time Europeans arrived, those earliest Americans were very well established.
Regarding Saint Brendan's early life, it's hard to know exactly how to "get hold"of it.  Here, for example, is an account in Advent.org (a Roman Catholic site):
"St. Brendan of Ardfert and Clonfert, known also as Brendan the Voyager, was born in Ciarraighe Luachra, near the present city of Tralee, County Kerry, Ireland, in 484; he died at Enachduin, now Annaghdown, in 577. He was baptized at Tubrid, near Ardfert, by Bishop Erc. For five years he was educated under St. Ita, "the Brigid of Munster", and he completed his studies under St. Erc, who ordained him priest in 512. Between the years 512 and 530 St. Brendan built monastic cells at Ardfert, and at Shanakeel or Baalynevinoorach, at the foot of Brandon Hill."
Who? Where? But these were real people, real places, real saints. They're just not people and places and saints most of us Eastern Orthodox are acquainted with. There is a whole early Church world out there which we "Easterners" know little about.
Because of that I'm including a number of direct quotations in this Post, rather than pretend I know things about which I also know very little.
To take just one example, who was this Saint Erc? According to the site "The Saints of Great Britain and Ireland":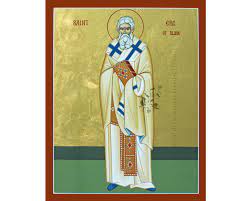 "St. Erc (*1) was from Ireland. He is probably, though this is not certain, the brother of saints Ia and St Euny. He is remembered in the village of St Erth on the old crossing point of the Hayle estuary near St Ives. He may be the same St Erc who baptised and ordained the famous St Brendan the navigator. St Erc was made priest and then bishop of Slane Co Meath by St Patrick (*2), the reason given that he supported St Patrick in his confrontation with the druids on the Hill of Slane." synaxarion.org.uk
1) not to be confused with Saint Erconwald or Saint Urith
2) At least we know about Saint Patrick! For his story go to: https://frbillsorthodoxblog.com/2018/03/22/57-saint-patrick-celtic-orthodox-roman-catholic-anglican-coptic/
But we're supposed to be talking about Saint Brendan!
"St. Brendan belongs to that glorious period in the history of Ireland when the island in the first glow of its conversion to Christianity sent forth its earliest messengers of the Faith to the continent and to the regions of the sea." newadvent.com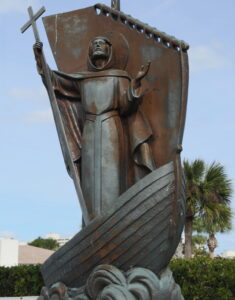 I think I might sub-title him "Saint Brendan the Restless". He was ordained when he was 28.  Then…"During the next twenty years of his life, St. Brendan sailed all around the islands surrounding Eire (Ireland), spreading the word of God and founding monastery after monastery. The most notable of these is Clonfert in Galway, which he founded around 557 AD, and which lasted well into the 1600s…[One of his voyages took him to] Hynba Island off Scotland, where he is said to have met Columcille (Saint Columba). On this voyage he also traveled to Wales, and finally to Brittany, on the northern coast of France…. He made all these voyages, accompanied by other eager explorers, in coracles, wooden framed boats covered in hide and waterproofed with tallow." orthochristian.com
Truly Saint Brendan the Navigator.
Sometime in his travels, Saint Brendan heard of a "land of promise", "the Blessed Land", an undying paradise which lay far to the West aross the sea.
This was a persistent myth in Britain and Ireland, which remains even to recent times in the fiction of J.R.R. Tolkien: the land of "Valinor" in his Silmarillion, which gives the pre-history of his more popular and more readable Lord of the Rings triology. (Have you been watching the current Amazon Prime series The Rings of Power? in which Valinor, the Land of the Blessed, plays a significant role.)
Even today when everybody knows what lies to the West of Britain (us!), standing at Land's End in Cornwall, looking out over the vast Atlantic, I almost felt as if it's still out there.
Forgive me. I keep wandering.
Saint Brendan's Voyage to find "the Blessed Land".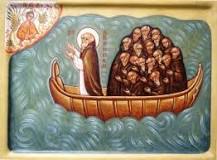 According to the story, sometime between the years 512 and 530, Brendan gathered a group (seven? eleven? forty?) of worthy monks who boarded their trusty coracles and sailed west for about seven years, and then after about seven years returned home – though greatly diminished in number.
We have no written record of Saint Brendan's great voyage till the Eleventh Century. By then the story of their of their adventures had long been greatly popular, sung by many bards and much elaborated over the years, so much so that it's hard to know exactly what is fact and what is fiction. In fact, some have contended there was no actual voyage at all, that the whole story was an allegory of a Christian's "spiritual journey" towards the Promised Land. (But then, at their core, that is what all voyage adventure stories are about, even if the voyagers aren't aware of it.)
In particular, many scoffed at the idea that Brendan and his companions could have survived the tumultuous North Atlantic in their little coracles. However, in 1976 one Tim Severin, an inveterate explorer, became fascinated by the "impossible" Saint Brendan voyage, and decided to find out for himself. He built a coracle of the same materials that Saint Brendan would have used and, with an intrepid crew of three,  sailed west from Tralee in County Kerry, trying as best they could to replicate the Saint Brendan story: 1) They came upon the "isle of sheep" – the Faroes? 2) They came to a place where a great fiery giant hurled rocks at them – a volcanic eruption in Iceland? 3) They encountered great walls of ice – icebergs? One part of the story they were glad not to encounter: about how Saint Brendan and his men began celebrate a Mass on a small island, which to their terror turned out to be the back of a giant fish of some kind.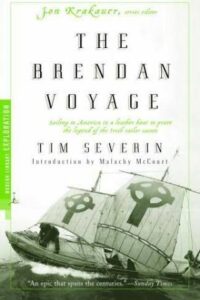 Thirteen months later, Severin and his companions arrived in Newfoundland, Canada. He proved that Saint Brendan's voyage was possible. Whether Newfoundland is the "Isle of Blessed" he did not say.
 Mr Severin's book The Brendan Voyage is available from many sources.
The general consensus now seems to be that Saint Brendan and his companions did indeed sail west into the uncharted sea, though their exact course is still debated. Some say they got as far south as the Azores off the west coast of Africa. No matter, Saint Brendan's title of "The Navigator" seems assured.
But did Saint Brendan actually land in America? The legend says that after seven years they found a great island of plenty. Some say that the account describes plants and animals found only on the western side of the Atlantic. A few centuries later, Norsemen (who preceded Columbus) called the land around Chesapeake Bay the "land of white men". Interesting.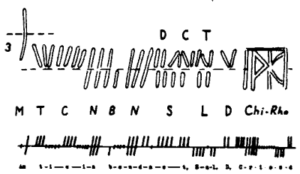 And this: An ancient bone needle found in a cave in West Virginia, has markings on it long attributed to Native Americans. However, in 2018 a specialist in early Irish "Ogham" characters to his amazement deciphered it to read "The season of the blessed advent of the Savior, Lord Christ (Salvatoris Domini Christi)"! Carbon dating places it in about the year 500, just right for Saint Brendan or his companions. However, in 2019 another specialist concluded that the markings are definitely not Ogham. Next…? Do we have any specialists in Ogham here present?
No matter, I would like to think that an Irish Saint, looking for the Land of the Blessed, landed on our shores nine hundred years before a certain Italian sailed west looking only for fame and fortune.
After the great voyage
Did Saint Brendan decide to settle down and take a well-deserved rest? Not exactly.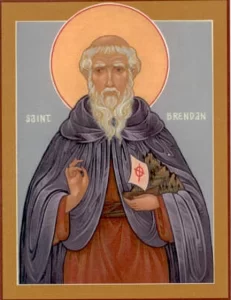 "Having established the See of Ardfert, St. Brendan proceeded to Thomond, and founded a monastery at Inis-da-druim (now Coney Island, County Clare), in the present parish of Killadysert, about the year 550. He then journeyed to Wales, and thence to Iona, and left traces of his apostolic zeal at Kilbrandon (near Oban) and Kilbrennan Sound. After a three years' mission in Britain he returned to Ireland, and did much good work in various parts of Leinster, especially at Dysart (Co. Kilkenny), Killiney (Tubberboe), and Brandon Hill. He founded the Sees of Ardfert, and of Annaghdown, and established churches at Inchiquin, County Galway, and at Inishglora, County Mayo. His most celebrated foundation was Clonfert, in 557, over which he appointed St. Moinenn as Prior and Head Master."  newadvent.com
It's almost exhausting just to read about it.
Saint Brendan the Navigator died in the year 577 at age 93, setting out on his greatest voyage of all. He is buried at the site of his Clonfert Abbey, which oddly enough is now a Church of Ireland (Anglican) cathedral.
Today Saint Brendan is fairly well known.
We can buy Saint Brendan medals.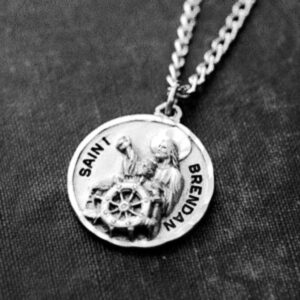 Even Saint Brendan t-shirts
Churches are named after him.
Here is "Saint Brendan's Catholic Church", Cummings, Georgia. (I love that statue in front, placed within a compass.)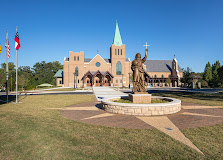 And here is the rather smaller Saint Brendan the Navigator Orthodox Church in Astoria, Oregon – on the coast of the vast Pacific to the west.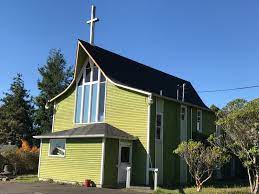 But how many have even heard of Blessed Musa of Rome?
The Saints of May 16: Conclusion
"There are diversities of gifts, but the same Spirit. There are differences of ministries, but the same Lord. And there are diversities of activities, but it is the same God who works all in all. But the manifestation of the Spirit is given to each one for the profit of all." I Corinthians 12:4-7
Next Week and Week after next: Probably something about the Ascension and Pentecost