I hope that's not an irreverent way to introduce a saint – but every year when we come to Saint Joseph, that's the saying that springs automatically into my mind.
This man's life was almost entirely "lemons" – it sounds like it's out of a soap opera – and yet he "squeezed" great good out of it.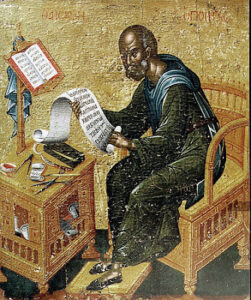 Saint Joseph the Hymnographer was born in Sicily to devout Christian parents in about the year 814.
"Italian Sicily" as we know it today? No, this was "Greek Sicily". At that time, Sicily had been Greek for sixteen centuries. * In about the Ninth Century BC, as civilization moved west, Greek colonists had settled on the island which they called Sikelia, and soon it (along with much of southern Italy) was in Greek hands. Greeks proudly called themselves Sikelliotes – "Sicilian Greeks".
Compare that to the age of the United States. No wonder people in the ancient world sometimes both admire our youth and also think of us as "young whippersnappers".
When the Empire became Christian, so did Sicily. Much traditional Church architecture and iconography in Sicily remains distinctly Greek Byzantine in style.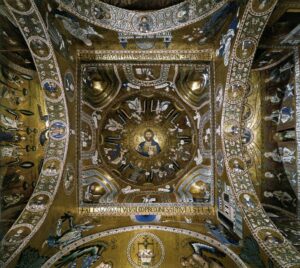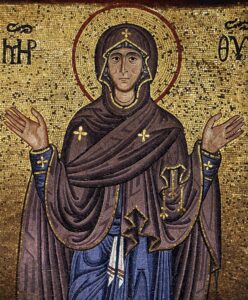 Now on to the life of Saint Joseph.
Lemon #1: When Joseph was about thirteen years old, the Muslim conquest of Sicily began. He and his parents left their homeland and fled to Greece, one biographer says to the Peloponnese region in far southern Greece. Consider how difficult this must have been for them, what a heritage they left behind. They must have felt like refugees.
Joseph was a deeply religious young man, and when he came of age he became a monk at the Monastery of Latomos in Thessaloniki. There his piety and wisdom were so notable that Saint Gregory of Decapolis * brought him to Constantinople.
an ascetic preacher, originally from what is now Jordan
Lemon #2: Unfortunately this was during the time of the iconoclastic controversy. Both the Patriarch and the emperor Leo the Armenian (who had not yet been assassinated) were militant iconoclasts. Saints Gregory and Joseph were both firmly Orthodox, opposed iconoclasm and preached against it. Gregory was chosen by the monks of Constantinople to be sent on a voyage to Rome as their messenger to plea for assistance from Pope Leo III.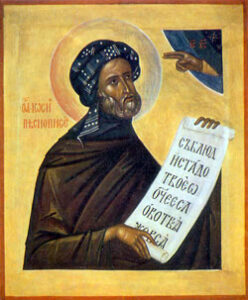 Lemon #3: However, during the voyage, Joseph was captured by Saracen pirates, who gave him over to the iconoclasts to be imprisoned. There he remained for six years. He said that during that time Saint Nicholas of Myra appeared to him and asked him to make music in praise of God.
Finally he was released and returned to Constantinople. This was during a break in the iconoclastic controversy, so Joseph got to work. He founded a monastery dedicated to his departed mentor, Saint Gregory of Decapolis, and a church in honor of the Apostle Bartholomew to whom he was especially devoted. He said Saint Bartholomew also had come to him in a dream, directing him to write hymns for the Church. But he scarcely got started before…
Lemon #4: Now came the second iconoclastic period. Again Joseph stood firm against the heresy, and he was sent into exile to Cherson * on the north shore of the Black Sea. This lasted for about eleven years..
________________________
This is the same Kherson in today's news, a once-lovely city which fell to the Russian invaders, then recently was recaptured by the Ukrainians. Today it is being subjected to massive bombardment by the Russians, as usual primarily onto civilian areas.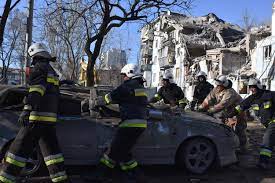 Please do not forget Ukraine.
____________________________
The Empress Theodora came to the throne. Joseph returned again to Constantinople, and was honored by being given a high post at the great church, Aghia Sophia.
Lemon #5: However, Theodora's son Michael and his Uncle Bardas overthrew and imprisoned her, and… (This is a story with much palace intrigue. You should look into it only if you have a lot of time to spare.) Bardas got involved in an illicit relationship, apparently with his daughter-in-law. Joseph publicly condemned him for this, with what result? He was exiled again – this time for nine years.
Saint Joseph's adult life lasted about fifty years, of which at least half  were spent either in exile or in prison – even though he was completely innocent.
How would we have handled something like this? Would we have given up? or become angry with God? Would we have complained bitterly because life had given us so many "lemons"?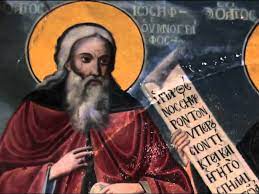 Here's what Joseph did: As Saint Nicholas had encouraged him, and as Saint Bartholomew had directed him, in his spare time (and he clearly had plenty of it!) instead of moping and complaining, he wrote hymns and canons * filled with profound theology, praise and penitence – probably more hymns than anyone else in the entire history of the Church. That is why he is titled "Saint Joseph the Hymnographer". In the Church's service books very frequently we come across a hymn or canon labeled simply "by Joseph".
A canon is a long series of hymns on a particular liturgical theme, or in praise of a certain saint. Best known today – written by Saint John of Damascus – is probably the gorgeous canon sung at Paschal Orthros (Matins), though in some places in practice it is unfortunately very much abbreviated.
Small portions of Joseph's hymnody can be heard today by those few Orthodox who come to Sunday Orthros. A little more is sung in the very few parish churches who have weekday Orthros. The great majority of it is heard only by monks and nuns in their daily monastic services  His effect on the life of the Church has been no less profound for that, because much of the our theology and pattern for holiness has come out of the monasteries.
Here is a very brief sample of his work, from his Canon in honor of Saint Panteleimon:
First Tone
The acrostic reads: A hymn of Joseph.
Ode I
Ever standing with boldness before the throne of grace, O blessed Champion, send down upon us forgiveness of sins, and intercede with Christ.
You endured tortures, O Panteleimon, being aflame with divine love for the Master. Entreat Him that He deliver us from every danger.
Coming to know the Creator, you called upon Him, and thereby raised a dead man, O chosen-one of God, therefore I cry out to you, bring to life my deadened soul through your prayers.
Theotokion
You bore the Master and King of all creation, O All-holy Lady, ever entreat that we be granted the Kingdom of God.
courtesy of "full-of-grace-and-truth blogspot"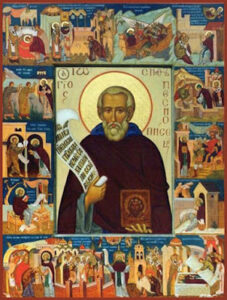 Now to the end of the story. The good Patriarch Photios restored Saint Joseph and made him father confessor to all the clergy of Constantinople, calling him "a man of God, an angel in the flesh, a father of fathers". Joseph spent his last few years in well-deserved peace.
Joseph the Hymnographer was foretold that his death was upon him. He fell asleep peacefully in the Lord on April 3, probably in the year 883, at about seventy years of age.
He is commemorated on that day in the Greek/Antiochian tradition, on April 4 in the Slavic tradition, and on June 14 (I don't know why) in the Roman Catholic Church.
What can we learn from this truly remarkable and inspiring man? You know the answer:
"When life sends you lemons…"
Troparion/Apolytykion for Saint Joseph the Hymnographer  (Tone 2)
Come, let us acclaim the divinely inspired Joseph,
The twelve-stringed instrument of the Word,
The harmonious harp of grace and lute of heavenly virtues,
Who lauded and praised the assembly of the saints.
And now he is glorified with them.
Next Friday, the eve of Lazarus Saturday, we begin our usual twice daily Commentaries on the Services and Scripture readings of Holy Week.
Material for this article was culled from the OCA website, Orthodox Wiki, catholiconline and The Getty Center (getty.edu), as well as other sources noted above.