Before we get started on Saint Meletios:
Does the Orthodox Church celebrate Saint Valentine's Day? Yes, three times for three Saint Valentines, commemorated on October 24, April 24 and July 6. Hooray for love! but (Saint) Valentine's Day on February 14 seems to derive from a Roman pagan holiday of love, originally celebrated on February 15, which explains all the cupids.
Now, on to business: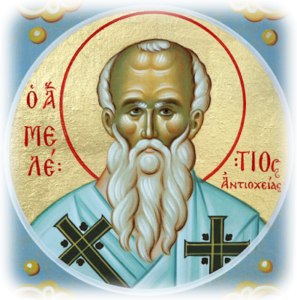 Saint Meletios, Archbishop of Antioch
commemorated on February 12
I'm sure you are dismayed by the complicated mess Christianity is in today, with all our various denominations and beliefs and leaders. However, if you think surely things must have better back in the Good OId Days of the early Church when all was sweetness and light and harmony… think again. Here's a story designed to dissuade you of that opinion.
Let's begin with one passage from Orthodox Wiki (taken completely out of context) just to show you a little of what things were like in the Great City Antioch in the late Fourth Century: (Relax. This will not be on the exam.)
Constantius and the Arians took quick revenge. In 361, Constantius exiled Meletius to his native Armenia, having occupied his see for less than a month. With his exile the religious life in Antioch became chaotic. The churches were largely in Arian hands. The Arians placed Euzoius, who earlier had been deposed and expelled from the church with the heretic Arius by St. Alexander of Alexandria, as head of the see of Antioch. The Orthodox were divided between supporters of Eustathius led by Paulinus and those for Meletius led by Flavius and Diodorus. This schism remained unhealed until 415. 
Got that? This was only a small portion of what was going on in Antioch at the time. As we go on, I'll try to explain a little of the paragraph above. (I won't pretend I understand much of it.)
Right in the midst of these warring parties was a gentle, kindly, quiet man named Meletios (often "Latinized" as "Meletius"). Meletios was born into a very wealthy and influential family in Armenia sometime in the early Fourth Century. We first hear of him when he was Bishop of Sebaste * in the year 357.
which I think is now the Turkish town of Sivas, as it has been called ever since the Turks drove the Armenians out and slaughtered most of them. Why? Because they were Armenians. Was it "genocide"? You look up the definition and decide for yourself. But we're wandering.
The year 357 was forty-five years after the First Ecumenical Council had met to deal with the priest Arius who was teaching that Jesus Christ, though he was the most superior of men, was less than God, had been created by God. ("There was a time when Christ was not.") The Fathers decided almost unanimously for the Orthodox doctrine, and against Arius and the Arians, thereby putting the matter to rest.
Or so they thought. Arius died soon afterwards. But Arianism was just getting into gear. For reasons very hard to explain, for centuries thereafter Arianism increased in influence and was a major force, first in the Empire and then beyond its borders. In about the year 379 when Saint Gregory the Theologian became Archbishop of Constantinople, every church but one in The City was in Arian hands.
The website of the Patriarchate of Antioch says that for some reason Meletios was banished from Sebaste and went for a while to Beroea in Syria. *
modern-day Aleppo, about half of which was destroyed by the Russians during the Syrian War, and much of the rest has been destroyed in this week's earthquake. Please pray much for those poor people, and give to relief through IOCC: https://support.iocc.org/site/Donation2?df_id=8464&mfc_pref=T&8464.donation=form1
Then Meletios was called to be Archbishop of Antioch of Syria, the Great City of the East, near the Mediterranean Sea, not far from the  eastern frontier of the Empire.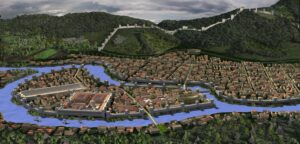 Ever since Nicaea Antioch had been torn apart between Arians of various sorts, Orthodox, semi-Orthodox of different kinds, and who knows what all? Bishops had progressively been enthroned, dethroned, sent into exile, brought back from exile. (I'll spare you the details. Look them up for yourself, if you wish.)
The people of Antioch were agreed about two things: 1) They needed a bishop, and 2) They were sick and tired of fighting.
Now, Meletios was by nature a man of very gentle disposition, who sought peace and harmony. He had friends, sometimes good friends, in the various groups. He had long hesitated to define his theological position clearly. At that time, as an article The Catholic Encyclopedia (newadvent.com) puts it, Meletius apparently believed that truth lay in delicate distinctions, yet his formula was so indefinite that even today it is difficult to define it with precision. He seemed not to be dogmatically a Nicene nor an Arian, such that to an Anomean* Homoiousian*, Homoian*, or Neo-Nicene*, he remained outside any inflexible classification. In a time when men became weary of interminable debate, the mild temper of Meletius seemed to have shown promise of a desired peace. 
Was Meletios taking the easy way out? or did he only want to be able to minister to everyone? That is not for us to decide. No matter, the result was that both Arians and Orthodox believed he was on their side, and so both groups agreed to elect him Bishop of Antioch.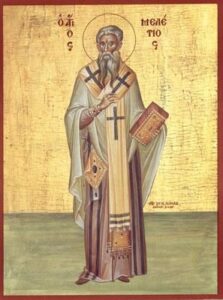 The people were glad to welcome him. However the Emperor Constantius was not (for reasons I forget), and after only one month he chased him back to his native Armenia. (You read about this in the paragraph at the beginning of this Post.) Saint John Chrysostom wrote that the people of Antioch were so angry about this that they threw stones at the driver of the carriage in which he was being taken into exile. Bishop Meletios, typically, took his own cloak to cover the driver to protect him.
Then he was allowed to return. Meletios' personal virtue was obvious. Despite his great wealth, he lived simply. In his quiet, kindly gentle way he served his people well, and brought about needed reforms of various sorts, without distressing either party.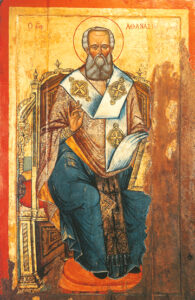 A commentary I read somewhere pointed out that "Meletios was no Athanasios". One time, the great Saint Athanasios, Archbishop of Alexandria, that militant Orthodox, visited Antioch and asked Saint Meletios exactly what he believed. Meletios was so exceedingly slow getting back to him that Athanasios left town without getting an answer.
Julian the Apostate came to the throne, and Saint Meletios was one of many Christians of various sorts who were exiled. Then Julian died and in the year 363 Meletios again returned to Antioch.
Governor Constantius, a militant Arian, then called a conference of bishops to try to back Meletios into declaring himself. And so he did! Archbishop Meletios declared himself an Orthodox, a firm adherent of the decisions of the First Ecumenical Council. He believed that Jesus Christ is fully God and fully Man. This caused dismay and anger among the Arians who had thought he was on their side.
The site of the Greek Patriarchate of Antioch describes what happened as their Archbishop spoke:
"The archdeacon, an Arian, put his hand over the bishop's mouth; Meletius then extended three fingers towards the people, closed them, and extended one only, showing by signs the equality and unity of the Trinity. The embarrassed archdeacon then seized his hand, but released his mouth, and Meletius spoke out even more forcibly in defense of the Council of Nicaea."
I wish we had been there to see that! (I think… but maybe the Arians would have come after us, too.)
Saint Meletios then wrote his major theological paper "Exposition of the Faith", in which he showed himself firmly Orthodox. His influence was enormous. Among many other things, he ordained the future Saint Basil the Great to the diaconate, and he baptized and guided the future Saint John Chrysostom.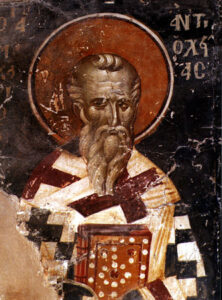 But was the city entirely Orthodox? No way. Here is Orthodox Wiki's summary of things:
Meletius returned to Antioch, but to an atmosphere of schism with the Eustathians, who would not recognize Meletius as his election occurred with the help of the Arians. A further estrangement occurred when attempts at mediation by Eusebius of Vercelli were negated by the consecration of Paulinus as bishop of Antioch by Lucifer, Bishop of Cagliari. Thus, Meletius became the leader of one of three factions in Antioch that accepted the Nicene Creed. In 365, emperor Valens exiled Meletius again, to Armenia. The date of his return is uncertain although he may have returned to Antioch in 367. 
As I say, I don't claim to understand most of this – and I hope I have the exiles in order. (Actually I think the various accounts I've read do not always agree.) Think how confusing all this must have been for the ordinary Christian layperson in Antioch. It was like… it was more or less like how confusing it is for the ordinary Christian layperson in America today, with all our competing denominations. Except at least we don't keep chasing each other out of town.
The moral of it all: God has brought His Holy Orthodox Church and the Orthodox Faith through times of chaos before. He can do it again, but again it will take time. Remember that Arianism was around in some places for centuries *, as have our present Christian divisions. Like the people of Antioch in the Fourth Century, we today are just unfortunate enough to be living in the midst of it.
I'd argue that it still is today, under different names.
In the year 381 the Emperor Theodosios the Great called what came to be called the Second Ecumenical Council, in Constantinople. Saint Meletios attended and presided over it at the beginning, but only at the beginning. During the Council, he fell ill and soon departed this life for that Land where all the Blessed know who their Lord Jesus Christ is.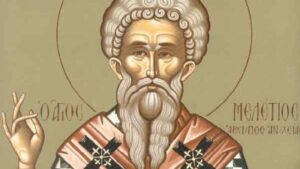 Here were the words of Saint Gregory of Nyssa during his oration at Saint Meletios' funeral: "Where is that sweet serenity of his eyes? Where that bright smile upon his lips? Where that kind right hand, with fingers outstretched to accompany the benediction of the mouth?… Our Elijah has been caught up, and no Elisha is left behind in his place."
Saint Meletios' body was returned to Antioch, where he was entombed with honor.
February 12 is likely the day he departed this life, but possibly it is the day his body arrived back in Antioch.
___________________________
Did that end the divisions at Antioch? No, of course not. It took more than fifty years for the city to be firmly established in the Orthodox Faith.
Just for your information: Today there are (hang on) five Patriarchs of Antioch. Praise God, they get along with each other.
Below they are pictured at a meeting several years ago, when they begged everybody to stop sending arms into Syria. (It didn't work.)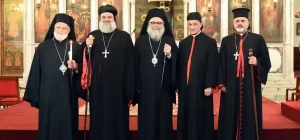 All of them, praise God again, accept the First Council of Nicaea. They are divided for other reasons. The Patriarchs of Antioch today are the Oriental Orthodox (the Syriac Orthodox Church); three Eastern Catholic (the Maronite, Syriac Catholic, and Melkite Greek Catholic Churches); and one Eastern Orthodox (the Greek Orthodox Patriarch of Antioch *). Nor am I going to try to explain these divisions. It would take a full Post just to get started.
That last one is ours, Patriarch John X – he's pictured in the middle above. We who live outside the Middle Easts call him not the "Greek" Orthodox Patriarch, but rather the "Antiochian" Orthodox Patriarch, because out here there is already a Greek Orthodox Church headed by the Patriarch of Constantinople. More confusion. Oh help.
In my more cynical moments, I wonder if the Church would be better off if it consisted of only Our Lord Jesus Christ and His Mother the Theotokos. At least they always agree with each other. But then again, there was that little incident at the Wedding at Cana, wasn't there?
Next Week: Super-bowl Commercials for Jesus?!
Week after next: Forgiveness Sunday – final preparations before Great Lent