Who am I talking about up there? Surely it can't be me!? The number sounds just wrong, so wrong. But there it is, and here I am. In fact with the traditional Chinese or Japanese system of counting, I will be 85 years old. (I'm not going to go there. Turning 84 is quite enough.)
In a book I just read, the author referred to something that happened "long ago", back in the 1950s. Hey, fellah, I was there long ago in the 1950s!
DiAurus (Wikimedia Commons)
I remember so vividly very early one May morning back in 1956. I was 17, about to graduate from high school. I had driven my Dad to the station to catch a train into Cleveland on a business trip. (That's the wonderful way people traveled in those days.) I drove home slowly through the lush spring countryside of western Ohio, bright with the light of the newly-risen sun. Everything was fresh and green and growing. And it felt like that was me: "My life is just beginning!", and I wondered about all the exciting things that might happen.
Now I'm at the other end of life, and many – very many – good things have happened to me, and I hope they're not done yet. I'm grateful to God, beyond words. But how did I get here so soon?
I've reached the age when years pass so quickly I can't keep up with them. Events that I think happened two or three years ago turn out to have been five or six. I looked up the average life expectancy for a white male my age, in my condition: It's eight years, which – God willing, and I don't get hit by a semi or a meteorite or something * – I know will seem like only a few. God may give me more, but I know they will fly away even more quickly. So there it is.

My Dad used to say he wanted to go out being hit by a Mercedes.
(MichaelPL at Creative Commons License)
When we're young, for most of us death enters our minds only occasionally. In mid-life, death begins to become more real to us. At my age, when we're not busy with something else, the thought of death is almost always with us. Is that morbid? No, it's just reality. No, because I have had a good, long, fulfilling life, far better than I could have hoped for on that May morning long ago. No, because I have faith in Jesus Christ and His promises.
However, at some level I'm still not convinced it's going to happen to me. Dying is what other people do. But I know I will join them before long. Should I brood about that? That would only waste the time left here that God gives me. Indeed I've found to my surprise that keeping my death in mind has in one way made my life more enjoyable. I am now less tempted by foolish passions and distractions: What? Do I want to waste my limited hours on earth like that? That wouldn't be so much sinful as just stupid. I am strongly moved to spend my remaining days on something worthwhile.
Saint Paul, when he was much younger than me, said he was torn between living and dying. "I desire to depart and be with Christ, which is better by far." Philippians 1:23  My Mom on her deathbed said "I'm ready for my long sleep".
Not me. Not yet. My life here is busy and fulfilling. In late retirement I've had time to get to know friends and family better, to devote to my personal prayer life, to read good books, * to spend evenings with my dear wife, and to do more "pastoring" than I had expected. I've got so much I want to do here before I go. This Blog for one thing.
Father Tom Hopko recommended that we "read good books a little at a time". I'm presently reading seven books a very little at a time, and I want to finish them!
So every morning I wake up just a little bit surprised and very glad to still be here, and as my feet hit the floor, I make the sign of the Cross and say "Thank you, Lord, for giving me another day".
However, I take it back: actually I am feeling torn. There are so many people I love who are now on the "other side".  I miss them like crazy, and they seem to be more on my mind these days. But there are also so many people here on "this side" whom I love, and when I die I figure I'll miss them like crazy. Or maybe time works differently over there. Maybe I won't have long to wait. No matter, I understand that God will work this all out in due time. Surely He will, because love never dies. It just can't.
I know we're supposed to be detached from things in this world. I'm not, not really. But I'm trying… trying hard to believe that on the other side there will be something more beautiful than the movie "The Sound of Music" which Khouria Dianna and I watched the other night, better than summer and autumn in Wisconsin, better than Greece, better than pizza, better than chocolate – but how can anything be better than chocolate?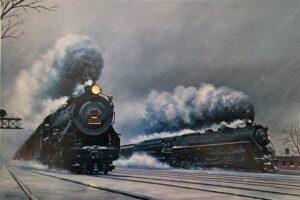 And is it completely off the wall to hope there will be something like trains over there, only better? For reasons I can't explain I've loved trains passionately for longer than I can remember. * Must I leave them behind completely? (Would seeing my beloved old steam locomotives again be too much to ask?)
O-Gauge Forum
…as did my father, as do my son and my grandson, a family male peculiarity. Even as I write this, I am with them on a trip "chasing" trains in Indiana.:"male bonding" like hunting, except much easier, because we know exactly where the trains will be. And we don't shoot them.
If, by the grace of God, I'm allowed to proceed on my journey into the Kingdom of Heaven…
What do I expect when I first get there?
I've had allergies and sinus problems all my life, and I've joked that the first thing I intend to do is find the man who invented Kleenex and say "Thank you. Thank you. Thank you."
Actually I don't know what to expect, because Christ never told us. Some believe firmly in Purgatory, or Toll houses. *  I think those are  "traditions of men" which the Lord taught us to avoid.  Mark 7
Search, if you wish, for: "Father Bill's Orthodox Blog Post 168", (169), (170): "What does the Orthodox Church teach about the Afterlife?
However Jesus didn't forbid us to speculate.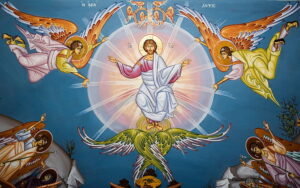 Do I think I'll immediately see Jesus face to face in all His glory? No. I got just a glimpse of Him one time (I'm not going to tell you that story), and His love is so powerful…  I know I couldn't handle Him full-strength. I'm not strong enough for tha yet.. I'll have a lot of cleaning up and growing to do first. Will He permit me to see Him in the hidden form He took when He was on earth? I can hope – I can only hope.
Many say our guardian angel helps us cross the river or through the tunnel or whatever it is. Maybe he will show me his bodiless face at last. Oh, I hope my parents are there to meet me – I miss them so much. If it's possible, I'd like to thank Saint Nektarios and Saint Nicholas for all they've done for me. But that raises an issue which may seem silly to you but has always troubled me: Language. They speak Greek and I speak English. How could I understand them? Will I have to take more Greek lessons over there?! or is there some kind of universal unspoken language? or…? (If you have the answer to this, please let me know.) Or maybe they're so far ahead of me that I won't catch up with them (if I ever can) for a few heavenly millenia.
Who really knows about all this? I don't. And if it were important for us to know, Jesus would have told us.
Here are some writings that mean much to me as my days on earth draw down.
The texts below are in usual print. My short commentaries are in italics.
In what follows, I'm taking Christ's death and resurrection and His promises of eternal life, as well as the Apostolic writings about this, for granted. To list all that would take several Posts at least, so I won't. 
Except for these first three passages:
John 8:51: 
Jesus said: "Most assuredly, I say to you, if anyone keeps My word he shall never see death."  John 8:51
The Church prays not for "the dead" but for "the departed", those who are traveling on.
Romans 8  
18 For I consider that the sufferings of this present time are not worthy to be compared with the glory which shall be revealed in us. 19 For the earnest expectation of the creation eagerly waits for the revealing of the sons of God. 20 For the creation was subjected to futility, not willingly, but because of Him who subjected it in hope; 21 because the creation itself also will be delivered from the bondage of corruption into the glorious liberty of the children of God. 22 For we know that the whole creation groans and labors with birth pangs together until now. 23 Not only that, but we also who have the firstfruits of the Spirit, even we ourselves groan within ourselves, eagerly waiting for the adoption, the redemption of our body.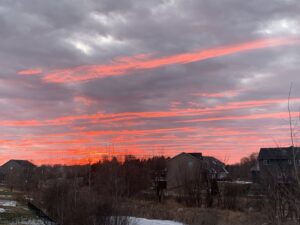 Shortly after my father died, I was driving home. It was a bleak Ohio winter evening, the sun trying desperately to shine through the grey clouds before it set, but not succeeding. Suddenly this passage came alive to me… … [I can't get it into words]. I could feel the earth and the sky groaning, longing for redemption. And so was I… longing for redemption, longing for a new and better world, a new and better life.
Minneapolis Star-Tribune
2 Corinthians 4:17-18:
So we do not lose heart. Though our outer nature is wasting away, our inner nature is being renewed every day. For this slight momentary affliction is preparing for us an eternal weight of glory beyond all comparison, because we look not to the things that are seen but to the things that are unseen; for the things that are seen are transient, but the things that are unseen are eternal.
_______________________________
Psalm 71: 5, 18-19:
Do not cast me off in the time of old age. Do not forsake me when my strength fails. … O God, You have taught me from my youth; and to this day I declare Your wondrous works. Now also when I am old and gray headed, O God, do not forsake me, until I declare Your strength to this generation, Your power to everyone who is to come.
Psalm 38 (39): 4-7
Lord, make me to know my end, and what is the number of my days,
That I may know how frail I am.
Indeed, You have made my days as handbreadths, and my age is as nothing before You;
Certainly every man at his best state is but a mist.
Surely every man walks about like a shadow;
Surely they busy themselves in vain; he heaps up riches,
And does not know who will gather them.
 And now, Lord, what do I wait for? My hope is in You.
 Psalm 89 (90)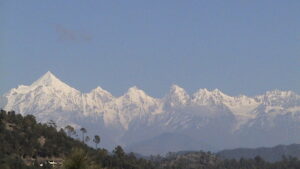 1 Lord, You have been our dwelling place in all generations.
2 Before the mountains were brought forth,or ever You had formed the earth and the world; even from ever-lasting to everlasting, You are God.
Panchuk, Creative Commons Lice   
3 You turn man to destruction,
And say, "Return, O children of men."
4 For a thousand years in Your sight, are like yesterday when it is past,
and like a watch in the night.
5 You carry them [all people] away like a flood;
They are like a sleep. In the morning they are like grass which grows up:
6 In the morning it flourishes and grows up;
In the evening it is cut down and withers.
9 For all our days have passed away in Your wrath; we finish our years like a sigh.
10 The days of our lives are seventy years; and if by reason of strength eighty years,
11 Yet their boast is only labor and sorrow; for it is soon cut off, and we fly away.
12 So teach us to number our days, that we may gain a heart of wisdom.
_______________________________
from  The Quantity of Hazelnut, a little book of meditations by the late Fae Melania:
How am I straitened, with all these many deaths to die!
   The first, when I was baptized into Christ's death and born again of water and the Spirit, I accomplished es easily as an infant, and with no more idea than an infant of what I was about…
   The death of the body, the heavenly birthday from which we wake to life eternal, I suppose I shall get through like everybody else, one way or another. (St. Therese, who took so long to die, in such pain, said 'I no longer believe in myself dying … i shall never be able to manage it…')
   But oh this death, the death of self, so that I may truly say I live – yet not I, but Christ lives in me. How many death struggles and I survive! No, I cannot believe in my self dying this death…. I shall never be able to manage it.
   "Except a grain of wheat fall into the ground and die, it abides alone, but it if die, it brings forth much fruit."
   I should be glad of another birth.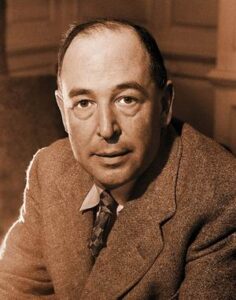 From C.S. Lewis:
from Credo Magazine
The Chronicles of Narnia are his adventure stories for children (including old children like me), wherein Aslan the Great Lion is the Christ figure, and Aslan's country is Heaven.
1  Two old people arrive in "Aslan's Country" and one of them says: "I'd had a rather sore knee…. I noticed it had suddenly gone. … We felt we had suddenly been unstiffened… we stopped feeling old."
 I like that!  I'd settle for middle-aged. But how about 33?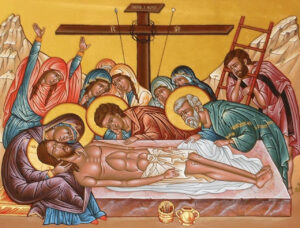 2  I take strange comfort from this line somewhere in Narnia (which I can't find now, so I'm not quoting exactly). The children have watched Prince Caspian die in battle, and then they're taken to Aslan's Country where they meet Caspian!
Ancient Faith Store
"But didn't he die?" Lucy asks Aslan. He responds: "Yes, almost everyone has. Even I have, you know."
After my father died, and I was looking at him in his casket and thought I just couldn't stand it, my mother said the only words that gave me comfort. She put her arm around me and said, "It's alright. We'll all be dead someday."
3   from Letters to Malcolm:
"Our souls demand Purgatory, * don't they? Would it not break the heart if God said to us, 'It is true, my son, that your breath smells and your rags drip with mud and slime, but we are charitable here and no one will upbraid you for these things, nor draw away from you. Enter into the joy'? Should we not reply, 'With submission, sir, and if there is no objection, I'd rather be cleaned first.' 'It may hurt, you know' – 'Even so, sir.'"
Lewis meant only some process by which we are cleansed and purified of our sins – not the Roman Catholic belief that in Purgatory we are punished for our sins.
4  But surely the joy of drawing nearer to God will engulf the pain of repentance and purification. Near the conclusion of The Chronicles of Narnia, the children are in Aslan's country, now forever, and the cry is always "Further up and further in!"
Saint Gregory of Nyssa wrote that Heaven will be: "From glory to glory advancing…".
This is the last paragraph of the Narnia series:
"The things that began to happen after that were so great and beautiful that I cannot write them. And for us this is the end of all the stories, and we can most truly say that they all lived happily ever after. But for them it was only the beginning of the real story. All their life in this world and all their adventures in Narnia had only been the cover and the title page: now at last they were beginning Chapter One of the Great Story which no one on earth has read: which goes on for ever: in which every chapter is better than the one before."
 I Corinthians 2:9
"No eye has seen, nor ear heard, nor the heart of man imagined, what God has prepared for those who love Him." 
from A Prayer by Saint Basil the Great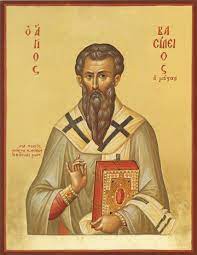 "And thus, when from this life I have passed in the hope of life eternal, may I attain to everlasting rest, where the sound of those who celebrate is unceasing, and unending is the delight of those who behold the ineffable beauty of Your Countenance. For You are, indeed, the true object of our desire and the inexpressible gladness of those who love You, O Christ our God, and all creation praises You unto the ages. Amen.
 with permission of Saint Isaac's Skete: skete.com
from The Revelation to John the Apostle 20: 1-6, 20
"Now I saw a new heaven and a new earth, for the first heaven and the first earth had passed away. Also there was no more sea. Then I, John, saw the holy city, New Jerusalem, coming down out of heaven from God, prepared as a bride adorned for her husband. And I heard a loud voice from heaven saying, "Behold, the tabernacle of God is with men, and He will dwell with them, and they shall be His people. God Himself will be with them and be their God. And God will wipe away every tear from their eyes; there shall be no more death, nor sorrow, nor crying. There shall be no more pain, for the former things have passed away."
"Then He who sat on the throne said, 'Behold, I make all things new.'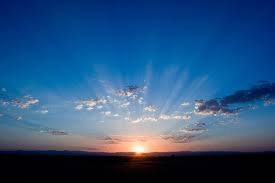 And He said to me, 'Write, for these words are true and faithful.' And He said to me, 'It is finished! I am the Alpha and the Omega, the Beginning and the End.'" 
"Amen. Come, Lord Jesus."
Next Week: Saint Phanourios and my Last Trip to Greece
Week after Next: How things have changed in the last eighty years.