Christ is risen! Truly He is risen!
1  You're still here! Well, at least you are. Readership was great during Holy Week, but it always falls off sharply after Pascha. * Little wonder: as much as I love Holy Week, afterwards I always feel as if I've overdosed on religion. I appreciate your tuning in.
We bloggers know how many are viewing each Post. We do not know your names.
2  Since Pre-Lent, as you know, we've been following the Church's Sunday themes. I'm going to keep it up till Pentecost. There is so there that is so deep.
3  But before we proceed, I thought you might like to see two videos:
For any who may not know, these are the traditional Slavic Pascha baskets of special foods to mark the end of the Great Fast.
Now to the two subjects at hand.
Gospel Reading for "Thomas Sunday": John 20:19-31
1  "If you forgive the sins of any…"
On Pascha night, the risen Christ said this to His Apostles: "Receive the Holy Spirit. If you forgive the sins of any, they are forgiven; if you retain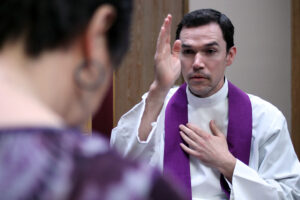 the sins of any, they are retained."
RC Diocese  of Phoenix
Some have understood this to mean that a priest or bishop has a God-given "personal power" to forgive sins. Wrong.
Howeer, some forms of priestly "absolution" almost suggest this. In what follows I'll italicize the relevant words.
In the Roman Catholic absolution, the priest says: "…through the ministry of the Church may God give you pardon and peace, and I absolve you from your sins in the name of the Father, and of the Son, and of the Holy Spirit."
One of the American Episcopal Church forms is very similar: "…by his authority committed to me, I absolve you from all your sins: In the Name of the Father, and of the Son, and of the Holy Spirit."
The Russian Orthodox form of absolution, influenced by Roman Catholicism some centuries ago, even refers to priestly "power": "I, His unworthy Priest, through the power given me, forgive and absolve you from all your sins, in the Name of the Father, and of the Son and of the Holy Spirit."
Forgive me for being radical, but I think all the above forms are misleading, in saying I forgive you,  I absolve you.
Another big problem is the English word "absolve", which in classic Roman Catholic understanding means "to remove the legal penalty of sin" – and I think that's how it's popularly understood in our culture today. That is not how we Orthodox understand God and sin. God isn't a judge in a law court, who imposes penalties. He is our Father who loves us. His forgiveness is free – wholly, totally and completely – and it always has been. (Christ did not die to "get us forgiven".) That is why, in Confession, Orthodox priests do not assign "penances". Is there any way we can find another word to substitute for "absolve"?
The classical form for Private Confession, used by the Greek Orthodox and some Antiochian Orthodox, is quite different. Let me quote the priest's words in full: "I, a humble sinner, have no power to forgive sins on earth; only God can do that; but trusting in the divinely spoken words that were addressed to the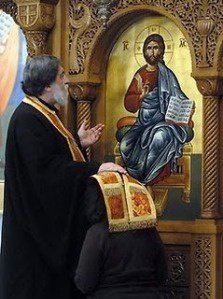 Apostles after the Resurrection of our Lord Jesus Christ, which said, 'If you pronounce forgiven the sins of any, they are forgiven; if you pronounce unforgiven the sins of any, they remain unforgiven', we are bold to say: Whatever you have related to my humble and lowly person, and whatever you have failed to say either from ignorance or from forgetfulness, whatever it may be, may God forgive you in this present age and in the age to come."
The priest, in and of and by himself, does not forgive. He is authorized by the Church to declare that God forgives sins.
What about the rest of Christ's words to the Apostles – "If you retain [pronounce unforgiven] the sins of any, they are retained". Obviously if it is God who does the forgiving, it must be God who does the retaining, withholding forgiveness. So what is the priest's part in this? It is to declare that God does not forgive.
That sounds pretty rash. However, try this example: What if a person confessed stealing a hundred dollars, and the priest asked "Have you paid it back?" "No." "Do you intend to pay it back?" "No." All the person wants is to get off the hook the easy way. So the priest would need to make it clear that just saying "I'm sorry" won't do it. If you want God's forgiveness you must repent. If you don't want to change your life for the better, God won't do it for you. Therefore the person's sin remains, is "retained".
Time to move on.
2  "What is truth?"
Those were the words of Pontius Pilate, after our Lord Jesus said "For this cause I was born, and for this cause I have come into the world, that I should bear witness to the truth. Everyone who is of the truth hears My voice." John 19:38  Why is this so? Because Christ is God, and God is the source of all truth – all truth, whether theological or scientific or whatever sort. That is why Christ our God, by the nature of things, is "the Way, the Truth and the Life". John 14:6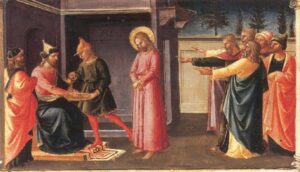 Domenico di Michelino (Italian, 15th c)
What did Pilate mean by his question? That there is no truth? Or how can anyone know what is true? Or sarcastically: Who cares about the truth? That we can't know.
However, all these attitudes seem to be found in many people today. (I am now about to ride off on my frequent "hobby horse".)  Politicians and religious leaders and people in the public media and social media blatantly proclaim things which are obviously not true. Lies.
People in great numbers believe these lies. This was understandable in Communist countries in the old days, or sadly in Russia today where the media is state-controlled, and all people know is the official propaganda. It is harder to understand in places like America, where we have a free press and people have access to information. Granted, it is difficult to distinguish fact from fiction these days, when we're blared at from so many directions. But only a little research can usually lead us to the facts, to the truth. Do many people just not care? I don't understand.
What's wrong with believing lies? with telling lies? with passing on lies? Well, to take a simple example: What happens when you tell lies about people you know? What happens when they find out? What happens if other people believe it? What happens when you get caught?
That is where we are today in society, in politics, in popular religion. When there are no longer any commonly accepted facts, when people don't care about truth: Families fall apart. Friendships fall apart. Churches fall apart. Nations and societies fall apart. Everything falls apart. 
Something like that is what happened to Western Christianity after the Protestant Reformation. The solid foundation of accepted truth was lost. That is why there are today over 2000 Protestant denominations, arguing among themselves and even within themselves, so that nobody knows for sure what's true. Everybody is forever on the search, but what they find is only their private opinion about what is true, so that nothing is solid, nothing lasts.
That is what is happening in America today. I fear it has already happened.
That is why I keep quoting Senator Patrick Moynihan (and actually many others) who said: "We all have the right to our own opinions about the facts. We do not have the right to our own facts."
But it's worse than that. Here is what Our Lord Jesus said to the pharisees who were wanting to kill Him: "You are from your father, the devil, and you choose to carry out your father's desires. He was a murderer from the beginning, and he does not abide by the truth, for there is no truth in him. When he lies, he speaks in accord with his own nature, for he is a liar and the father of lies."  John 8:44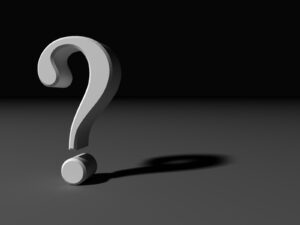 When we tell lies, when we settle for lies, we become sons and daughters of the devil, the father of lies. And we know where he takes his children, do we not? Can you imagine what it is like in his dark land where nothing is sure, where people can't believe anything that anyone says about anything?
In the old movie Bedazzled, the suave devil says something like this to his "prey": "You know, I never tell the truth." "Really? Is that true?" "No, I was lying when I said that."
There are many avenues that can lead us to truth: serious thought, research, learning from trusted, informed mentors or friends – or best of all, when it is possible, from our own immediate personal experience. Never fear serious searching for the truth, whether scientific or philosophical or theological or any kind. (I mean serious searching, not just ten minutes listening to XXX or XXXX cable news channel, or the latest pop preacher.) All genuine searching for truth, of whatever sort, leads eventually, whether in this life or the next, to Christ our God, the Source of Truth.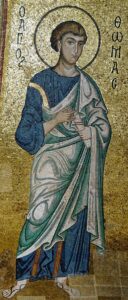 No, I haven't forgotten Saint Thomas! This is why the Apostle Thomas is one of my heroes. No matter how much he wanted to believe Christ was alive again – and surely he did, with all his being – he wanted to know the truth about the Resurrection. He was not going to settle for anything else: "Unless I see in His hands the print of the nails, and put my finger into the print of the nails, and put my hand into His side, I will not believe." John 20:25
12th century mosaic, Church of Santa Maria dell'Ammiraglio in Palermo, Sicily (Jastrow, Creative Commons License)
That is how he got the nickname Doubting Thomas. Undeserved, I think, because he doubted only for a few days.
Thomas once had been a firm believer. When Jesus called His disciples to go with Him to raise Lazarus – to Bethany in Judaea where the authorities were out to get the Lord – the others were afraid. But do you remember what Thomas said? "Let us also go, that we may die with Him.'" John 11:16  

After Thomas had missed the appearance of the Risen Lord on Pascha night, he found it so very hard to accept what the other disciples told him. Even the witness of his trusted friends wasn't enough. After all, Resurrections don't just happen every day! Besides, those who believe strongly and have their belief shattered are very afraid to believe again.
Thomas needed a personal experience of the truth about the Resurrection of Christ. And because he cared about truth, He who is the Truth gave him what he desired. And that is how Thomas became the first to proclaim the truth about Him: "You are my Lord and my God".
Therefore, if we're going to give this man a nickname, it should be:
Believing Thomas.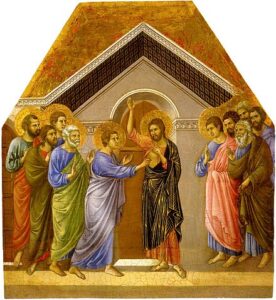 Duccio, c 1310
Next Week: The Myrrhbearing Women, Saint Joseph of Arimathaea, Saint Nicodemus
Week after Next: Sunday of the Paralytic