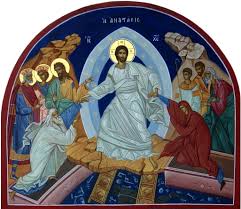 Christ is risen! Truly he is risen!
Father Alexander Schmemann called our Orthodox Paschal celebration "an explosion of joy". I'm not going to try to describe the services. Words are inadequate. They speak for themselves. (Every time I preached on Pascha I wished I hadn't.)
Here are a few Paschal videos. There is so much joy in them. The first (just like the first Holy Thursday night Gospel!) is by far the longest, so don't give up.  Please do not miss the last one – from a shopping mall in Beirut, Lebanon.
Thank God for our Holy Orthodox Church! And thank God for the internet. As I now am trying to concentrate on what I'm writing here (at 2:30 p.m. CDT), I'm also watching the Paschal celebration live from Greece. (C'n I eat meat now…?)
from Saint John the Baptist Church (Greek), Tampa, Florida: No, the video hasn't failed: Minutes three to ten are completely in the dark. 
from Saint Symeon Church (OCA), Birmingham, Alabama, presided over by their Bishop: 
from Vatopedi Monastery, Mount Athos:
The Paschal Troparion
A blessed holy happy glorious Pascha to you.
Thank you to so many of you for following this Blog all week.
Christ is risen! Truly He is risen! 
Next Friday: "Blessed is the Unbelief of Thomas"