Rennett Stowe at Creative Commons
      "The Lenten spring has come – the light of repentance! Let us cleanse ourselves from all evil, crying out to the Giver of Light: Glory to You, O Lover of mankind.  Let us begin the fast with joy! Let us prepare ourselves for spiritual effort. Let us purify our souls and cleanse our flesh. Let us abstain from passion as we abstain from food. Let us rejoice in the spirit and persevere with love, that we may all see the Holy Passion of Christ Our God and rejoice in spirit at the Holy Pascha!"        Hymn from the First Vespers of Great Lent
The Origin of the Great Fast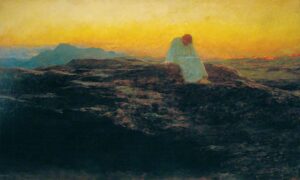 Then Jesus was led by the Spirit into the wilderness to be tempted by the devil. After fasting forty days and forty nights, He was hungry.
The tempter came to Him and said, 'If you are the Son of God, tell these stones to become bread." Jesus answered, 'It is written: Man shall not live on bread alone, but on every word that comes from the mouth of God."
Then the devil took Him to the holy city and had Him stand on the highest point of the temple. "If you are the Son of God," He said, "throw yourself down. For it is written: He will command His angels concerning you, and they will lift you up in their hands, so that you will not strike your foot against a stone." Jesus answered him, "It is also written: Do not put the Lord your God to the test."
Again, the devil took him to a very high mountain and showed Him all the kingdoms of the world and their splendor. "All this I will give you" he said, "if you will bow down and worship me." Jesus said to him, "Away from me, Satan! For it is written: Worship the Lord your God, and serve Him only." Matthew 4:1-11  "Now when the devil had ended every temptation, he departed from Him until an opportune time."   Luke 4:13
During Great Lent we join with our Lord in fasting, and in learning to resist the great temptations that all human beings are subject to: To focus our lives on material gain, or on power, or on anyone or anything other than God. The second temptation is rather obscure: During their Exodus, the Hebrews "put God to the test". Hungry and thirsty in the desert, they doubted His love and faithfulness. That we also must resist.
If we overcome these temptations during Lent, remember: 1 The devil will also come at us later at "an opportune time". 2 The devil can quote the Scriptures. 3 The devil never fasts. 4 The devil is a liar. Beware.
The Teaching of Our Lord Jesus Christ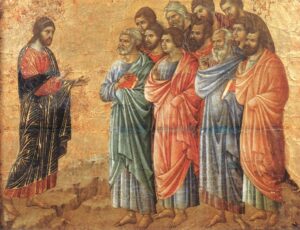 "And when you fast, do not be like the hypocrites, with a sad countenance. For they disfigure their faces that they may appear to men to be fasting. Assuredly, I say to you, they have their reward. But you, when you fast, anoint your head and wash your face, so that you do not appear to men to be fasting, but to your Father who is in the secret place; and your Father who sees in secret will reward you openly."  Matthew 6:16-18
Duccio di Buoninsegna, 13th c, Museo dell'Operea del duoma, Siena – US Public Domain
The Prophet Joel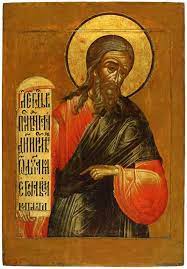 "Even now," declares the Lord, "return to me with all your heart, with fasting and weeping and mourning." Rend your heart and not your garments. Return to the Lord your God, for he is gracious and compassionate, slow to anger and abounding in love…
Russian, Anonymous, 17th century – Wikimedia Commons
Blow the trumpet in Zion, declare a holy fast, call a sacred assembly. Gather the people, consecrate the assembly; bring together the elders, gather the children, those nursing at the breast. Let the bridegroom leave his room and the bride her chamber. Let the priests, who minister before the Lord, weep between the portico and the altar. Let them say, "Spare your people, Lord. Do not make your inheritance an object of scorn, a byword among the nations. Why should they say among the peoples, Where is their God?"  Joel 2:12-17, 
The Prophet Isaiah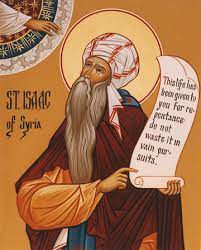 "Why have we fasted," they say, "and You have not seen? Why have we afflicted our souls, and You take no notice?'
"Because in the day of your fast you find pleasure, and exploit all your laborers. Indeed you fast for strife and debate, and to strike with wicked fist. You will not fast as you do this day, to make your voice heard on high."
The next three icons by permission of Saint Isaac's Skete at skete.com
"Is this a fast that I have chosen, a day for a man to afflict his soul? to bow down his head like a bulrush, and to spread out sackcloth and ashes? Would you call this a fast, and an acceptable day to the Lord?
"Is this not the fast that I have chosen: To loose the bonds of wickedness, to undo the heavy burdens, to let the oppressed go free, and that you break every yoke? Is it not to share your bread with the hungry, and that you bring to your house the poor who are cast out? When you see the naked, that you cover him, and not hide yourself from your own flesh?"
Then your light shall break forth like the morning, your healing shall spring forth speedily, and your righteousness shall go before you; The glory of the Lord shall be your rear guard. Then you shall call, and the Lord will answer. You shall cry, and He will say, "Here I am." If you take away the yoke from your midst, the pointing of the finger, and speaking wickedness, If you extend your soul to the hungry and satisfy the afflicted soul:
Then your light shall dawn in the darkness, And your darkness shall be as the noonday. The Lord will guide you continually, and satisfy your soul in drought and strengthen your bones; You shall be like a watered garden, and like a spring of water, whose waters do not fail.   Isaiah 58
Saint Basil the Great: First Homily on Fasting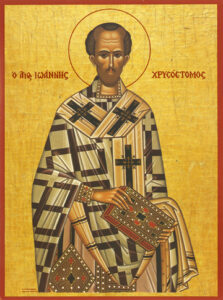 Fasting begets prophets and strengthens mighty men. Fasting makes lawgivers wise. It is good guardian of the soul, a safe companion for the body, the best weapon, a training regimen for contestants. It drives away temptations. It readies for piety. It is the companion of sobriety and the craftsman of self-control. In war it teaches bravery, in peace stillness. It sanctifies the Nazirite [the monk] and perfects the priest. For it is impossible to venture upon priestly activities without fasting, not only in the case of our present holy and true worship, but also in the prefigured worship set out in the law.
Fasting sends prayer up to heaven, as if it were wings for the upward journey. Fasting is the expansion of households, the mother of health, the teacher of youth, an adornment for the old, a good companion on journeys, and a safe housemate for married couples.
Nonetheless, do not define the good derived from fasting only in term of abstaining from food. For true fasting is being stranger to vice. "Loose every bond of wickedness." Isaiah 58:6  If your neighbor grieves you; forgive his debts. Matthew 6:12  …
You do not devour meat, but you devour your brother. You abstain from wine, but you have not mastered your arrogance. You wait until evening to partake of food, but you spend your day judging others…
from Saint Basil: On Fasting and Feasts, published by Saint Vladimirs's Seminary Press
Saint John Chrysostom: Homily on the Statues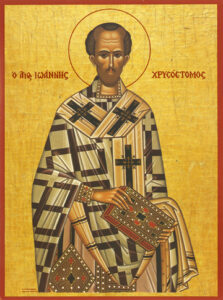 When the fast makes its appearance, like a kind of spiritual summer, let us as soldiers burnish our weapons, and as harvesters sharpen our sickles, and as sailors order our thoughts against the waves of extravagant desires, and as travelers set out on the journey towards heaven. Lay hold of the pathway which leads towards heaven, rugged and narrow as it is. Lay hold of it, and journey on. 
I speak not of such a fast as most persons keep, but of real fasting; not merely abstinence from meats, but from sins as well…
Do you fast? Give me proof of it by your works. If you see a poor man, take pity on him. If you see an enemy, be reconciled with him. If you see a friend gaining honor, do not be jealous of him. And let not only the mouth fast, but also the eye and the ear and the feet and the hands and all members of your bodies. 
Let the hands fast by being pure from plundering and avarice. Let the feet fast by ceasing from running to unlawful spectacles. Let the eyes fast, being taught never to fix themselves rudely on handsome faces, or to busy themselves with strange beauties. For looking is the food of the eyes, but if it be such as is unlawful or forbidden, it mars the fast and upsets the whole safety of the soul. But if it be lawful and safe, it adorns fasting. For it would be among things most absurd to abstain from lawful food because of the fast, but with the eyes to touch even what is forbidden! Do you not eat meat? Feed not upon lasciviousness by means of your eyes! Let the ear fast also. The fasting of the ear consists in refusing to receive evil speakings and calumnies…
Let the mouth also fast from disgraceful speech. For what does it profit if we abstain from fish and fowl and yet bite and devour the brothers and sisters. The evil speaker eats the flesh of his brother and bites the body of his neighbor. Because of this Paul utters the fearful saying, "If you bite and devour one another take heed that you are not consumed by one another". Galatians 5:15 … Besides this, you have struck at the common welfare of the Church herself, for all those who hear you will not only accuse the supposed sinner, but the entire Christian community…. 
And so I desire to fix three principles in your mind so that you may accomplish them during the fast: To speak ill of no one. To hold no one for an enemy. To expel from your mouth altogether the evil habit of swearing.
For as the harvester in the fields comes to the end of his labors little by little, so we too if we make this rule for ourselves and in any manner come to the correct practice of these three precepts during the present Fast and commit them to the safe custody of good habit, we shall proceed with greater ease to the summit of spiritual wisdom. And we shall reap the harvest of a favorable hope in this life, and in the life to come we shall stand before Christ with great confidence and enjoy those unspeakable blessings of which, God grant, we may all be found worthy through the grace of Jesus Christ our Lord, with whom be glory to the Father, and to the Holy Spirit unto ages of ages. Amen!
Prayer of Saint Ephraim of Syria
said on all weekdays of Great Lent
O Lord and Master of my life, take from me the spirit of sloth, despair, lust of power, and idle talk. But give rather the spirit of chastity, humility, patience, and love to Thy servant. Yes, O Lord and King, grant me to see my own transgressions, and not to judge my brother, for blessed are You unto ages of ages. Amen.
The icon above was written by an anonymous nun from near Oradea in Romania.
Next Week we begin a series on The Anaphora of the Divine Liturgy of Saint Basil