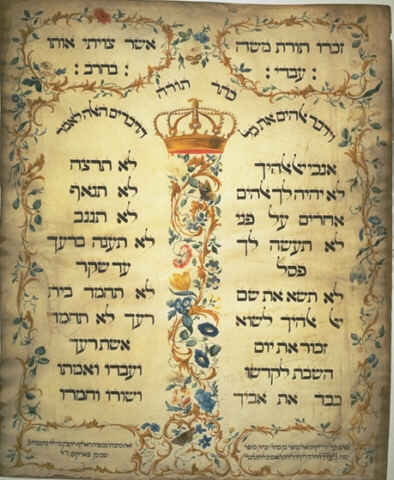 Parchment of Decalogue by Jekuthiel Sofer, 1768
COMMANDMENT FIVE: Honor your father and your mother, that your days may be long in the land which the Lord your God gives you.
Orthodox often expand this Commandment to include the wider topic of:
The Family
By that we mean the Traditional Family: father, mother, and children if God so wills. God created us so that it always requires Adam and Eve, a husband and a wife, to "be fruitful and multiply". If humanity is to endure, it's obvious that the traditional family is the norm.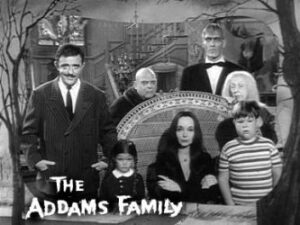 When I was looking for an image of "family", guess who came up first?! We older folks may remember this goofy TV show from the 60s. But they were what was normal at the time: a traditional (albeit weird) family, indeed an extended family – father, mother, children, grandma, uncle. Later, as times changed, most TV family shows required one or more of the parents to be missing.
It's no secret that families don't function perfectly. Parents sometimes are not very honorable. Some marriages fail. But let's talk first about the ideal, the family as God created it and intends it to be.
The traditional family has two functions: 1  For the benefit of society.  2  Even more important, as a training ground for the Kingdom of God.
The Family as the Foundation of Society
I am now going to play amateur sociologist. Take it for what it's worth.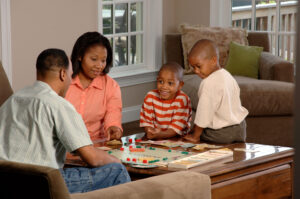 The traditional family is where children are shaped into responsible self-reliant adults: Boys learn especially from their fathers how to be "civilized", to be honorable loving men.
by Bill Branson
Girls learn especially from their mothers how to be good loving women. Both learn how to relate to the opposite sex. Many studies show that the character and basic values of each child is pretty well shaped by age 6 or so – that is to say, at home.
God bless single parents who, through no fault of their own, have to raise children by themselves. Many do a good job of it, but it's got to be so hard. Nor is it true that "the apple never falls far from the tree". Some children grow up to be very different from what good parents hoped and prayed for. There are many other influences on young people these days. Parents should not give themselves a "guilt trip" because of that.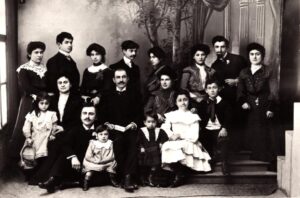 What is missing in our present situation? "It takes a village to raise a child" – parents surrounded and supported by nearby family and friends, who can help them raise the kids, take the pressure off them when needed.
Greek family in Pontus (now part of Turkey), early 20th century before the "exchange of populations"
I knew a little of this when I grew up in a village in Ohio, where everybody knew everybody else. At Saint Nicholas Church I've known many first and second generation Greek and Arab families who had this kind of community, imported from the old country, where family and friends lived in the same neighborhood, knew each other, shared each others' life. Sadly that is almost gone now, as people have scattered in all directions.
I've read that in the old days what kept the crime rate so low in Greece (and it's still very low) was not the penal system which is quite lax. It was the family. When a Greek committed a crime, his whole family went to court shouting at him: Why did you do this? Why are you disgracing us? That is social control that works.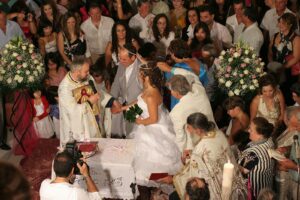 Greek Orthodox wedding on the island of Naxos by Zde at Creative Commons
Is there a substitute for our present lack of "a village"? To a certain extent, yes: the parish church community, where even if people don't live close by, they share a common life, a common Faith, are united in worship and fellowship, get to know each other well, love each other, care for each other.
I believe the foundational problem in our society is weak families. Today 40 to 50% of American marriages end in divorce. About 40% of American children are born outside of marriage (up from 28% in 1990) – too often growing up in poverty, without a father in the house.
Someone I know very well and greatly trust worked for years as a school secretary/administrator. She said the problem with the school was not the teachers, almost all of whom were dedicated, hard working and cared about the students. The real problem was parents. She said she could usually predict how children would do in school by whether they came from a stable home, by whether parents came to parent-teacher conferences.

Deseret News
Brothers and sisters, we can change our politics from left to right and back again as much as we want – and this makes a difference, of course. But our problems won't be solved until we again have stable loving families. How to re-establish strong families? I have no idea. Once the family system breaks down it's hard to repair. But our politicians today are running around turning everything upside down, fighting like cats and dogs about lesser matters, while they ignore the big problem.
Thank God for the Greeks and Arabs I have known in the Orthodox Church – and from what I read, Hispanics and those from East Asia and others – who have come to America and brought us something which many of us long-time Americans are losing: close families and "a village".  Maybe the solution to America's problems is more immigrants with strong family values.
Here ends my amateur sociological speculation.
The Family as a Training Ground for the Kingdom of God
Here I know what I'm talking about.
God created the family to be the only natural institution on earth which is an image of, an experience of, a microcosm of, a preparation for His eternal Kingdom of love.
God loved us long before we were born, when we had done nothing to earn it, and with a love that never ends. He can't help it. "God is love".
God created human mothers and fathers to be like that.
from U.S. Navy, Yokasuka, Japan
Here is their newborn child who hasn't done a thing but be born and mooch off them and keep them awake at night and mess up diapers – yet they love that baby, they just can't help it. And like God, parents' love lasts forever, no matter what their children do.
So because of their parents' love, children experience for themselves what the Kingdom of God is all about: love which never ends. God created the family to prepare people for His Kingdom. This is true not only in Christian homes, but in all loving homes – so that when those not raised Christian first hear the Gospel, perhaps this will resonate with them. How clever our God is!
But dysfunctional or abusive families, and those which fall apart, fail to image the love of God and His Kingdom.
So now, to the subject of the day:
Honor your Father and Mother.
To begin, that means parents had better try to be honorable. Parents, give your children the love and time and support they need. Your family is God's gift. It is the most important thing you will ever possess. Don't let anything else get in the way.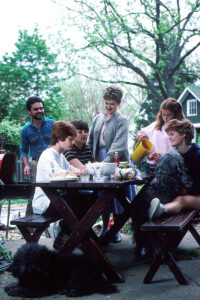 Years ago, when Jennie and David were children, I was very busy with my young church and increasingly with diocesan affairs. At the time I talked with a priest who was retiring, and I asked him if he had to do it all over again, what would he do differently? I figured he would tell me how to run a better parish council meeting or something. What he said was this: "My children were only young once. I wish I had spent more time with them." It shocked me. I went home and pulled back on many evening meetings and outside commitments. I hesitantly told my people why I was doing it, and that they should do the same thing. They were delighted! I think my parish was stronger for it. And during my kids' growing-up years I spent more time with them. I am so glad I did.
from Global Vision
Honor your mother and your father. Do good to your parents. Tell them you love them. Tell them you're grateful. Do not take for granted all the things they did for you. If you're a parent now, you know what your parents went through. Pay them back for the good things they did for you. When my mother was old and in poor health I often had to run her to the doctor, and she was worrying that she was being a burden to me. I swear God gave me the words to say; I hadn't planned this; it just popped out of my mouth. I answered: "I'll make you a deal. You took care of me for 18 years. So I'll look after you for 18 years – but after that, lady, you're on your own!" Had she lived longer than that, I would have paid her back double.
Even if your parents were not what they should have been (and none of us parents are; we all fail; now, in my old age, I sometimes look back and wish…) nevertheless they gave you the gift of life. Without them you would not be here at all.
Look back at your parents' lives, what may have caused them to be as they were, and if need be forgive them, get over it, get past it. And then, if you are a parent, make up for their failings by trying to do right by your children. If you're not a parent, be good to your nieces or nephews or any young people you know. At a certain age they will listen to others more than to their parents. Our Saint Nicholas Church has many "mothers" and "fathers" to our parish children. Those are the best ways to honor your parents.
And pray for your parents, every day morning and night, whether they are living or departed. Both my mom and dad are long gone now. I miss them every day. "Memory eternal", indeed! I can hardly wait to see them again – if the Lord is merciful enough to let me in. 
COMMANDMENT SIX: You shall not kill.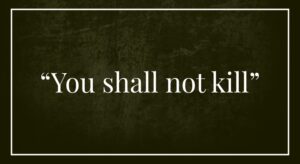 The Old Testament certainly did not forbid killing. It worked on the principle of "an eye for an eye and a tooth for a tooth".  Exodus 21:2
CBCP
Why? Because "Whoever sheds man's blood, by man his blood shall be shed, for God made man in [His] image." Genesis 9:6
In the Mosaic Law murderers were to be executed, and also those who participated in occult practices, sorcery, divination; also for rape, incest or homosexual behavior. In war it was permitted to kill the enemy.
In interpreting Commandment Six, the Church begins with the same principle: God "created man in His own image… male and female He created them". But Christ led us deeper: "You have heard that it was said, 'Eye for eye, and tooth for tooth.' But I tell you, do not resist an evil person. If anyone slaps you on the right cheek, turn to them the other cheek also."  Matthew 5:38-39.  Because human life belongs to God, not to us. Men and women are made in His image, are like God in our ability to be self-aware, to think, be creative, to plan, to dream, to love, to attain eternity. Then how dare we take any human life? And since in Christ, God has now become a Human Being, sanctifying all human life,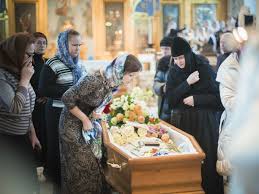 we Orthodox reverence life "from womb to tomb", from before birth to after death. To honor the body God has given us, at Orthodox funerals, the casket is normally open. The Orthodox Church does not even allow cremation.
Even the worst human life bears God's image. A Lutheran pastor once had occasion to see Adolf Hitler. His friends asked "What did he look like?" He answered "Like all men, like Christ." 
Some specific issues
The Orthodox Church does not teach pacifism, but it has honored it. Two favorite Russian saints are Princes Boris and Gleb who, when their brother Prince Svyatapolk sent men to murder them so they could not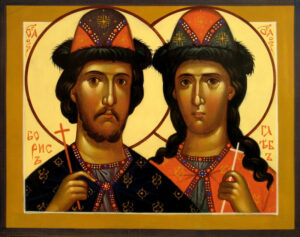 threaten his claim to the throne, allowed themselves to be killed, lest they violate Christ's teaching: "Do not resist an evil person."
from Pravmir
Orthodox clergy are expected to exemplify the Church's ideals in many ways including this. According to canon law, a man who has ever taken a human life for any reason may not be ordained.
Are there times when the taking of human life is a lesser evil? Traditionally, exceptions have been made in case of self defense or the defense of others, whether in war or if one's loved ones are directly threatened.
Even so, all killing is an evil. To make this clear, traditionally any Orthodox who take a human life for any reason were excluded from the sacraments for a time.
Abortion: The Orthodox Church teaches that abortion is evil. However, Orthodox need not agree on how best to reduce number of abortions.  (See "Father Bill's Blog Post 105" and "106".)
Capital punishment: The Orthodox Church has no official position on this, although in all traditional Orthodox countries capital punishment has either been abolished or is no longer practiced.
Suicide and Euthanasia. The Church teaches that these are wrong. If I kill myself that's still murder. However, in light of modern understanding about mental illness, the Church now allows those who have committed suicide an Orthodox funeral service.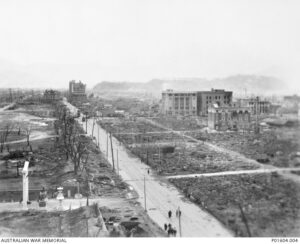 War: The Church teaches that war is an evil, which must be waged only in order to prevent an even greater evil. The lives of civilians must be protected insofar as possible.
Hiroshima from Wikimedia Commons
In latter-day wars with poison gas and blitzkriegs and mass fire bombings and nuclear bombings and chemical defoliation and tens of millions of civilian deaths, all sides violated all the traditional Christian strictures against  the killing of innocents.
Jesus took "You shall not kill" even further: "It was said to you in ancient times: Do not commit murder: whoever murders shall be in danger of the judgment. But I say to you: whoever is angry with his brother without a cause shall be in danger of the judgment." Matthew 6:21-22  Please read the rest of this startling passage. Restraining ourselves from killing is not enough. We've got to deal with the roots of violence, and get the hatred and anger out of our hearts, and become filled with love and mercy.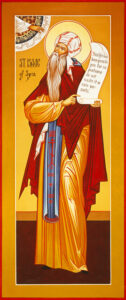 Saint Isaac of Syria wrote: "What is a merciful heart? It is a heart on fire for the whole of creation, for humanity, for the birds, for the animals, for demons, and for all that exists, [with] strong and vehement mercy that grips [the] heart and by such great compassion [that] one cannot bear to hear or to see any injury or slight or give sorrow to anything in creation. For this reason, such a person offers up tearful prayer continually even for irrational beasts, for the enemies of the truth and for those who harm her or him, that they be protected and receive mercy… such a person prays [even] for the family of reptiles because of the great compassion that burns without measure in a heart that is in the likeness of God."
 from Saint Isaac's Sklete at skete.com
Did you know that it's customary in the Orthodox Church not to kill bugs in the Altar area? 
Next Two Weeks: We continue The Ten Commandments