For Post 151 on the Preparation for Liturgy, I decided that including  the Priest's Vesting Prayers would make the article too long. However "Mama V" wrote asking that we include them. So…
I copied the following from the website * of Saint Luke the Evangelist Orthodox Church (OCA) in Palos Hills, Illinois – for which I'm very grateful, and for which I hope we needed no permission.
*which contains an extraordinary amount of good information. Check it out.
This service usually takes place in a side room "off" the Altar.
The Vesting of the Priest
The Priest blesses his own Sticharion:
Priest: + Blessed is our God always, now and ever and unto ages of ages.
He vests himself with the Sticharion, saying: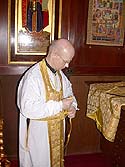 My soul shall rejoice in the Lord, for He has clothed me with the garment of salvation; He has covered me with the robe of gladness; as a bridegroom He has set a crown on me; and as a bride adorns herself with jewels, so has He adorned me.
He blesses the stole (Epitrachelion), and says, as he vests:
+ Blessed is God, Who pours out His grace upon His Priests, as myrrh upon the head, that runs down the beard, the beard of Aaron, that runs down the border of his robe.
He blesses the belt (Zone), and says, as he vests:
+ Blessed is God, Who girds me with strength and makes my way blameless. He made my feet like hind's feet, and set me secure on the heights.
As he puts on the cuffs (Epimanikia), he recites the following:
(Right) Your right hand, O Lord, has been glorified in power. Your right hand, O Lord, has shattered Your enemies. In the greatness of Your majesty, You have overthrown Your adversaries.
(Left) Your hands have made and fashioned me.
Give me understanding that I may learn Your commandments.
If he has been awarded the shield (Epigonation), he puts it on, saying:
Gird Your sword upon Your thigh, O Mighty One, in Your comeliness and in Your beauty. Go forth and prosper and reign, because of truth and meekness and righteousness. Your right hand shall guide You wondrously always, now and ever and unto ages of ages. Amen.
He blesses the chasuble (Phelonion), and prays, as he vests:
+ Your Priests, O Lord, shall clothe themselves with righteousness, and Your saints shall shout with joy always, now and ever and unto ages of ages. Amen.
The Priest then enters the Altar and washes his hands, saying:
I wash my hands in innocence, and go about Your altar, O Lord, singing aloud a song of praise, and telling all Your miracles. O Lord, I love the beauty of Your house, and the place where Your glory dwells. Do not sweep my soul away with sinners, nor my life with bloodthirsty men, men in whose hands are evil devices, and whose right hands are full of bribes. But as for me, I walk in my integrity; deliver me, and have mercy on me. My foot stands on level ground; in the churches I will bless the Lord.