This has been a long vacation, folks. I see from the Blog stats that some have headed home already. Understandable. However, I think you who are still hanging in here will enjoy our last week in Greece.
Today it's…
Back to the Mainland and Saint Nektarios
We wanted to visit Saint Nektarios again, so on Wednesday September 28 we flew into Athens. Ever since that first remarkable visit to him in 2002, Nektarios has been my travel guide. (See Post 7. ) He always seems to come through  On my Greek trips I kept thanking him for every little happy "happening", suspecting he was at it again. *
If we have any new non-Orthodox readers, please understand: Of course God is the source of all good things. Sometimes he helps us directly, sometimes he works through people on earth, sometimes through people on the "other side" – except that they don't seem to stay there, do they?
Anyway, here's an example: The day we arrived back in Athens * all transit workers were on strike: no taxis, no buses, no light rail, no metro, no trains, no everything. I had not checked the news, and learned about the disruption as we sat in Iraklion airport about to board our plane for Athens. We had reservations, so we figured we might as well go ahead and take our chances.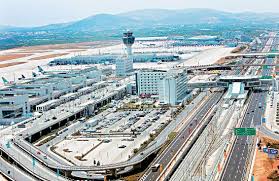 Athens 

αεροδρόμιο

, by the way, is the best designed and most efficient airport I know.
When we arrived, everything was tied up. Nothing was moving. People were stranded. Our hotel was maybe 20 miles away. What ever were we to do? Saint Nektarios, help! I called the hotel to see if they could imagine any way to get there. Yes, certainly, the clerk said. We have our own shuttle service! Very few small independent hotels do so, but ours did, and soon we were safely settled in our room. Another "coincidence"? or did he do it again? Thank you, Saint Nektarios!
A Visit to Saint Alexandros Church
That evening we went walking and stopped at the beautiful Saint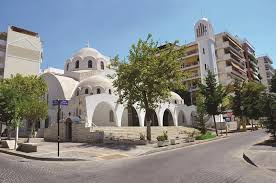 Alexandros Church around the corner from our hotel. (As I told you, in Greece there's almost always an Orthodox church around the corner.) There they had a small Saint Nektarios chapel with an outside entrance. You can see it to the left. But the church itself was open, and as we walked in we heard the sound of people in a chapel to the right, almost belting out Phos Hilaron, "O Gladsome Light". Greeks singing aloud in church! participating verbally! And Vespers on a weeknight! We went in.
The chapel was full. People smiled and got chairs for us. It was very informal as is common in Greece: one chanter was holding a baby who yowled from time to time till his mother came and got him, and then people fussed and smiled over the kid as he quieted down – all as Vespers continued. It was very homey and very holy at the same time in the usual Orthodox way.
Out to Aegina and Saint Nektarios
Next day, Thursday, was our day to visit Saint Nektarios. Was it by chance that all public transit was now operating? and it was a gorgeous blue day with no Athens nephos/smog. Explain it as you will, I said thank you again to Saint Nektarios.
We hopped onto the tram (light rail), then changed to the metro to get to the port, and took the ferryboat to Aegina (pronounced EGGena, with a soft "g" in the back of your throat), the island of Saint Nektarios. In front of us on the back deck of the boat (below: leaving Piraeus, the port of Athens) was a nice looking young
couple who hugged and kissed and carried on something fierce all the way to Aegina. I said to Dianna that they should have booked a room – though they were actually kind of cute. When we got to Saint Nektarios, who was right ahead of us in line lighting candles? It was the love birds! Maybe they were newly married and praying for a baby? If so, as I told Dianna, judging by what we saw on the boat, I thought chances were pretty good.
The visit to Saint Nektarios was lovely as always. We lit candles and prayed for all at Saint Nicholas, Cedarburg, and all the names they had given me – over 1000 this time. I was moved again by the love and devotion of our little congregation. The little widow * who guards the shrine where his skull is kept scowled at us as usual till I handed her the 250 euros which our people had given me, as well as the list of names, and then as always she broke into a big grin and told me (in English, kind of) that the nuns would pray for them "avrio", tomorrow – and she gave me some Saint Nektarios oil and pictures.
*  You can tell because in Greece widows wear black. However (should I tell you this?) … I was once on the beach by myself reading, dressed as one does for the beach, when this widow came along and set up her towel, and I wondered should I cover up? – till she whipped off her black dress, revealing a tiny red bikini, and dived into the sea!
A busload of pilgrims arrived, so we moved over to the quieter chapel where the rest of Saint Nektarios' body lies. (Why ever do they separate the relics of his skull from the relics of his body? I don't understand these things. But not so many years ago I wouldn't have understood relics at all.) I put my ear to his tomb. Some say they can hear him knocking but I never have. Dianna and I read the Paraklisis Service to Saint Nektarios, offering it up for all our people at home. There's something very fulfilling, just right and good about doing that.
Sorry, there was no Saint Nektarios "miracle" this time, none of his

usual tricks. I've told you the stories. (Newcomers, read back. I listed the Posts two weeks ago.) I guessed he gave me those at the beginning just to get my attention. Well, by 2011 he'd got it! I think there's not a day when I don't talk to him. His icon has a special corner at Saint Nicholas Church, where people pray and light candles and leave flowers. He hangs in our icon corner at home (he's looking at me as I write this), and another icon sits beside my bed where I tell him good night, and he travels with me in my suitcase. And there I was visiting him on Aegina for what? the sixth or seventh time? He doesn't need to do tricks so I notice him anymore. But still I couldn't figure out why he had been doing this for me. Three years  later I came to understand. That's a story for a later time. Hang in here, folks. 
Pagan Temples
By the way, if you ever get to Saint Nektarios, try to go also a couple or three miles east on the north coast (you can rent a cheap car, or a taxi can take you there) to the ruins of the Temple of the goddess Aphaia (APHea) –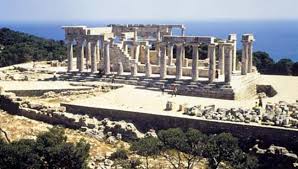 on a lonely hill looking across the sea towards Athens. The tall white columns still stand, though the roof is long gone. A kind of stillness hangs over the place, even when tourists are there. I'm not trying to encourage paganism! but certain places have this "aura" about them – almost require a person to worship somebody – and this is one of them. The only problem with the pagans was that they were worshiping the wrong persons, instead of the Right Persons.
In 1985 I climbed up to the Acropolis at dawn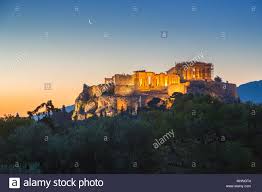 almost all by myself, as one could in those days. It felt similarly holy, a place where worship was needed – and that was before I knew that the Parthenon for almost eight centuries had been a Christian church dedicated to the Theotokos. Here too the pagans had almost got it right: they had just been praying to the wrong virgin instead of the Right Virgin. I presume you know that after the Turks took it over, having no virgin to pray to, they used it for a munitions depot, and that's how part of it got blown up. Despicable.
Some Reflections on Returning Home
Back to the trip: Next day we flew out and missed connections in Frankfurt by ten minutes just like the previous year, but Lufthansa put us up very nicely for the night. So Saint Nektarios got us through again, and one day late we were jet-lagged but home.
I re-entered "reality" after our 2011 trip with, as always, mixed feelings – happy to be home and see my family and my people at church whom I love so much, and the kindly people of Wisconsin. There's so much I love dearly about America. It's where I belong. But after a little while in Europe it is hard to come back and see how divided we are, how peculiar American religion has become, how far behind we are falling in so many ways. In Europe I see safe cities and schools like we used to have, then come home to almost daily gun massacres.
Above: OK, so I'm indulging myself. Feel free to ignore. But you who love to travel, just imagine.
I, the train freak, ride European high speed trains (well, not in Greece yet) and remember when Wisconsin had the fastest trains in the world and we could travel easily in comfort, and… and… oh, I won't go on, lest I get preachy as preachers tend to do. But really, it makes me very sad.
How to get past this? Three possibilities:
1 Forget it. Probably I'm just getting old and cranky. After all, my parents handled World War I, the Great Depression and World War II – and I should complain?
2 On that 2011 trip I read a book Our Thoughts Determine our Lives by the 20th century Elder Thaddaeus of Serbia below – well worth reading, available like everything else in the cosmos from Amazon, and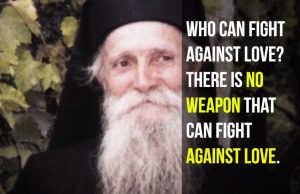 also other sources. In his life Thaddaeus had suffered through Nazis, Communists and many personal and family problems. He advises, in essence: "Don't let the, uh…[rats] get you down." He says that if we become angry or negative we can't solve the problems; we then ourselves become part of the problem. Without ceasing to do our work, we have to learn to commend all things to God in faith and then live positively. I guess this is a holy version of "accentuate the positive". And, despite the ridiculous vicissitudes of things (say that ten times fast) these days, there is so much positive in the world. Turn off the TV and put down your smartphone (but continue to read this Blog!) and see all the goodness around you, and move ahead.
3 And then never forget this: There is one thing in this world that is solid and dependable. The Church has survived 2000 years, through every culture, every kind of government, every war, every economic downturn, every persecution, every deprivation, every stupidity, every everything. God knows the Church also has her "vicissitudes", her failings. I've told you this: Father Alexander Schmemann, after a day spent dealing with particularly trying people, was heard saying, "The Orthodox Church is the right Church filled with all the wrong people!" Well, the whole world is filled with the "wrong people", us. But that hasn't stopped God and his holy Church.
"Two Homes"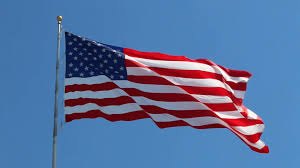 At the beginning of this series, I told you that over
the years Greece has come to feel like a second home to me. I can't explain it. It just is. My people always said I came back from Greece rejuvenated.
I love so many things about both places. For example, I love America's multi-culturalism which allowed my forefathers and foremothers to come here, and me to be here in Wisconsin writing this. But I also love Greece's cultural unity centered around Orthodoxy. And so much more about both places. So when I was in Greece I also wanted to be here, and now that I'm here I miss Greece so very much – especially now that I likely won't get there again. Writing about it makes it better. And worse.
I guess I feel just a little of what immigrants to America must feel – my great grandparents and many contemporary first generation Orthodox in America.
How to hold all this together?
Have you read the last book of C.S. Lewis' Chronicles of Narnia? where the English children have arrived in "Aslan's Country" which is Heaven, of course. And as they move ever further up and further into this Country so new to them, they are amazed to see that they are also in Narnia again, a renewed Narnia – and that afar off England is also there, and they are moving into that as well. (It's hard to describe quickly here. You need to read it.) And then one of the children says:
I hope that when, God willing, I get to the Kingdom of Heaven, I will discover that America is also there, restored to its true beauty and made new, and Wisconsin and Greece and all I have loved. I hope it will be so for you, too. For all good things are to be saved and redeemed and renewed. In our True Home, we will find the answer to all our longings for home.
Next Week: Apostles Rocky Johnson and Paul
Week after Next: Elder Paisios of Athos