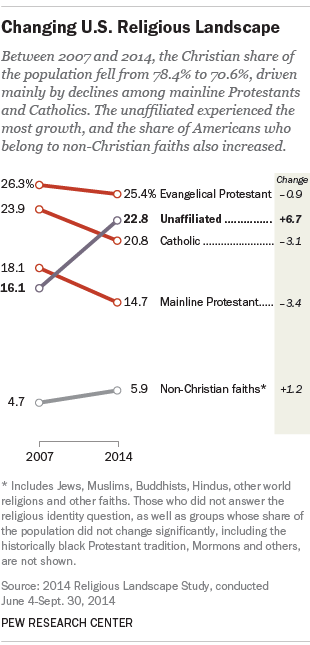 We've been tracking the decline of the Mainline Protestants and the rise of the Evangelicals.  According to Pew Research in 2014 above, maybe the change in American religion has been even more radical. Look who's growing fastest now, and rapidly.
I can't begin to describe how different the American religious scene feels today compared to 50 or 60 years ago. Then it seemed as if everybody went to church. Christianity was all over the media. Feature The Milwaukee Journal with a major Easter presentation covering their front page. The Evangelicals/Fundamentalists were small and, to other Christians, seemed almost ignorable. The Roman Catholic Church was strong and its hierarchy respected. Mainline churches were flourishing, establishing new missions, enlarging their buildings. We Eastern Orthodox were even smaller and more invisible than we are now. And non-believers were almost non-existent. No more.
Why did the Mainline fall apart? Why have Evangelicals grown?
The Mainline, as a whole, refuses to acknowledge that anything is wrong. The Evangelicals, though they now appear to be declining slowly, will say they grew "because we teach the Bible." I think there's something to that, and we Orthodox should pay attention. But I believe there's a lot more to it than that. Here are my guesses:
1  I'd argue that, in the United States at least, Protestantism as a whole is more a cultural phenomenon than a theological/religious one. Protestantism shifts with the times. Consider:
As late as the early 1960s (I was there), Americans were much more formal than we are now. God knows there was a lot wrong with society, but looking back I'd say we had more "class", sophistication.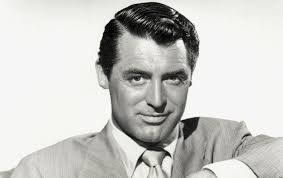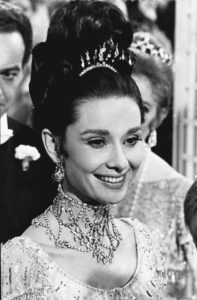 Audrey Hepburn and Cary Grant never had to cuss or take off their clothes or blow up cars to make their movies worth watching. Sometime catch the 1963 movie Charade. Many people appreciated classical music. Look up for yourself a song or three from Frank Sinatra and Ella Fitzgerald and hear how pop music styles have changed.
How to compare this to contemporary music with all its variety, I have no idea. My point is only that, with rare exceptions, it is very different from that elegant old pop music.
In the old days, people dressed well for work, for travel, for church. For men it was suits or sports coats and ties. To "dress" up, women wore dresses! and always hats to church.
I'm just describing here. I don't mean all changes in American culture have been for the worse. Some were definitely for the better. For one thing, women should not have to wear dresses during cold Wisconsin winters! And as for the better treatment, overall, of women and minorities, I hope that goes without saying.
But in those days nobody would have dreamed of wearing t-shirts and jeans to worship our holy God. People then were usually polite, and politicians were almost always polite! or else no one would vote for them. I think people spoke English a lot better than they do now – and people actually spoke with each other, instead of burying our noses in smart phones. Americans still had a sense of history. The style of Mainline Protestantism fit all that, reflected that kind of culture, and people went to a church where they felt at home.
Then things changed. Everything became more casual. When I came back from Europe, the first thing I would notice in American airports was the casual (ok, sloppy) clothing over here. I saw a guy in shorts and tank top at a Protestant funeral "wake". Music styles went…well, in the old days country music stayed south of I-70; now it's in my dentist's office here in Wisconsin. Instead of reading and thinking, we now allow ourselves to be bombarded by images. Most Americans have lost touch with history. I think the Evangelical style reflects these cultural changes. People have again gone where they feel at home.
Another piece of evidence that modern American Protestantism is a cultural phenomenon is found in their politics. Have you noticed: Protestant denominations which are theologically conservative are politically conservative, while Protestant denominations which are liberal theologically are liberal politically. They reflect not theology but just a general conservative or liberal cultural mind-set.  (Granted, not all laypeople follow their denominational leadership. I know Episcopalians who have remained conservative while the Episcopal Church's leaders moved rapidly to the left.)
This refers to the American scene. The Protestant configuration is different in other countries. Many traditional English Anglo-Catholics were liberal socialists. Likewise, Orthodoxy doesn't fit neatly into American social or political categories. That's because we come from somewhere else.
Back to the question: Why is Mainline down? Why are Evangelicals up?
2 Mainline Protestants, despite their divisions, offered worship which required people to turn towards God in mind, soul – and sometimes body.
What follows below is not exactly your typical Mainline worship! but actually it is. Even the royalty are worshiping and singing to God. But this definitely no longer seems to relate to modern culture, except for special events. How many of these Brits will be in church next Sunday? You saw the stats last week. (Well, the nuns probably will.)
Now compare the above to what follows. Watch it on YouTube, then please come back to our confusing conclusion.
Evangelicals offer more informality, to put it mildly. Was this worship? You decide. This is "what's happening now" in American religion, brothers and sisters.
I can't tell you what is the normal Evangelical Sunday service, if there is any. I tried to find a video which is an Evangelical worship service instead of a performance, since they're hard to tell apart.
More possible reasons:
3 People like "cafeteria religion". They can buy what they like, go where it makes them feel at home or feel good. This was true to some extent with the Mainline, but now… Is this good for the soul? No. But it draws people.
4 People need community. Back when I was young (oh, here he goes again…), the United States felt like one big community. I remember signs from the 1940s: "The U.S. is US." We have lost that. Sadly. Now in America it's us versus them, and we have little sense of working for the common good. Most people 60 or 70 years ago lived chiefly where they had community: in stable small towns or city neighborhoods where people knew each other. Now we're spread out all over in ever-changing suburbs or we live in condos where we rarely meet our neighbors. The Evangelicals have many ways of making people feel "at home" easily in today's American culture which more formal Protestant churches sometimes did not.
Let me add here that my wife, having heard all the above, doesn't find my guesses very convincing, and thinks they chiefly reflect my mostly-small-town-and-suburban-but-only-slightly-urban-white-guy's experience.
So if you have other ideas, please add a Comment down below regarding: 1 Why has the Mainline declined? 2 Why have Evangelicals grown? And also 3 Why have European Christians dropped out, while Americans have switched from Mainline to Evangelical? 4 Why are the Unaffiliated now the fastest growing "religious" group in the country? And my wife says if you send in enough Comments, I should make a whole Post of it. OK! (You can see who's the power behind the Blog throne.)
But, now that the Mainline is going, going, almost gone, how solid is Evangelicalism? 
Some years ago the pastor of a large influential Baptist congregation said to me, "The modern Evangelical movement is a mile wide and an inch deep." That got me to thinking. Yes, they do often seem like "a reed blowing in the wind". Not all Evangelicals go along with the crowd, but…
When I was young, Evangelicals focused on private conversion ("being saved") and personal morality. Then the emphasis became mass conversions, Billy Graham-style. In the 1980s they turned to politics and became the Republican conservative "moral majority". This was followed by wholesome "family values". Then came Rick Warren and personal fulfillment, The Purpose Driven Life.
Today personal morality and family values seem to have been abandoned in order to gain political influence. Evangelicals now actually endorse candidates, no matter their personal character. To the media, their politics has become the face of American Christianity. However (thank God and it's about time) things may be changing again. The new head of the largest Evangelical denomination, the Southern Baptist Convention, says he wants Baptists to be more inclusive of women and minorities and stop being so political. The following makes for interesting reading: https://www.theatlantic.com/politics/archive/2018/06/southern-baptists-call-off-the-culture-war/563000/  And after that, what will the next trend be?
"A mile wide and an inch deep"? I can't help but wonder if someday a big wind is going to come along and…
All this seems so inconceivable to us Orthodox, where what you got 1000 years ago is what you still get today. The Baptist pastor I mentioned at the beginning of this section is now an Orthodox priest.
Pentecostals 
These folks, who don't fit the usual Evangelical pattern, number about 300,000 in the United States and about a million world-wide.They began in 1900 with a 3-year Asuza Street Revival in Los Angeles. They believe in the necessity of being "born again in the Spirit", by which peoples' interior spiritual life is revived. They believe water Baptism is only symbolic, and it may precede, accompany, or succeed this spiritual rebirth. Some Pentecostal congregations are independent, each with its own theology, but others are part of the several "Church of God" denominations. Pentecostals often "speak in tongues", as some did including Saint Paul, in the earliest Church. (1 Corinthians 14:14–19). In this phenomenon people talk in languages unknown to themselves or perhaps "nonsense" words, but sometimes interpretable by others.
Independent Pentecostalism can sometimes go very peculiar. People have been known to be "slain in the Spirit" and pass out during services. A Pentecostal church in Toronto specialized in the "Toronto blessing" in which people laugh uncontrollably and bark like dogs. A few Pentecostals practice snake handling, as predicted in Mark 16:18 – perhaps related somehow to Saint Paul's surviving being bitten by a snake in Acts 28? A man died not long ago while handling a large snake during a Pentecostal service. I have not included a picture of this, for which you should be grateful. My opinion is that these gifts are not of the Holy Spirit but rather of another spirit.
The Charismatics
The Pentecostal phenomena have appeared also in some classical Protestant denominations as well as among Roman Catholics, but, so far as I know, only very briefly in one Orthodox congregation. Some Orthodox parishes do offer healing services.
Charismatics do not refer to this spiritual renewal as "being born in the Spirit", lest it be confused with true spiritual birth in water Baptism. They think of it as a renewal of Baptism. This experience can lead to insight into the Scriptures, the gift of prophecy, speaking in tongues, the ability to heal and clairvoyance – perceiving events from afar. Some of these charismatic gifts (but not speaking in tongues) are also known among Orthodox saints and elders. (Read Precious Vessels of the Holy Spirit: The Lives and Counsels of Contemporary Elders of Greece available from Amazon.)
The Charismatic movement appeared in Mainline denominations in the mid 1960s. Why then? I heard an Anglican bishop explain it this way: The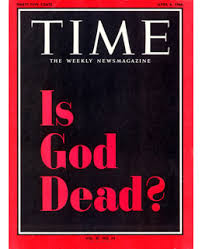 "God is dead" movement had just appeared, teaching that God now wants us to "live as if there is no God." (Don't ask…) This good bishop said the appearance of the mysterious Charismatic phenomena was the Holy Spirit of God saying, "You think so, huh?"
I went to a Charismatic meeting at an Anglican monastery to see what it was all about. Local people who had gathered, and maybe some of the monks, were speaking in tongues. I prayed, "Lord, I don't want to speak in tongues, but I will if you want me to." He didn't. A Charismatic woman later told me I had done this all wrong! but I felt honesty with God was the best policy.
The Charismatic movement has diminished in recent years, but it has had some good effects: For one thing, a re-emphasis on the Third Person of the Holy Trinity who is sometimes almost forgotten in Western Christianity. He then re-emerges in successive "Holy Spirit" revivals of various sorts, only to fade away again. Their problem is that the Holy Spirit of God is not "integrated" into Western Christian devotion and theology.
The Charismatic movement has led some people into Holy Orthodoxy. At Saint Nicholas Church, Cedarburg, our present Parish Council chairman and our Pastor and also a few other folks, were directed to Orthodoxy through their experience with the Charismatic movement. At Father David's first visit to an Orthodox Church, he said to himself, "So this is what it was all about", and he never left. Both men are now devout, convinced Orthodox.
Even more interesting, 25 years ago Khouria Dianna and I were sent on a mission to some British Anglicans who were interested in Orthodoxy. One of them, Father Michael Harper (memory eternal +) was head of the Charismatic movement in the Church of England. When we got off the train, after he and his wife had greeted us, his first words were, "The Holy Spirit has told us we must be Orthodox. Tell us what it is." (!) In time Father Michael became Dean of the Antiochian Deanery of Great Britain and Ireland. You might want to read his last book A Faith Fulfilled.
Here, I think, is why some Charismatics have left the "movement" behind and have come to Orthodoxy: A member of a Pentecostal church visited our Saint Nicholas Church one Sunday. I wondered what his reaction would be. After Liturgy he said to me, "You're more formal than we are, but you do the same thing we do: two  hours praising God in the Spirit". This is the Spirit-filled Holy Orthodox Church.
The modern profusion of Protestants
We have finally come to the end of this series on Protestantism. Let's sum it up:
First let's give thanks for what Protestantism recovered in the West: emphasis on the Holy Scriptures, good preaching and teaching, personal faith in God, worship in the language of the people, freedom from Papal authoritarianism.
But then let us grieve for the utter disunity and confusion that Protestantism has brought to Western Christianity, to all of us who live in the West, and now to the whole world. (Is this somehow part of what's behind "the utter disunity and confusion" in modern American society as a whole?)

I thought it wouldn't hurt to insert the Orthodox view of Christian history here.
Today there are "Bible churches", classic Evangelical churches, new American Evangelical churches, Fundamentalist churches, community churches, independent churches, Pentecostals and  Charismatics, liberal denominations, conservative denominations, and on and on and on.
In Milwaukee, for example, Protestantism gives us everything from All Saints Episcopal Cathedral which till not long ago had Solemn High Mass every Sunday and daily Mass every weekday and a respectable-sized congregation, to Saint Paul's Episcopal Church a block away which is liberal, to First United Methodist Church which is mainline liberal Protestant, to the Missouri Synod Lutheran churches which stand strong in the doctrines of the Protestant Reformation, to the very conservative Wisconsin Synod Lutheran churches which don't even allow table prayers with other Lutherans, to the Evangelical Lutheran Church of America with its gay clergy, to Saint Mark African Methodist Episcopal Church, to Going Up Yonder Community Church, to the Pentecostal All Nations Church of Holiness, to New Covenant Temple United Holy Church of America Incorporated, to the Milwaukee Metropolitan Community Church which is for the "Lesbian Gay Bisexual Transsexual Queer Community" but others are welcome, to the Church of God, and the Church of God of Anderson, Indiana, and the Church of God of Cleveland, Tennessee, to the independent "Brook" churches which can hardly keep up with their population explosion, and once upon a time to Saint Timothy's Episcopal Church and Perseverance Presbyterian Church, both of which closed because they ran out of people.
And after all this, I never mentioned the Adventists who believe Christians should worship only on Saturday, and the Mennonites, a gentle folk who are not sure whether they are a denomination or an ethnic group, of whom the Amish are one sect who decided to stop in the late 19th century, so that they are not allowed to ride in cars but they can ride in buggies and trains because they were invented before then, and I'm so sorry they missed Ella Fitzgerald…  we could go on almost forever.
All this and more derived from the Protestant Reformation.
If Martin Luther could only have known.
Next Week we'll take a look at Some Extra-Protestant groups
Week after Next: The Transfiguration