OK, so March 17 was last week. The article on Other Faiths took longer than I expected. But all times are right for Saint Patrick.
Saint Patrick of Ireland, claimed by everybody except the Aztecs. No matter, those were the days when Christians were united, so he belongs to everybody. We'll talk about all that later. First…
The story of Saint Patrick
Patrick lived in a tumultuous time. Few records were kept, and he wasn't trailed by a crew of reporters. This has led to much speculation. If you should research this for yourself, you will find that some contend that the real Saint Patrick was someone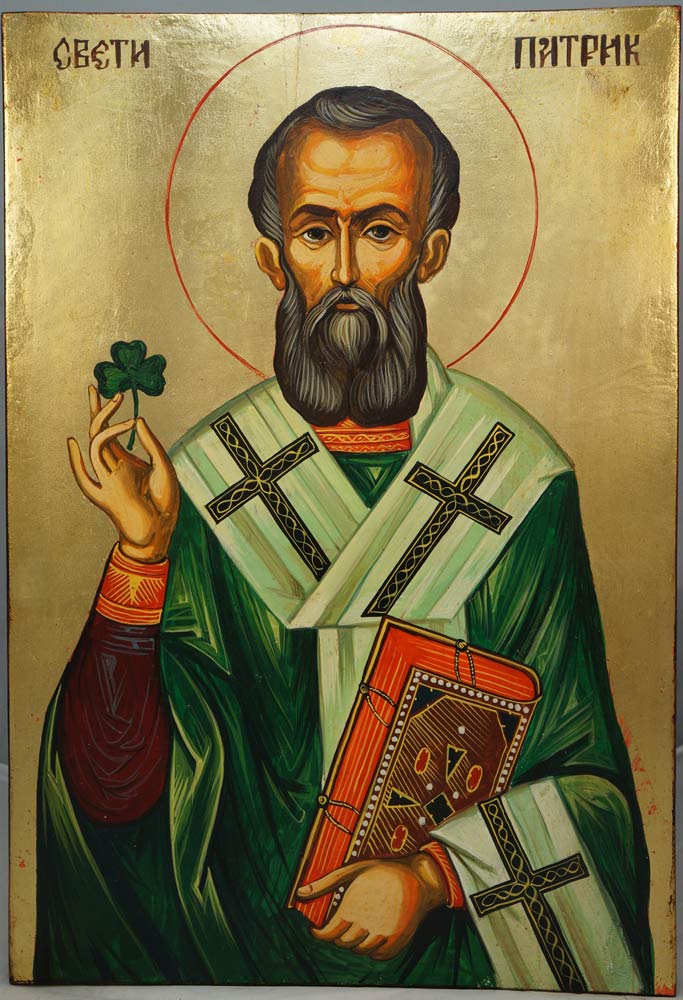 else, a missionary named Palladius – you know, just like with Shakespeare. Saint Patrick wrote the story of his life in what is called "The Confessions of Saint Patrick" – well worth reading. (You can find many translations online. A book is available from Amazon.) Likewise, some argue that Patrick could not have written this, apparently because it says he did – rather like those who contend that anybody other than the Gospel writers must have written the Gospels. In both cases, I think you should just ignore them. Here's a summary of Saint Patrick's story as passed down, with a little commentary thrown in here and there.
Patrick was born about the year 385 on the west coast of Great Britain, son of a deacon Calpurnius and grandson of a priest, into what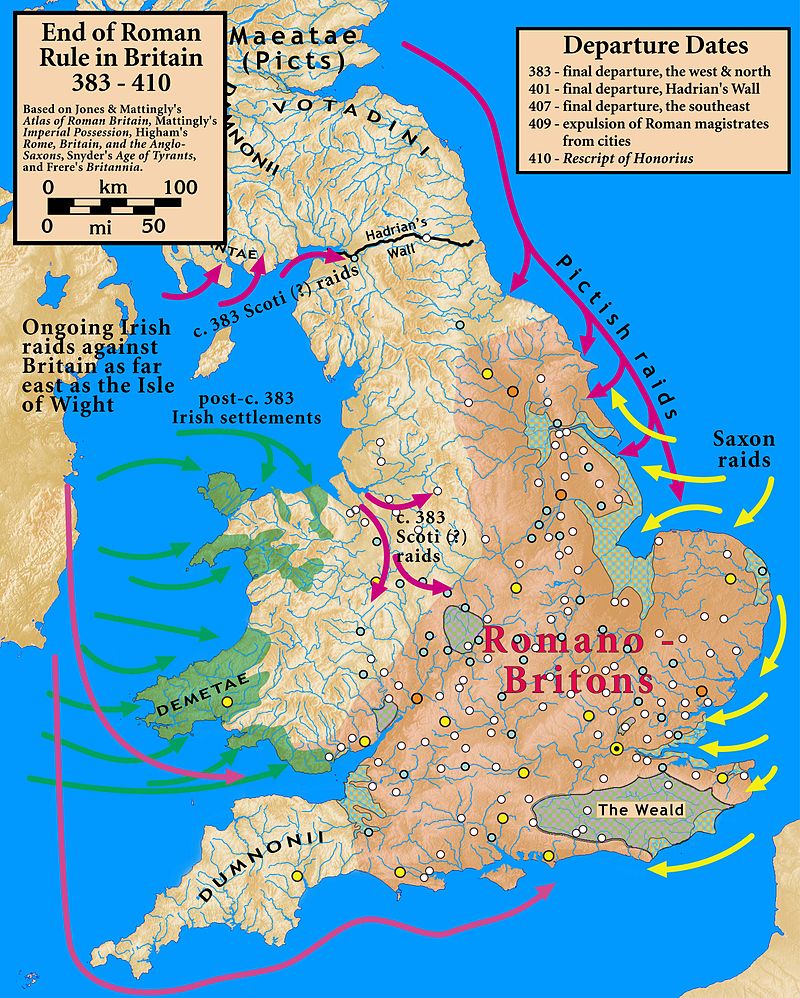 was left of Roman Imperial society. His Latin name was Patricius. But Roman Imperial troops had already been withdrawn from the west (see the map to the right) and the fall of Rome itself was not many years away. The west of Britain was now being ravaged by raids of pagan Scots and Irish. (What the Scots were doing in Ireland is more than I care to get into. Look it up for yourself.)
When he was 16, Patrick was captured by pagan raiders from across the Irish Sea, who enslaved him and made him a shepherd in Ireland. He wrote, "many times a day I prayed – the love of God and His fear came to me more and more, and my faith was strengthened. And my spirit was so moved that in a single day I would say as many as a hundred prayers, and almost as many at night, and this even when I was staying in the woods and on the mountain; and I would rise for prayer before daylight, through snow, through frost, through rain, and I felt no harm." As his faith deepened, despite all he came to have a love for the Irish people. But of course, he missed home and church and family and freedom. After 6 years Patrick escaped and found his way home.
But he was no longer settled. Then he had a vision? a dream? several dreams? of Irish people, their voices calling to him in Gaelic: Holy youth, we pray to you come to us and walk among us as before. He finally decided this was God's call to him.
Apparently he didn't just charge off to Ireland in the fashion of some modern missionaries. He knew he needed training and a blessing to do this. He spent some time at the great monastery of Lerins off the coast of southern France. (This is where the Copts will come into the story.) Apparently he was ordained priest by Saint Germanus of Auxerre. One account, which I can't locate now, says he went to Rome for a Papal blessing. I doubt that.
There is evidence that there were a few Christians in Ireland before Saint Patrick. If so, likely he didn't know about them. So after he returned home, he bravely sailed across to pagan Ireland and began his mission, landing on the isle of Slane about the year 433. He was almost 50 years old.
There are many stories about Patrick's work there. For example, that he taught the doctrine of the Holy Trinity using the shamrock, 3 in 1. I think this is true. There are so many shamrocks in Ireland that it would be just natural to do so.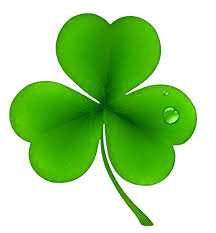 Only last Sunday I took my shamrock plant to church for the children's sermon. (Try growing them. It's easy, so long as you give them just enough water.  Every time I look at mine I remember Saint Patrick.) As for the story that he drove all the snakes out of Ireland, well… but if he did, I'm all in favor of it. Patrick worked hard, converted and baptized many – he said thousands. But there was strong pagan opposition, especially from the druids. Patrick wrote that 12 times his life was in danger.
This is a good story: There came the night of a druid festival. The local chieftan king commanded that the first fire to be lighted must be at the pagan rite on the hill at Tara. It was also the eve of Pascha, so Patrick issued a challenge: On a nearby hill he lit a great Paschal bonfire, first. (I read somewhere, but can't find it now, that the Irish still light bonfires on the eve of Pascha. Do any of you know anything about this?) The king sent his men to arrest Patrick, but he escaped. However, the king who was not a bad man was impressed by Patrick's courage and asked what this was all about, decided to hear Patrick, and became a friend and finally a Christian.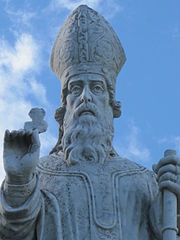 The hill of Tara is now topped by a statue of Saint Patrick. Some say the king directed that Patrick be made a bishop, with his seat at Armagh. Perhaps. However, early Irish Christianity was organized not by dioceses but around monasteries, with bishops brought out only to ordain – for "stud" purposes as one of my professors inelegantly put it!
by Ronan McPatrick at Creative Commons
Patrick and his missionary work took hold. Wisely he refused to use coercion but brought people to the Faith by simple preaching and humble service. He invited lepers to live near him and washed their sores with his own hands. He finally won the people over when he knocked down the idol Cenn Cruich with his pastoral staff – and nothing bad happened.
Patrick remained a humble man. He wrote, "I Patrick a sinner am the most ignorant and of least account among the faithful, despised by many. I owe it to God's grace that so many people should through me be born again to him." By the time he died in peace on March 17, 461, Ireland was almost entirely Christian.
Finally, the claims on Saint Patrick
What kind of Christian was he? He was definitely a Catholic Christian, in the Orthodox sense – not heretical, but believing in the Scriptures, the Fathers, the Creed and the Ecumenical Councils (the two that had met by his time). This is why as Orthodox Christians have moved into the western world, we have naturally and without controversy added "Patrick, Enlightener of Ireland" to our calendars, albeit 17 centuries late. The American Greek Archdiocese even has a Troparion and a Kontakion for him:
Apolytikion (Troparion) of Patrick, Enlightener of Ireland   Third Tone
O Holy Hierarch, equal of the Apostles, Saint Patrick, wonderworker and enlightener of Ireland: Intercede with the merciful God that He grant to our souls forgiveness of our sins.
Kontakion of Patrick, Enlightener of Ireland   Fourth Tone
The Master revealed you as a skillful fisher of men; and casting forth nets of Gospel preaching, you drew up the heathen to piety. Those who were the children of idolatrous darkness you changed into sons of day through holy Baptism. O Patrick, intercede for us who honor your memory.
Was Patrick Roman Catholic? In the modern sense of being under the direct  jurisdiction of Rome? I think not. It may be that Saint Patrick and others of the remnant of the Church of the old imperial days honored and commemorated the Bishop of Rome as Patriarch of the West. But I know of no evidence that Roman jurisdiction had yet reached Britain yet. Or if it had, it faded away quickly. For in the year 597 Pope Gregory the Great sent Saint Augustine to convert England, and he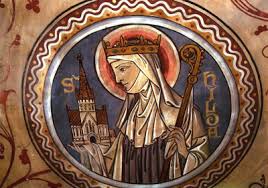 as first Archbishop of Canterbury is considered the founder of the Roman Catholic Church in Britain. In the year 664, the Synod of Whitby (presided over by Abbess Hilda!) decided that Celtic Christians should abandon their traditional ways and adopt Roman Catholicism. However, in the far north and west obedience to the Pope and Roman rituals was resisted well into the Middle Ages. It was not till after 1118, at the Synod of Kells, that a legate of the Pope finally presided in Ireland, and for the first time an Irish episcopal structure was established. That was when Ireland became Roman Catholic in the modern sense, and Roman Catholics have claimed Patrick ever since.
Was Patrick a "Celtic Christian"? (pronounced "Keltic", unlike the Boston "Seltics") Yes, but it's hard to know exactly what that means. Was there a Celtic Church independent of Rome? Maybe.  Maybe not. It certainly was a form of Catholicism with its own dating of Easter (that was a big issue at Whitby) and distinct ways of worship. We know almost nothing of what its worship was like; only a few fragments have been recovered. (A warning: Online you can find whole Celtic Liturgies and prayers. These are entirely fanciful, of modern origin.)  So was Patrick a "Celtic" Christian? Yes, but we don't know much about what that was.
In their Book of Common Prayer, the Church of Ireland (Anglican), says that the "Celtic Church, which emerged in Ireland following the mission of St Patrick in the 5th century, is still recognised as the source of the modern Church of Ireland." But again, what was the "Celtic Church"? And why no mention of their equally important Roman Catholic heritage? But that brings us to the modern Anglican claim on Saint Patrick, which is that they have his relics! Saint Patrick is buried outside the Church of Ireland's Down Cathedral at Downpatrick just south of Dublin. At the time of the Protestant Reformation, many Roman Catholic churches and cathedrals fell into Anglican hands and have remained so ever since. Many relics were destroyed under King Henry VIII, but some were retained and still are, with some degree of veneration. Lesser relics of Saint Patrick are to be found at the Roman Catholic cathedral in Dublin and at Saint Patrick's Church, Fifth Avenue in Manhattan, among other places. So today Saint Patrick is Anglican! And many Anglicans have a great devotion to him.
Finally, what about the Coptic claim? The following is from the Coptic website suscopts.org: "The Coptic Church is the founder of monasticism in the world. Coptic monks traveled to Europe and settled in many regions in that continent. Monasticism came down to the Celtic Church from the Coptic Orthodox Church. The connection was through Gaul, France, where many Egyptian monks were living in a Monastery at Lerins. St. Patrick, the saint of the Celtic Church, was born in Britain as a Roman citizen. When he was sixteen, the army of the Irish King Niall, attacked the Britons and Patrick was captured. Patrick was taken then to Ireland and was enslaved. Years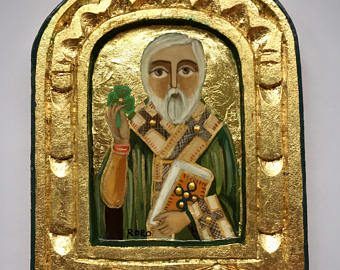 later, he was able to escape and sailed to Gaul, in France. From there he went to the Island of Lerins where the Egyptian Coptic monks lived. St. Patrick then lived with those monks and learned the 'Coptic Christianity of Egypt'. Patrick later returned to Ireland, where he once was a captive. Amator Bishop Auxerre ordained him a priest and the church flourished during his life. Right: a modern Coptic icon of Patrick After St. Patrick's death, Rome turned against the Celtic Church, because it followed the Coptic teachings and practiced what its founder had learned in Gaul. The Celtic Church followed many of the Coptic teachings. You can learn more about this connection from articles written by His Grace Abba Seraphim, Bishop of the British Orthodox Church. Also read about the origin of the Celtic Church and its relationship with the Coptic Church at http://celticsynod.org/celtic.htm.
So maybe we can learn the most about Saint Patrick and Celtic Christianity from our brothers and sisters in Egypt!
And what did it all lead to? Read Thomas Cahill: "How the Irish Saved Civilization".
Saint Patrick's Breastplate
This captures so magnificently the strong apostolic faith of Saint Patrick, and the rugged "feel" of ancient Ireland out at the end of the civilized world. The text is from The Ancient Faith Prayer Book – which you should buy!
I arise today through a mighty strength, the invocation of the Trinity, through belief in the Threeness, through confession of the Oneness of the Creator of creation.
I arise today through the strength of Christ's Birth and his Baptism, through the strength of His Crucifixion and His Burial, through the strength of His Resurrection and His Ascension. Through the strength of His Ascension, through the strength of His descent for the judgment of doom.
I arise today through the strength of the love of cherubim, in the obedience of angels, in the service of archangels, in the hope of resurrection to meet with reward, in the prayers of patriarchs, in the prediction of prophets, in the preaching of apostles, in the faith of confessors, in the innocence of holy virgins, in the deeds of righteous men.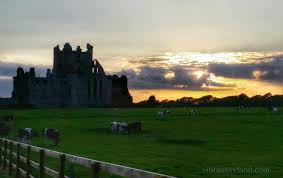 I arise today through the strength of heaven, the light of the sun, the radiance of the moon, the splendor of fire, the speed of lightning, the swiftness of wind, the depth of the sea, the stability of the earth, the firmness of the rocks.
I arise today through God's strength to lead me, God's might to uphold me, God's wisdom to guide me, God's eye to look before me, God's ear to hear me, God's word to speak for me, God's hand to guide me, God's shield to protect me, God's host to save me from the snares of devils, from the temptation of vices, from everyone who shall wish me ill, afar and near.
I summon today all these powers between me and those evils, against every cruel and merciless power that may oppose my soul and body, against the incantations of false prophets, against the dark laws of heathenism, against the false laws of heretics, against the craft of idolatry, against the spells of witches, conjurers and augurs, against every knowledge that corrupts man's body and soul; Christ to shield me today against poison, against burning, against drowning, against wounding, so that there may come to me an abundance of reward.
Christ with me, Christ before me, Christ behind me, Christ in me, Christ beneath me, Christ above me, Christ on my right, Christ on my left, Christ when I lie down, Christ when I sit down, Christ when I rise, Christ in the heart of all who think of me, Christ in the mouth of all who speak of me, Christ in every eye that sees me, Christ in every ear that hears me.
Here is a portion of it in English, then in Gaelic, with appropriate Irish scenery. If you continue after this reading, I think you will come to a rhymed Anglican version of The Breastplate sung to an Irish tune.
Next Week: Introduction to Holy Week, with 4 unusual morals