Do you know that about 65% of Arabs in America are Christians? that about 85% of Arabs in the United States are American citizens? Do you know that most Muslims worldwide are not Arabs? that the 4 countries with the largest Muslim population are Indonesia, Pakistan, India and Bangladesh, none of them Arab. Likewise Iran and Turkey which are almost entirely Muslim are not Arab. Do you know that adherents of Islam are called Muslims, never "Mohammedans". Do you know that both Christians and Muslims pray to "Allah"? "Allah" is simply the Arabic word for the Creator God, and Arabic-speaking members of our American Antiochian Archdiocese, for example… well, listen and read below – though obviously we and the Muslims have a very different understanding of God. We'll talk about that. Read on.
Do you know that Iraq is an "artificial" nation whose boundaries were invented by the Brits after World War I? and that it contains Shias, Sunnis and Kurds, all Muslims but none of whom get along with each other for various reasons, both religious and ethnic? Well,  probably you know many of these things, but many Americans do not – which has led to many misunderstandings, to put it as mildly as possible.
Now we've got that out of the way… but before we begin:
These days, no matter what anyone says about Islam, someone else is likely to disagree – so if you do disagree with me, or if I am in error about anything, please say so. Use the "Comments" section at the bottom of this column.
Muslim and Christian Teaching compared
Judaism, Christianity and Islam are the 3 great monotheistic faiths. The word Islam means "submission" to God, to Allah. Islam originated with Muhammed in Arabia in the 7th century. He said he received direct private revelations from the Archangel Gabriel, and since he was barely literate he dictated them to others.
These formed the basis for the Koran (Quran), the Muslim holy book, the text of which was not finalized till some time after Muhammed's death. Muslims say the Arabic text of the Koran is absolute divine truth, the words of God, the same way Protestant fundamentalists view the Bible. In contrast, most Christians see our Holy Scriptures as the "Word" of God, through which Christ the Word reveals himself. The Koran contains a rather disordered mix of Old Testament and New Testament history, greatly revised, along with praise of God, moral teachings, laws for living and some beautiful mystical passages.
The Koran esteems Jesus and Mary. (I think Muslims give Mary more honor than most Protestants do!) It says Jesus was born of the Virgin, but is clear that he was not the Son of God, only a great prophet, the last before Muhammed. The Koran teaches that Jesus was neither crucified nor raised from the dead, but that he will return at the Last Day. (I was once talking with a Muslim restauranteur about the mess the world is in, and he said, "Well, when Jesus comes again, all will be well.") Muhammed forbade devotion to himself, since he was only a prophet, the final one.
The Koran denies the doctrine of the Holy Trinity. Muslims say Christians worship 3 gods, asking how can there possibly be 3 Persons in 1 God. (Good question! Christians don't understand it either. We believe in the Holy Trinity only because we believe in Jesus Christ who taught it and showed it to us. It seems like nonsense to non-believers.) The Koran says God is all merciful and forgiving, but that on Judgment Day all will go to heaven or hell depending on their obedience to God.
"Obedience to God" consists of keeping the Five Pillars of Islam which are 1) Recitation of Faith: "There is no God but Allah, and Muhammed is his prophet". Saying that 3 times is all it takes to become a Muslim. 2) Performing Ritual Prayers at appointed hours 5 times each day. 3) Charity: giving 2.5 % of one' s wealth to the poor, each year. 4) Fasting from all food and drink, from sex and from smoking, during the daylight hours of the month of Ramadan – which does not follow the calendar year. The fast is very difficult when it falls in mid-summer.
The daytime fast is followed by an elegant meal after sunset. 5) the Hadj
, a Pilgrimage to Mecca, the Muslim holy city in Arabia, at least once in their lives, if they are financially and physically able. Orthodox Christianity is not so legalistic as this. We believe love is the key to salvation. But we sometimes lackadaisical Orthodox could learn a lot from Muslims about the benefits of consistent praying, giving, fasting, and gathering occasionally with a multitude of fellow believers. I think these explain a great deal about why Islam now grows so rapidly.
Muslims worship in the mosque on Fridays, their weekly holy day. In most Muslim countries this is for men only; no place is provided for women.
Besides belief in one Creator God, there is much in Islam that Christians can affirm, indeed much that surely came from us. It seems obvious that Mohammed or whoever wrote the Koran knew the Jewish and Christian Scriptures, though in a deviant form. Muslim worship with its prostrations and Muslim architecture with its domes derive from Orthodoxy. Saint John of Damascus listed Islam as a Christian heresy, not a separate religion. Islam represents a reversion to Old Testament "style" with its primary emphasis on obedience to the Law. Christ moved us ahead into faith centered on love, which goes beyond the Law. Christianity unites God and man forever in Jesus Christ. Islam reverts to a religion in which God and mankind remain separated..
The origins of Islam are very questionable. How does one know Muhammed received the Koran in a vision and didn't just invent it? Or if it was a vision of some sort, how do we know it was really from an angel? Christian Fathers say Satan can appear as an angel of light. If it was an archangel, how do we know Muhammed heard it right and dictated it correctly? Wasn't Muhammed, as he said, only a fallible human being like the rest of us? The vision, if it was one, was entirely private and interior. No one else was present; no one else received it. (In this respect it seems rather like Joseph Smith and the 19th century origins of the Mormon religion, which we'll come to in a future article.) This is entirely unlike the revelation in Jesus Christ which was received by many witnesses who could authenticate it. Muslims don't ever seem to wonder about these things. I don't understand why.
Here, I think, is the chief difficulty Orthodox Christians have with Islam:  it makes this 1 fallible man and his teaching absolute. (We'll find the same problem later, to a lesser degree, when we look at Protestantism.) To us Jesus Christ is absolute only because we believe he is God Incarnate. Mohammed insisted that he was no such thing, only a human being. So why are he and his Koran given absolute authority?
The Development of Muslim Religion
Islam quickly developed into a powerful force. It united Arab tribes who had believed only in "djins", desert spirits, in the worship of 1 God. Muslims divided early into 3 groups, 1) Sunnis the majority, and 2) Shias who disagree about whether their early leaders should be descendants of Muhammed or not, and 3) Sufis, mystics who derived much from Christian monastics and reverenced many Christian saints. Sufis are greatly diminished in number today, largely because of persecution by Sunni extremists. These days there are also many Muslim secularists who are formally Muslim but do not strictly follow Muslim law.
In recent centuries something we call Muslim fundamentalism has developed. "Fundamentalist" is actually a term which certain American Protestant Christians chose to describe themselves. At the beginning of the 20th century they reacted to liberal Protestantism and decided to return to Christianity as they imagined it was in the beginning, based on the Bible alone. They got some things right but many things wrong. (We will talk about this also in a future article.) Likewise some Muslims, in reaction to modernism and using the Koran alone, decided to recover Islam as they imagined it was in the beginning. In many ways they also got it wrong. Fundamentalists are a small minority among Muslims, but they are militant, growing rapidly, and are noisy and often nasty, and so have convinced many in the West that Islam itself is a militant religion.
Islam: Militant or Peaceful? Tolerant or Intolerant?
There are some real and important differences between the origins of Christianity and the origins of Islam. Jesus held no political power; Muhammed did. Jesus led no army; Muhammed did, against his opponents in Arabia.  Christianity originally spread into the world not by conquering countries and peoples, but by the conversion of individuals and families, then of emperors and kings. Islam spread by following armies as they swept north and west out of Arabia. 
How have Muslims treated their conquered peoples? The Koran says clearly that Jews and Christians ("people of the book") should be tolerated, but in fact Christians and Jews have often been treated badly, as illustrated by the many "new martyrs", especially under the Turks, on the Orthodox calendar. The Koran says that "infidels" should be wiped out. "Infidels" originally meant Muhammad's pagan opponents in Arabia  The Koran promotes "jihad" ("struggle"). Later, especially at the time of the Crusades, many Muslims said this meant literal holy war against the West. Many contemporary Muslims say "jihad" refers only to the interior struggle against evil.
Is Islam a militant religion? At various times Muslims have asked the same about Christianity. If Muslim armies went west, so Roman Catholic Crusaders went east massacring Muslims, Jews and Christians alike. If Islam spread following Muslim armies, so did Western Christianity spread all over the world following Western imperialist colonial armies.
Is Islam intolerant? It has depended on when and where you were. Sometimes Muslims have been more tolerant than Christians.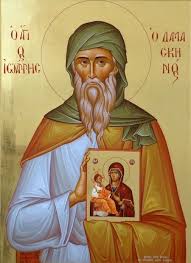 Though Islam forbids images of all sorts, from Muslim Jerusalem Saint John of Damascus was allowed to defend icons from an iconoclastic Byzantine emperor who would have killed him. In medieval Spain Muslims ruled, but they, Christians and Jews were united in a single peaceful culture, and together produced brilliant scholarship and an
architectural style of extraordinary grace and beauty, Then Roman Catholics took over, expelled the Jews, drove out the Muslims and began the Inquisition.
Today in Saudi Arabia and Iran Christianity is forbidden. In the 20th century Turkey practiced genocide against Armenian Christians, drove out the Greeks (with some justification) and now makes life tenuous for the few Christiians left, including His Holiness Ecumenical Patriarch Bartholoinew. Despite the Muslim majority in Syria, Christians were free there till recently, and still are in some districts. Christians today are free in Jordan. The 10 million or so Coptic Christians in Egypt officially are free, though Muslim radicals often terrorize them. Indonesia has religious tolerance, but a few radical Muslims sometimes come after the Christians.
Today most countries with a Christian background have freedom of religion. But historically this too has has varied. Byzantines were fairly tolerant except of pagans. I've already told you about Roman Catholic Spain. None of the American colonies (except for Roman Catholic Maryland) had religious freedom, not even for other Christians. In post-Reformation England Roman Catholics were executed, and Muslims would not have stood a chance. No permanent Orthodox Church was tolerated in England till 1850! Today in Russia and Greece it is illegal for any but Orthodox to proselytize publicly. My reading is that through history it has been a mixed bag on both sides.
Muslim Fundamentalism
Both Christian and Muslim fundamentalism are growing today. My opinion is that the reasons are more socio-political than theological. I think this is a reaction to the modern world where everything is changing so fast we can't keep up with it, where so much that once seem solid now seems shaky. (I think this is largely because it was built on shaky foundations.) Middle Eastern Muslim fundamentalism appeared approximately at the time when Western imperialists had moved in, conquered their lands, stolen their resources, and tried to "westernize" their culture. My opinion is that Middle Eastern Muslim fundamentalism has become militant today largely because of corrupt authoritarian governments in many countries, because of Israel's mistreatment of Palestinians, because of a population boom combined with bad economies and a fairly decent education system. All of this has left many educated young men unemployed and unable to afford to marry, and therefore angry and with too much time on their hands. In the West, I think Muslim fundamentalism  exists largely because of young Muslims not being integrated into Western society.
Is Islam, as some say, a "terrorist religion"?
According to Pew Research, there are between 2 1/2 and 3 million Muslims in the United States. According to Politifact, between 2001 and 2016 in America, 19 individuals were killed by radical Islamist extremists in 23 separate incidents. *  (During that time, by the way, 106 individuals were killed by far-right extremists in 62 separate incidents.) If I calculate correctly, proportionally for every 130,000 or so Muslims, there was 1 terrorist. Is Islam a "terrorist religion"? No.  But there are Muslims who are terrorists.
* [P.S. See Kevin's comment below.]
Or are there? My opinion is that most modern Muslim terrorists are not much more Muslim than I am, that they use Islam and the Koran as a cover for their despicable purposes.  I wish more of the huge majority of moderate peaceful Muslims would condemn this "Muslim" socio-political radicalism far more often, far more effectively. Or maybe they do, and our media do not report it. "Dog bites man" never makes the headlines. "Man bites dog" always does.
Finally (and this is the most important thing to say) Muslims are human beings like the rest of us, created in the image of God, and I think that most human beings, Muslims, Christians, Jews, Hindus and all the rest,
 are decent people who want above all to live in peace and raise their children well, and wish religious and political extremists and fanatics would go away and leave them alone. Be careful not to judge people solely by their formal religious beliefs. One of my my professors said, "Many people are better than their religion." As for us Orthodox whose theology is so good, most of us are worse than our religion.
Our late Patriarch Ignatius IV of Antioch (died 2012 +) was once asked about dialog with Islam. He replied (I paraphrase here because I can't find the video): If we begin with dogma we will get nowhere. Who understands every iota of dogma? But if we begin with life we will have something to talk about.
To repeat, if you think I'm wrong about any of the above, please say so below.
See Posts 31, 32, 41, 42 for previous articles on Other Faiths.
Next Week: How to keep Great Lent
Yet to come in this series: Orthodoxy and Roman Catholicism, Classical Protestantism, Modern Protestantism, and 4 semi-Christian denominations