Who goes to Greece in January? We do!
But before we leave, a recommendation: When you travel take along a small prayer book, a small New Testament and a copy of the daily Bible Readings. Or if you'll have easy access to the internet the best site I know, beautifully laid out, is the American Greek Orthodox Online Chapel at https://www.goarch.org/chapel/. Daily saints and Scripture readings pop up immediately. Prayers appropriate to the time of day and the season are hidden away for some reason: Touch the 3 little bars at the top right, open "Prayers", then on the left scroll down to "The Synekdemos: Daily Prayers for Orthodox Christians". It's all in English.
If you desire additional saints, try https://oca.org/saints/lives and they'll sometimes give you more saints than you'll know what to do with. Their lives of Russian saints are extremely informative to put it mildly.
I find it is somehow wonderful to pray in new places. I remember the peace and joy I felt, sitting in the Greek sunshine on a little porch off our room, saying my morning prayers. And go to Sunday Divine Liturgy if you can. See for yourself that there's more to Orthodoxy than your home parish.
A Little Saint Nektarios Story
In previous posts you can read my earlier experiences with Saint Nektarios. For reasons I don't understand this saint, who surely has better things to do, seems to keep watching over my travels. Maybe in heaven, beyond our time, saints have all the time they need, including plenty to waste on me? But first, a preface: In 2007 a Saint Nicholas parishioner Zoe Ganos and I, returning from Archdiocese Convention in Montreal, were stranded by United Airlines late at night at O'Hare Airport with no way to get back to Milwaukee – no airplane, no bus, no train, no car available, and definitely no help from United. I fussed and fumed and fretted till finally my wife, God bless her, drove all the way to Chicago and picked us up at 2 a.m. Afterwards I thought to myself: Idiot, why didn't you ask Saint Nektarios? He would have worked it out.
So this time I did. In 2008, at least, when we flew into Toronto from the US on the way to Europe, we had to pick up our suitcases and check them in again. Or did we? For we waited at the carousel: no suitcases. We went to the baggage desk; they knew nothing: "Go to Olympic; maybe they sent them there." So we took the train to Olympic. Not there; "Maybe they're still in Milwaukee?" Back to baggage claim: no luck. Back to Olympic again: not there. Then I remembered what to do: "Saint Nektarios, please find our luggage."  So we waited at Olympic and prayed. 15 minutes before boarding someone from the desk came to us: "Your luggage just arrived." You may explain this as you wish. I hate superstition; I think it's the bane of true religion. But the fact is when I ask Saint Nektarios for help, things seem to work out. So… thank you again, Saint Nektarios.
Now on to Greece.
Thessaloniki, again
This time Khouria Dianna was with me – a real treat. Thessaloniki is about the size of  Milwaukee (metropolitan areas 1 1/2 million or so), and like Milwaukee it is a city of churches. So take Milwaukee, put many more churches downtown, make them all Orthodox and most of them open with people forever going in and out lighting candles and praying. America once had open churches, but that requires a society with less crime, a society far less fearful than ours.
We visited Saint Demetrios Church,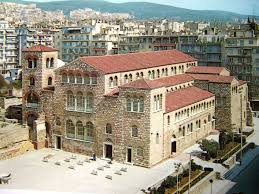 a block from our hotel. Before the martyr's relics I offered up the 100+ names my people gave me. Later I went back to the church by myself. While Vespers was being sung, I found an unmarked door down and to the right of the altar area, opened it with some trepidation, and went alone into the crypt below. The ancient Saint Demetrios Church was destroyed in the great 1917  fire, then rebuilt.
But this small lower level 4th century chapel was not destroyed, and this was the place where Saint Demetrius was martyred. No paint left on the walls, and except for a couple of icons all was grey. There was a large vat which it is assumed  had been used to collect the great quantities of myrrh that flowed from his relics. And there I was all by myself. It felt very holy and also kind of spooky.
 Crete again, Beautiful Crete 
We took the train to Athens. (The outside was all covered with graffiti. Even Amtrak wouldn't allow that!) Khouria Dianna flew home (I can't remember why) and I took the ferryboat to Crete, my favorite part of Greece. I rented a car and drove to the south coast, which has few tourists and less commotion and beautiful lonely beaches. I weary quickly of archaeological and historical sites. I'd rather find out what's happening now. So I checked out what ought to be seen, and then I visited active churches and monasteries, went to Liturgies, hung out at tavernas, observed locals and tourists, and talked with people as best I could. Sometimes I began in my pidgin Greek, and the Greeks responded kindly, "Please speak in English!" But once my order sounded so absurd that the waitress couldn't control her laughter. (That fall, after I returned home, a lady from our parish began Greek classes, and I learned at least not to make a fool of myself.)
Let me tell you about the churches I visited. The first Sunday was in a tiny village church in the mountains on the south coast of Crete, looking way way down on the Libyan Sea. The congregation was women and a few old men. Where were the youth? I stood in back next to a mural of the 10 4th century Martyrs of Crete.
On the second Sunday I was in the city of Rethymno in north Crete in a beautifully appointed church, nearly full with many children. The priest looked like a tough guy till he gave Holy Communion to the little children and then his face lit up.
I went to Ascension Day Liturgy at Panagia Kalyviani, the lovely women's monastery in south central Crete of which I've told you before. Let me tell you a little more.
 Walk through the gate and there is this street leading gently uphill, with flowering trees on either side, doves (?) hoo-hoo-ing, an orphanage and retirement home on the left, a conference center on the right, and up ahead
and a little to the right a beautiful church. A small much older church stands beside it. There were maybe 35 or 40 nuns – I couldn't be sure (and besides should I be counting during Liturgy?), since they were hiding behind pillars and moving around, not all in a single choir – both old and young. It was a lovely Liturgy: two hours passed like a few minutes.
I went again to Preveli Monastery even higher above the Libyan Sea. During World War II the monks sheltered countless refugees, civilian and military, Greek and English, from the Nazis, then by night took them down to the beach far below and shipped them off to safety in Egypt. Near the monastery there is a statue of the abbot holding a rifle.
I know clergy are not supposed to engage in such behavior; however in this case… At Saturday Vespers there were only three monks, including a rather wild-eyed abbot, and me. Also some sheep bleating outside the door, and the wind from the sea blowing. It was a very lonely, almost mystical experience.
The last Sunday I went to Divine Liturgy in the village of Spili, as I had some years before, and again the beautiful downtown church was nearly full, but this time there were not many youth. The Liturgy was well done with two priests and a young deacon. There was a memorial, and alongside the kolyva they put photos of the persons being remembered – a good custom, which I then encouraged at Saint Nicholas.
I saw other churches, but I remember especially a mid-day visit to little Apazenon Monastery way up in the hills. Nobody was around except a widow just inside the church with her feet up on a chair. "Kalymera" "Kalymera".  
The church was dark and very simple – and then a sense of peace and silence and mystery and holiness so thick, so heavy, so profound that it was almost palpable. I stayed only long enough to light a candle. It was too much for me to handle.
A Big Saint Nektarios Story
My wife is more careful about things than I am, but she had abandoned me, so it was obviously her fault! that I stupidly didn't check the gas gauge in the car. I had decided to drive alone up and over the mountains to Kali Limenas, "Fair Haven" in the book of Acts, the sheltered harbor on the south coast of Crete where Saint Paul's ship took refuge from a storm. It was then the port for Lasea, a city of some size, for Crete and Libya were one province and there was much trade across the Mediterranean. Now it's an isolated village. I explored (there wasn't much to be seen, so I had to use my imagination), then came back to the car and looked at the gas gauge. It showed about 1/16th of a tank left! and no gas – uh, "petrol"  – station for 25 kilometers. This time, having learned from experience, when I began to panic I calmly said to Saint Nektarios, "I hate to bother you again, but please, can you find enough gas to get me back?" Well, the place had a great beach with nobody around, so I crashed for a while, then went back to the car. The gauge showed over 1/3 full!
During the rest of my time with the car I kept checking the gauge. It never acted erratically again. So once again, explain it as you will. But I may have found a great way to raise money for the church: Station somebody by a pump in front – "Saint Nektarios Gas. Do you want regular or supreme?"
Finally my visit to the relics of Saint Nektarios on Aegina was lovely as always, with many pilgrims and a feeling of deep peace and joy. I didn't ask Nektarios for another little trick. I figured one was enough, so I didn't get one. Or did I? I had planned to say a Paraklisis * for my people at home but couldn't find the booklet in my suitcase. So when I got there what were they doing? A Paraklisis service! I offered up the 700+ names people had given me. The number kept going up every year, as my people learned to know this wonderful saint.
* an Orthodox service of supplication
Impressions
Do you want to know what the Orthodox Church in the old country was like 100 years ago? Go to an Orthodox Church in America. Do you want to know what an old world Greek Orthodox Church is like now? Go to Greece. It is well known that immigrants from the old world cling to their customs, while in the old world things progress – for better and for worse. I've read of isolated villages in the Appalachians where in the 1800s people still spoke something very like Elizabethan English.
So… here are my impressions of the Orthodox Church in Greece today.
1  Things are not as formal as I had expected. At Liturgies in cities acolytes had vestments – but rarely in rural areas. The Great Entrance procession at Kalyviani consisted of an old nun with a candle followed by the priest! On another occasion it was led by a teenager wearing a football shirt. For American purists who want no pews and to make people stand "as they do in the old country": I hate to tell you, but except in the monasteries all the churches I visited had many chairs, and people sat a lot. Dress is more casual than in many American Orthodox churches. At Vespers at the great Saint Demetrios Church in Thessaloniki the cantors were a subdeacon (I think) in a rassa and a guy in blue jeans and a t-shirt. Some women wear slacks to church even in small towns, and most men were in shirtsleeves. I'm not recommending this, just noting. Women cantors are becoming common as are priests with short beards and short hair, including the priest leading the service for the nuns at Saint Nektarios. How should we dress for church?
Once all men wore robes to church. That changed, and it's ok. Unless you're a clergyman, the basic rule is: Dress according to the customs of your culture. Dress so as not to call  attention to yourself. Dress so that people will look at God, not at you. This would attract attention in Cedarburg but not at Saint Mark's Coptic Cathedral in Cairo.
2 Here is something negative: I heard no sermons. Granted, Orthodoxy is sort of just in the air in Greece; it is taught in public schools and is on radio and TV. Still, even in Greece, odd ideas make the rounds and easily lead people astray. The faith needs to be taught, the Sundays Scripture readings explained. This lack of teaching and preaching is dangerous.
3 But on the other hand Orthodoxy really is everywhere. As I rode the Metro in Athens a young guy ahead of me had earrings and long hair and didn't seem the churchy type; yet every time the train passed a church he crossed himself, as did a number of others, young and old.
4 Finally, for what it's worth, while I was there the newspaper reported that the mayor of Tilos, an Aegean island, had just married two "gay" people. The reaction of the Archbishop of Athens was: The Orthodox Church does not permit such things, but these people are not Christians, so what business is it of ours what they do?
Next week: What people have said to me about America and Americans on my trips. (We may find some of this uncomfortable.)