The night after Saint Nektarios did it again, I took the overnight ferry to Crete. In those long ago days of more primitive home computers, I'd had trouble getting my reservation through to the Crete ferry company, so I kept trying and trying. When I got to the ferry office, I discovered that all my attempts had gone through, and I had booked ten rooms! The agent was kind and only charged me for one.
These days most people including me fly from Athens to Crete in an hour, and Aegean Airlines is excellent, rather like Milwaukee's old Midwest Airlines which got bought out and ruined ten years ago. But let me tell you how much fun it is to take the ferryboat. It's about a 10 hour voyage. Leaving the port of Piraeus in the evening, you can watch the multitudinous lights of Athens fall away, and then those of the whole mainland recede in the distance. There is a good cafeteria. The staterooms are comfortable, and I like the (usually) gentle rocking of the boat. Next morning I always felt a sense of excitement as the Big Island and its mountains emerged out of the very early morning haze. On this trip, in late April, the mountains were still snow-capped.
Crete!
Previously I had seen Greece by bus, boat or occasionally train. (In those days Greek railways could have been better, shall we say. Some of them are, now.) This time I rented a car. Sometime I will tell you about driving on Crete. The most important thing to say is that, if you stay alert, you can do it and survive.
For twelve days I drove from place to place exploring. I wandered in and out of monasteries and churches and 4000 year old Minoan ruins. I ate and stayed overnight at tavernas. On warm afternoons I often gave in to temptation and hit the beach, but Crete in late April and early May isn't as warm as you might think; the water is cold, and there was scarcely anybody there. This tourist video gives you the "feel" of Crete. 
I headed first for the little city of Rethmymno on the north central coast. Still early in the morning, after a light breakfast (have you ever had bougatsa? mmm…), I stopped at the Aghia Irini (Saint Irene)
women's monastery on a hill above town, where a sweet young nun gave me a tour and a little something more to eat. Visit Orthodox people, and almost always they give you something to eat. I knew a very heavy-set priest who told me, "Before I was Orthodox I was skinny!"
Since my visit to Crete in 1985, much of the north coast now had crowds and high rise hotels and souvenir shops. So I headed for the unspoiled south coast only about 45 minutes away,
I stopped at nearly abandoned (and some abandoned) monasteries whose names I've forgotten, way up in the  mountains. On the Friday after Pascha I went back to a city church in Rethymno to celebrate the feast of the Theotokos of the Lifegiving Spring. It was nearly full. Imagine that during Bright Week!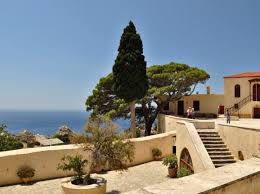 The first weekend I went to services at Preveli, a somewhat isolated (if you don't count the occasional tourist buses), well-kept men's monastery, beautifully situated on cliffs high above the Libyan Sea. It was abandoned for a while but is now active again. Saturday Vespers had only a few people present plus 3 or 4 monks. The dark church interior with
sunshine flowing in the open west door, the sounds of the Byzantine chanting and of the wind blowing, the sheep bleating outside, and the silence that nevertheless enveloped it all. The memory, the feeling of it often comes back to me. Though nobody lives for miles around, about 30 people showed up for Divine Liturgy next morning, including a number of young families.
I visited the ruins of Saint Titus Cathedral in south central Crete where there were many famous bishops, including Saint Andrew of Crete who wrote the long Lenten canon. (More about this on another occasion.)
I stopped at Panagia Kalyviani, a lovely large women's monastery, this one not isolated but just off a main trunk road.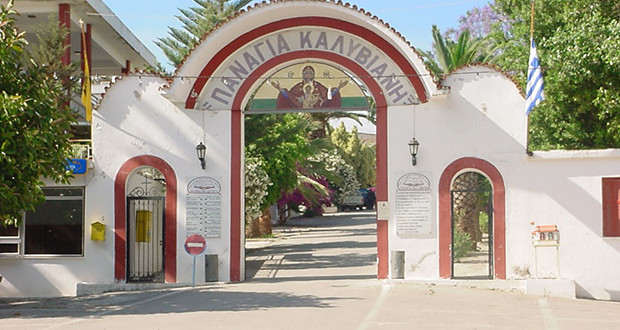 As I drove up to it one morning, through the gate I found what looked like a village: a street lined with flowering trees, people and cars coming and going, the church off to the side. The many nuns have there an orphanage, an old folks home, a school, a conference center and I don't know what all else; it was just bustling. Despite this, a sense of peace hovered over the place, as it has every time I've returned. I've gone back often.
I should mention that I had booked a couple of nights at what turned out to be almost entirely a tourist town with not even a church. In early May there were almost no tourists around – except me. It was lonely. And then when a gale force wind came up and rattled the windows all night with only me and one other person staying in this large hotel, it was creepy. I like fewer tourists but not that few. Next morning I got out of town quickly.
On the next Sunday I went to Divine Liturgy in Spili, a pretty south Crete village of only a couple hundred people – inland, clinging to a steep mountainside. There is a big complex housing the diocesan headquarters at one end of town. (Greek dioceses are small, and all the other villages in the diocese are even smaller.) In the center of town
is a large well appointed parish church which was so packed I could hardly get in. It was men on the right, women on the left, but not entirely, for a cute teenage couple in front of me kept flirting with each other all through the Liturgy. This small town church had three priests and a young deacon, all with shortish hair and beards. A number of women wore slacks – in a Greek country village! Never confuse local hair and dress fashions with the essence of Orthodoxy.
There was a Trisagion Memorial afterwards. A woman who I think had lost her husband fainted dead away, Mediterranean style, and as the priest chanted on, everyone gathered around her. A man who probably was the town doctor (he had a very competent air) came and gave her a glass of water, and she roused. Afterwards, there were large trays of kolyva * for everyone.
* In case you don't know, kolyva is boiled wheat, to which powdered sugar and often almonds or other seeds are added – eaten after Memorials for the departed. "Unless a grain of wheat falls to the ground and dies, it remains only a single seed. But if it dies, it produces much fruit." John 12:24
Once again it was Orthodoxy very familiar and very much alive. Do churches that are part of the national establishment go dead? In the west that seems to be the case. But obviously not in Greece. In the west, since the Reformation teachings and worship styles have fragmented. Neighboring parishes even of the same denomination may be very different. This certainly has not happened in the Orthodox Church. Even though I understand little Greek, within a few minutes in any church I knew exactly where we were in the service, and I knew exactly what was being taught.
What a pleasure, what a joy, what fun it is to explore Crete! and I'm sure the rest of Greece, too. Cities  and towns, all with well-appointed churches, and chapels scattered all around. At one place I could see 7 churches and chapels at once. And the people: some Greeks can sound rough, kind of like New Yorkers, but like New Yorkers almost all of them are friendly and helpful. And the tavernas where nobody eats indoors 
from May through September, almost all of them locally owned (no uniform franchise stuff here) and I can't remember having a badly-prepared meal. And the cleanliness: in maybe 4 months spent in Greece over the years, I came across only 1 unkept hotel room. And the roads: despite the Greek recession, even rural roads are paved and usually in good condition – if you don't mind the occasional rockslide. (I speak as a resident of wealthy Wisconsin, where many of our roads are currently in dreadful shape.) And the scenery: the rugged high mountains (almost 9,000 feet on Crete), snowcapped till early summer, with cliffs plunging into the sea. And the sea: sometimes windswept with eddies of sea spray caught up into the air, sometimes so calm. And the gorgeous beaches, in south Crete some of them still with almost no one on them. And the Greek light, clear, penetrating, which allows you to see things at a distance almost as with a telescope. As I said in Blog post # 1, go to Greece!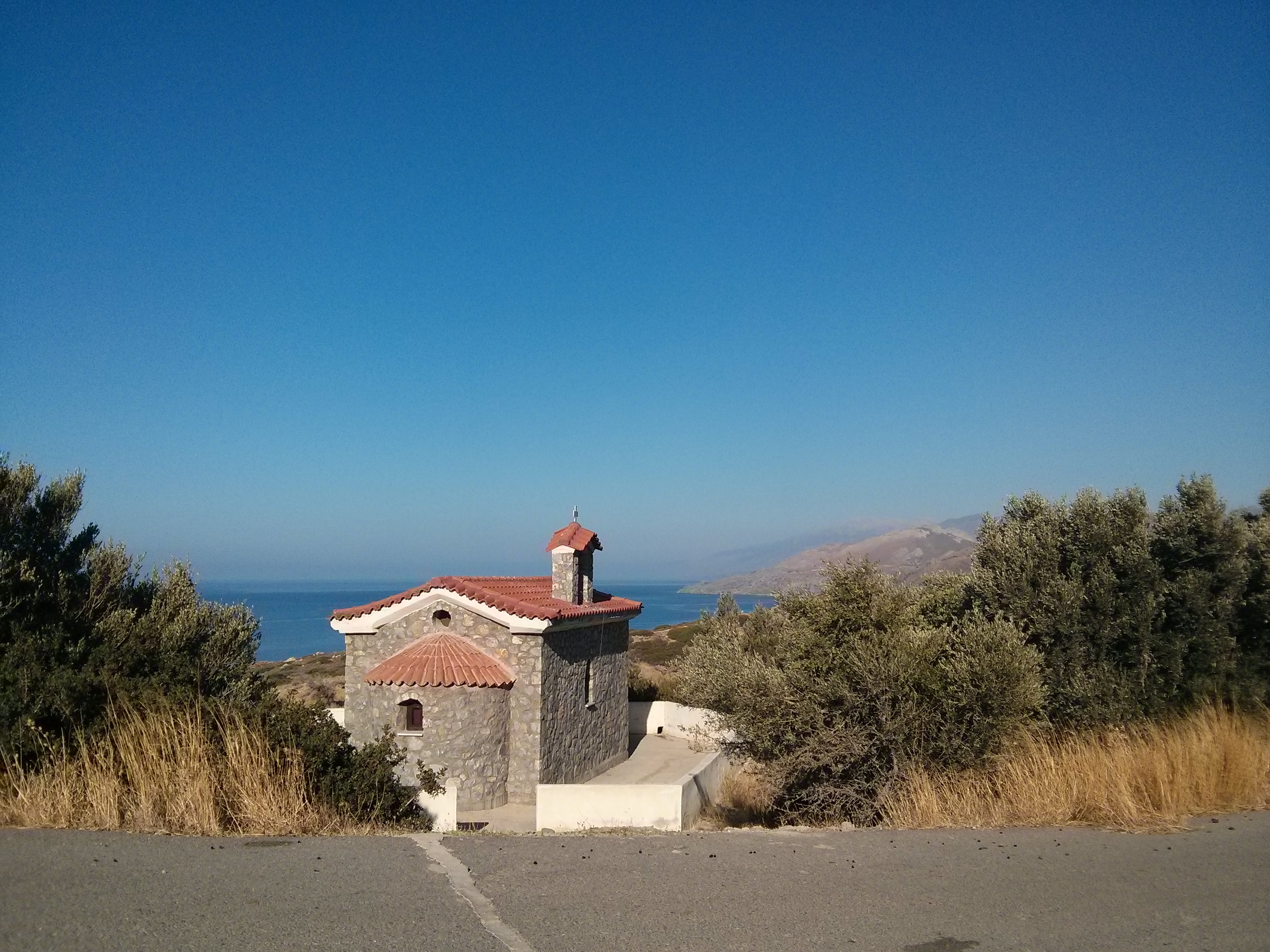 This is a photo I took on the south coast. Driving a back road often you come over a hill, and there is another well-kept little church, sometimes open with a candle burning, out in the middle of nowhere (who keeps them up?) – and that indescribably blue Greek sky encompassing all.
Then it was time to return to Athens and fly west again. I was ready. Now I was homesick for wife and family and church and Wisconsin. As I flew home I got to thinking about…
Next Week: Forming authentic Eastern Orthodoxy in the West