I know I promised you a visit to Mount Athos, but first…
By 1999 our new Saint Nicholas Church was ten years old and doing well, and we could afford to travel again, and I don't want you to think I always left my wife behind. Khouria * Dianna and I made trips to Greece in 1999 and 2000. She had not been there before, and when she loved Greece too I was delighted.  (* Arabic for priest's wife, the title used in the Antiochian Archdiocese)
For some reason I didn't take many notes on the trips, so here are just a few memories:
In Athens on a Sunday in June 1999 we attended Divine Liturgy at Saint Dionysios Church in the Kolonaki district. The church interior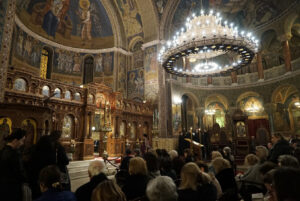 was dark as you can see, but the choir sang beautifully. As I looked around I saw many people whom I wished I could get to know, and I felt sad that I never will, not in this world. I thought how wonderful it will be in heaven to have all the time we want with all the people we know and love, and all the people we would like to know and love. But if we speak different languages, how is God going to solve that problem? What if I want to ask a question of my patron Saint Basil? Or is he so far ahead of me that I'll never catch up to him? Does your mind ever wander like this during Liturgy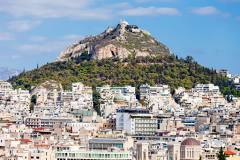 We took the funicular to the top of Lycabettus Hill to see the spectacular view of the city and found there a church (what else would we expect in Greece?) dedicated to Saint George. Later we heard the bells ringing for 7 o'clock Vespers. At 8 we tried to eat at a restaurant below Lycabettus and were told to go away and come back at 9. At 9 we were the only ones in the place. Things got moving about 10 or 10:30. Greeks eat late.
I took Dianna to the island of Paros and to Ekatontapiliani (see Blog Post # 3) for Sunday Liturgy. The place was nearly full again, but my chief memory is of people (mostly women with babies) wandering back and forth immediately in front of the priest while he was giving the sermon! He never missed a beat. But what ever was going on? In 2000 in the cathedral on the island of Naxos, during the entire Liturgy there was a continual undercurrent of conversation, and many people were drinking something (I hope it was water!) out of plastic bottles. Well, it was a hot day. So, just in case any of you thought the Orthodox Church has attained perfection… think again.
Now, on to 2002 and the subject at hand.
On my Way to the Holy Mountain
Two more years had passed. I was hungry (there's no other word for it) to see Greece again, and what a great excuse! The Hieromonk Barnabas of Karakallou Monastery on Mount Athos had invited me to visit him. Formerly he had been Wayne Bulloch, an Episcopalian priest who was chrismated at Saint Nicholas, Cedarburg. When even a former parishioner requests a visit, what can a diligent pastor do but drop by? This was definitely the most distant pastoral call I ever made! 5292 miles from Milwaukee. And now, much too late, I wonder: Would this have been tax deductible?
Mount Athos, surely you know, is the thousand-year-old center of Orthodox monasticism, located in northern Greece on a long peninsula extending out into the Aegean Sea. It's actual title is Άγιον Όρος (Agion Oros), the Holy Mountain, which refers both to the mountain itself and to the peninsula from which it rises. According to the Greek Constitution it is "a self-governed part of the Greek State, whose sovereignty thereon shall remain intact" – and so it has, for over ten centuries.
If you want to learn more about the Holy Mountain before we leave, below is the first part of the excellent 2011 CBS Sixty Minutes two-part program on the Mount Athos. Even if you've already seen it, it's well worth watching again. Part two will follow next week.  
A Necessary Stopover in Thessaloniki
So on Sunday September 15, 2002 at Saint Nicholas, I gathered names of my people and their loved ones, to be prayed for on the Holy Mountain, and before Saint Nektarios later in the trip – and that evening off I flew.
I arrived in Thessaloniki on Monday afternoon and, after waiting for some time, could find no-one in the airport customs office to stamp my passport. (As much as I love Greece… well, let me state it positively: If you want efficiency, go to Switzerland.) So I just walked into the country unannounced and unstamped – which got me into a lot of trouble on the trip home, but I won't tell you that story. On Tuesday I had to get a written permit from the Mount Athos Pilgrims' Bureau in Thessaloniki. One doesn't just wander onto the Holy Mountain. Previously I had to write for permission from our Antiochian Metropolitan Philip and from the office of the Ecumenical Patriarch of Constantinople. Then on arriving at the port of Athos, yet another permit was required.
Priests All Over the Place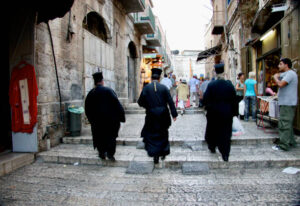 Normally when I travel I don't wear clerics unless it's necessary. I love to be anonymous. It allows me to see and hear what's really going on, instead of being stared at or fussed over or run away from, as the case may be. But now I needed to look like a priest. In Greece priests wherever they go usually wear a cassock (Arabs call it a "gibby", other Orthodox call it a "rassa") and usually a sort of brimless stovepipe hat (a "kalymafki", if you really want to know). This is rare among Antiochian Orthodox in America, but my friend Father Ted Trifon, a Greek Orthodox priest, graciously loaned me his hat, so I looked "normal". Normal is definitely the word for it: on the sidewalks of Thessaloniki there seemed to be a priest about every 20 feet.
At breakfast in the hotel that morning were three priests who said, "Come and sit with us". Were they Greeks as I supposed? No, they were Antiochians! from Beirut, leading a group of forty lay people on a tour of Greek holy places. "Who is your bishop? Basil?" "No, Demetri." "Oh yes, Demetri! We visited Metropolitan Philip last year." Truly the Orthodox Church, despite having about 250 million members, is a small world.
Churches All Over the Place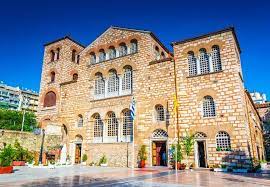 In the afternoon there was time to see a bit of downtown Thessaloniki where there seemed to be large Orthodox churches about every six blocks. I visited the Church of Saint Gregory Palamas and venerated his relics, and likewise those of the Great Martyr Demetrios in his church (to the right). In a future post I'll tell you what I found beneath that church on a second visit in 2008. The Church of the Martyrs Sophia and her daughters Faith, Hope and Charity was celebrating their feast day, September 17th, and there was a continual long line of people of all sorts, young and old, male and female – a young woman quite inappropriately dressed, a young man in motorcycle boots carrying his helmet – all waiting to venerate their icon, and I joined them. I have been told there is a spiritual revival going on in Greece which involves many young people, many men, and not just "churchy" types, if you know what I mean.
Finally I visited the lovely immaculately kept little monastery Church of Saint Theodora near t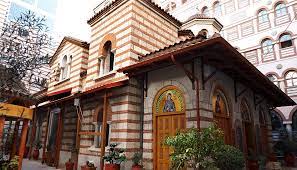 he seafront (squeezed among tall buildings, so there's no way to get a good picture of the exterior), where lie her relics, and also those of Saint David of Thessaloniki who perched in an almond tree till God told him to come down. (For reasons I can't explain he has since become one of my favorite saints – I who am fearful of heights! Certain saints seem to "grab hold" of us, don't they? Sometime I'll tell you his story.) I just couldn't leave the place. I sat there for more than an hour, till it was closing time and they chased me out. If you wish, go to the website below and see Saint Theodora's for yourself.
http://pemptousia.com/photo/pilgrimage-to-the-holy-monastery-of-saint-theodora-thessaloniki/
In Greece most city and town churches are open, and there is a never-ending stream of people going in and out, saying their prayers, venerating the icons, lighting candles. This is possible because most of Greece is nearly crime-free, and even Athens still isn't bad, at least in comparison to most American cities. Many American churches once were open all day for prayer, but no longer. It's sad.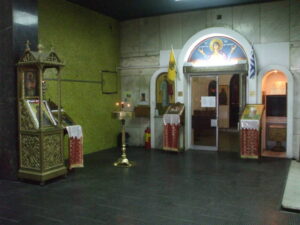 That evening I went over to the rather dingy Thessaloniki railway station to check schedules to Athens, where I was headed after I returned from Mount Athos. There I found something which to me, the train fan, seemed just right: an Orthodox chapel with good icons and a candle stand where people can pray for a safe journey. And here is a picture of it! (I swear, you can find everything on the internet.) Though the exterior wasn't elegant or beautiful, as you can see, it summed up the day for me: Orthodoxy naturally integrated with life. It seemed so good.
To paraphrase Dorothy in The Wizard of Oz: "Father Bill, I have a feeling we're not in Wisconsin any more."
Next time: To the Holy Mountain